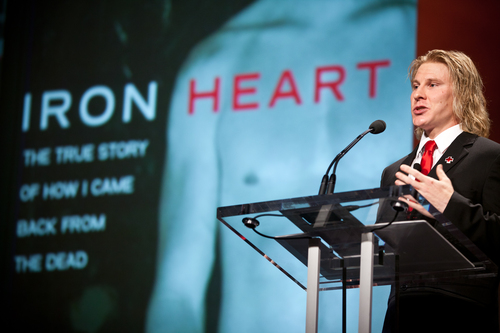 My path to the medical field began one month after I graduated high school in 2004 when I was an ICU patient. I was coming home from swim practice and was involved in a near fatal car accident with a speeding dump truck. The impact of the crash violently ripped my heart across my chest, shattering my ribs, clavicle, pelvis, collapsing my lungs, damage to practically every major organ, kidney and liver failure, removal of spleen and gallbladder, 60 percent blood loss, severe nerve damage to my left shoulder and in a coma on life support for over two months.
During my time in the hospital, I was very coherent during my comatose state. I couldn't talk, move or communicate, but my senses were highly tuned into this environment because that is all I had to obtain information on my surroundings.
With all the sadness that we were facing as a family throughout the hospital phase, there were some good things happening as well, even though they rarely occurred during this stage. One of those amazing days came when I was able to learn how to talk again -- a day my parents and I will never forget. After several attempts to get me to say a few syllables, one lucky day it just happened out of nowhere. My respiratory therapist attached a speaking valve, and I tried to sound out a few words and all of a sudden I began talking. All the nurses and doctors came running in and they all broke out in tears when they saw me. I thanked each and every one of them as soon as I saw them. My parents came running around the corner because they had just arrived for visiting hours, and they were awestruck. I told my dad that everything was going to be okay, and he couldn't keep his composure and just burst into tears. As for my mom, I don't think she stopped crying for the entire two months that I was in there, but at least in that moment, these were tears of joy.

I became a public speaker as a way to say thank you to my healthcare team at Prince George's Hospital Center and to my Red Cross blood region in Baltimore. My story and healthcare message spread across the nation following the presentations that I gave at the Maryland Hospital Association and Maryland Healthcare Education Institute. Over the past few years, I have traveled the country and spoken at annual meetings for many state hospital associations under the American Hospital Association, at dozens of healthcare leadership conferences, annual conventions for medical organizations and given 100+ keynote presentations at various healthcare events (hospital leadership, Doctors, Nurses, EMS providers, frontline staff, nursing home personnel, medical suppliers, physical therapy and nursing school students). During my travels, I have had the opportunity to advise several world-renowned healthcare institutions on projects related to family and patient centered care.
It's always an emotional experience for me to reflect back on my time in the hospital, especially in front of an audience full of healthcare providers and professionals. I give a piece of my heart and soul every time I tell my story, but it's so worth it because my whole background is about showing the appreciation to the amazing people like them, for the work that they do, that saves people like me.
Every patient has a story and an experience, and I highly encourage healthcare providers to talk to their patients. As a patient, I was grateful for any interaction at all. Even though I was chemically paralyzed and the people around me were unsure of my level of comprehension, I was very aware of my surroundings. I could even sense the energy of the people who came into my room, by their tone, body language and movement. I could tell if they were having a good day or a really bad day. I also liked when my medical team would explain what they were doing, maybe not all the advanced details, but just enough to know what was taking place and that they were taking care of me.
During my time as a patient, the observations that I made truly inspired me and helped me understand how important the role of communication is between the patient and healthcare provider. When I was able to learn how to talk again, I soon discovered that the power of the voice is amplified when the message is of gratitude.
To learn more about Brian's speaking background, please visit his website.