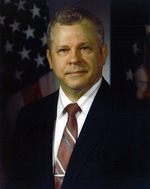 Determination. It is a simple, but also a very powerful word, defined as the ability to set your mind on a certain goal in life, and then pursuing it until it is accomplished.
This power to overcome the obstacles in your path exists among everyone in the world, and varies from a doctor saving a person's life to a young soldier going off to fight for their country. Determination helps bring out the fullest potential of an individual, thus bringing forth success.
When I think of this word, my attention is always directed to my grandfather, a man who personifies courage, bravery, and most of all, determination. When I think of him, studying and imagining what kind of life he has had, I think about all that he has accomplished while serving his country for over sixty years. An overwhelming sense of admiration grows within me as it does within the rest of my family when we look at him. He always puts others before himself, and is always there when somebody needs him. He is a true model of determination, and that is what makes him the rock of our family.
Determined since the day he was born, Joe Lineberger grew up in the small town of Maiden, North Carolina in 1931. At a young age he received his first job picking cotton in the fields. The few cents that he earned each week were given to his mother. He excelled in academics and athletics through his primary and secondary years of school, and dreamed of attending Duke University, the home of the Blue Devils. There was not enough money to pay for the tuition to Duke, but that wasn't going to stop him, so he participated in the R.O.T.C. program to fulfill his dream.
He graduated from high school with a number of students that you can count using only your fingers, and began his college career at Duke. He had to work two jobs while in school and had to sacrifice his athletics because there was not enough time to complete all of these responsibilities at once. He earned a Bachelor of arts degree from Duke University, and went on to other schools that include; the Squadron Officer School at Air University; the University of Chicago for a Master in Business Administration degree; the Air Command and Staff College; the Industrial College of the Armed Forces, and the Federal Executive Institute.
In 1953, he entered the Air Force as a second lieutenant through the Reserve Officer Training Corps program. His overseas assignments included Thule Air Base, Greenland; Pepperell AB, Newfoundland; exchange duty with the Royal Canadian Air Force in Ottawa; and Headquarters Military Assistance Command, South Vietnam (during the Tet Offensive). He served in a series of stateside assignments, including Headquarters U.S. Air Force, Washington, D.C., and in the Office of the Secretary of the Air Force. He was the military assistant to the Assistant Secretary of the Air Force for Manpower, Reserve Affairs and Installations under five assistant secretaries.
Ambition, passion, and the will to succeed are key factors in understanding the basis of what determination really means. My grandfather, embodied these factors, and overcame many difficult situations in his life, and accomplished all of this with a devoted wife and five children. He would not be where he is without the will to work hard and the determination to succeed throughout his whole life.
If you watch a football game, or see any of the events of the Olympic games on TV, you see athletes who want to be victorious. You realize that these people, appearing in front of you, are 101% dedicated to what they do; not only are they dedicated, but they are also determined. Determined to win, to succeed, and to prove to themselves that they can go beyond their limits and excel. My grandfather succeeded beyond the limits that were expected of him, in school, in athletics, and in life, and continues to excel today. He accomplished so much throughout his life, and has persevered through both the glorious moments of the human spirit and also the deepest and darkest moments of human suffering. He has faced many hardships over the years, but these obstacles have only made him stronger.
When I think of his patience under adversity, of his courage under fire, and of his modesty in victory, I am filled with an emotion of admiration I cannot successfully put into words, so I look to the words that General MacArthur spoke during his farewell speech at the U.S. Military Academy in 1962. "He belongs to history as furnishing one of the greatest examples of successful patriotism. He belongs to posterity as the instructor of future generations in the principles of liberty and freedom. He belongs to the present, to us, by his virtues and by his achievements".
I grew up looking at my grandfather in a different way than I do now because he is the most humble person I've ever met and I was to young to understand the magnitude of his accomplishments. One of the founding members of the R.O.T.C. program at Duke University, 28 years of active duty service in the military, 32 years of civilian duty, recipient of the Bronze Star, Meritorious Service Medal, Air Force Commendation Medal, Air Force Organizational Excellence Award, and the Spirit of Service Medal amongst many other citations and awards. A movie will be made in 2014 called "The Last Full Measure", which documents the process that he took to award the Medal of Honor to a United States Air Force Pararescueman, William Pittsenbarger, who gave his life aiding and defending a unit of soldiers pinned down by an enemy assault in Vietnam.
It is a true honor to even be related and to have him as my grandfather; a man that I will try to emulate the rest of my life. These words that I have shared do not do enough justice concerning the amount of praise he deserves for being who he is; a devoted father; a caring grandfather; a soldier; a loyal citizen to his country; a model of determination; and most of all, a hero to our family.
I grew up wanting to follow in his shoes and serve my country just like he did, but with my extensive medical background and long list of surgeries over the years, I was red flagged when I tried to enlist after I graduated from college in 2010. Even though I may not be able to serve my country in the military, I proudly serve my country through my national volunteer work with the American Red Cross.
As the American Red Cross Volunteer Spokesperson, I often think about the history of what the American Red Cross represents, a humanitarian organization that was founded by Clara Barton on the principles of Humanity, Impartiality, Neutrality, Independence, Voluntary Service, Unity, and Universality.
For more than 125 years, Red Cross workers have eased the pain of millions of people of all races, religions, and beliefs. An organization that was brought about through the relief efforts of aiding the bloody devastation occurring on the battlefields, both in Europe where the International Red Cross was first created in Switzerland, and also on American soil during the Civil War. These determined efforts impacted many lives and changed the face of history while providing aid and relief to those who needed it, not only to survive against adversity, but to live and to thrive.
I'd like to extend a special thank you to those who work and volunteer for the American Red Cross, and for our brave men and women in our military who have sacrificed so much for our great nation.
Thank You for your dedicated service and for protecting our freedom.