John Hiatt has shared it all.
Over the past 40 years, he has shared joy, mortality, love, freedom and eternal, radiant life.
At 62, the sharing process is not complete.
Everywhere he looks he sees the mystery of life and death, of creation and decay and regeneration.
"I still wake up every morning with the same cast of characters running around in my head," said Hiatt. "I just keep sitting them down and giving them a good talking to. I say, 'c'mon, now, let it go.' But they have plans of their own."
Those characters keep the pressure on. And that's to our benefit.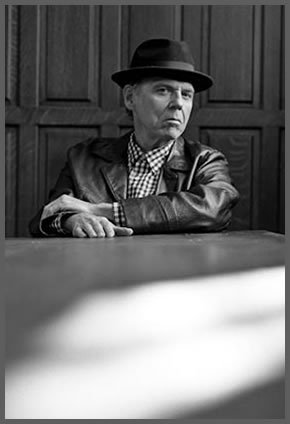 Indeed, forty years into his recording career, Hiatt has titled his 22nd studio album, Terms of My Surrender.
Surrender?
To some, surrender may have off-putting connotations, implying defeat, giving up, failing to rise to the challenges of life, lethargy and so forth.
Rightful surrender to Hiatt is something entirely different.
"I surrender to music, and, to me, music is mental health," said Hiatt. "Music is a beautiful, healing, wonderful thing. The more into the music I am, the more healthy that I am. Music is the best -- and that's all."
There is no profound wisdom in Hiatt's words, just a man who performs unconditionally and without reservation. Put simply, he is not attempting to solve many of life's intellectual, social or spiritual problems.
"I just play, man," said Hiatt.
I do the same thing I've always done. When you are young, you worry about labels, fitting in and all of the other dances that we do. People are afraid so they call stuff something. This is that and that is this. We are fearful people...if you specialize in something and can do wonderful things, you just enjoy it, right?
Hiatt yields to rather than opposes the flow of life.
"I understand that I will never be comfortable," said Hiatt.
I am shaky. I have a little peace. I like peace. I have family and friends who I care about and care about me. I can see good things in other people, and that gives me peace. I like simple things now. Life is good, despite all of the insanity all around us. But that's the opinion of just one old fucker.
Hiatt's adolescence in the Midwest fueled his pointed pen. Born in Indianapolis in 1952, Hiatt grew up near the intersection of 57th Street and Central Avenue. His childhood home is expressed in the lines of "Seven Little Indians" (1990) ("In that old brick house, it always felt like something was moving in for the kill") and "Slow Turning" (1998)("I always thought our house was haunted, but nobody said 'boo' to me.")
"It is a changed city," said Hiatt.
It's not what it was like when I was a kid. We would call it 'Nap Town.' You know, India-a-NAP-a-lis. It was the capital of insurance back then -- to give you an idea of the spills, chills and thrills. It was a connector, and there was not a whole lot shaking. It was more of a gateway then, and now there's a bunch of other stuff. I love it. I'm a Hoosier. I can't shake it.
"Fat Kid" Influenced by Elvis
The inadequacy of being different dominates Hiatt's earliest memories. Being 'cool' was a vision, a dream, the stuff of a handsome truck driver and GI from Mississippi who shook his pelvis, oiled his hair and became the delegated idol of many an inferior boy.
"Elvis was always a big deal growing up, though I was a little young," said Hiatt.
My brothers brought his music around. At 9, I was a fat kid, and when I heard Elvis, I would imagine that I wasn't a fat kid, and that I was cool like Elvis. My mom was crazy about him. We would go up to this cinderblock cabin in the woods, my grandfather's cabin on a lake. There were lots of kids, many cousins, and we would stuff everyone into this cabin. Mom had seven kids. Her sister had nine. There was one room with a kitchen divider and a couch. We would stay the whole summer, swimming and fishing, taking out a 30-horsepower boat. We would see Elvis movies at the local drive-in. He was my first big influence.

The other big influence for me was Gary U.S. Bonds, and "Quarter to Three." I wanted to be at that party. I was self-excluded as a kid, fat, and not cool like the other kids. In the sixth grade, some kids and I picked up our guitars, and we had a band in six months. Short guys have to fight everybody. But the fat kid, he is either shunned or he is funny. I had to be a comedian. At 15, I lost a 100 pounds in one summer. I wanted a girlfriend. I have empathy for people who don't fit in for Christ's sake, and there's plenty of us. I don't feel for a person who ain't been hurt.
At 18, he left town for Nashville, Tenn. Folky regionalism pervades the opening lines of Hiatt's "Real Fine Love" (1990): "Well, now I never went to college, babe, I did not have the luck. Stole out of Indiana in the back of a pickup truck. With no education higher than the streets of my hometown, I went looking for a fire just to burn it all down."
Hiatt's early days were marred by alcoholism and drug abuse. He was abandoned by record labels in the 1970s and early 1980s -- a consequence, he said behind the scenes, of being "a bad alcoholic and addict." Hiatt straightened out and his eighth album, "Bring the Family" (1987), sold nearly 200,000 copies.
A few years before the album's release, his then-wife, Isabella, from whom he was separated, committed suicide -- three days before their daughter's first birthday. That made him a single parent to their infant daughter, Lilly. Afterwards, he fell in love with his current wife, Nancy, who had an 8-year-old son, Robert.
Hiatt's blend of rock, country, gospel and rhythm neatly coalesced with "Slow Turning" (1988) and "Stolen Moments" (1990). Since then, there has been a mixed-bag of triumphs and delinquencies.
"Music is such a big part of who I am," said Hiatt. "I've been doing it since 11. It's what I do. It's me. It is really kind of a miracle. I spent the first half of my life trying to fuck it all up, and I did. And I nearly died in the process. In the second half, I've been tied to good work, and I put it out, and the people are coming out."
Hiatt said he still enjoys toying with the mystery of songwriting -- and that a successful confluence of words and thought is a love too large, too deep ever to be truly measured or understood.
"It's a big deal," said Hiatt. "It can make you cry. Sometimes you get one in, and you walk out into the middle of the field, and you burst into tears. You don't know where it came from. You just know that you are a fortunate receiver."
The beauty of Hiatt's music is that it is eternally honest and understandable. There will always be a strong thread of his own life history in his work, but his tales emphasize transferences and conflicts we can all relate to.
On this November afternoon, Hiatt is about to close on a new property in the city; Hiatt and his wife are empty-nesters (two blended; one together; all adults) on the farm they own outside Nashville, a position in life that shaped much of "Same Old Man (2008)."
"We spent a nervous night in an Atlanta hotel on our honeymoon, while her mom kept the kids," said Hiatt. "Being in love without the kids is different. And now we are moving to the city."
Standing in the pasture, overlooking the hills and meadows of the country, Hiatt said that he feels every bit the unclassifiable loner.
"I am not easy to get to know," said Hiatt.
I put up walls and keep to myself. I've been fortunate to have people who showed up in my life, who have led me along -- whether I wanted it or not. I guess I was sick and tired of being lonely all the time. Willingness is about all you need in order to open up a little bit. Trust implies risk, though. The fact is that you can trust and be let down -- that's part of the package. The truth is that I've let people down and will continue to let some people down.
American Master
One thing Hiatt hasn't done is let the listener down or fail to scratch at the spirit. From opening to close, "Terms of My Surrender" richly evokes frustration, self-critique, sadness, regret, anxiety and, at times, disagreement.
"When the moon is rising and the night is still
Some of my delusions have the power to kill
Scared I'll get what I deserve
Or maybe scared I won't"
The album transmits the faintly haunted sound applicable to a man who has survived not only alcoholism, drug abuse and recovery, but the suicides of his second wife and an older brother. Hiatt's square, clear vocals tap into the realization that a full life will be full of pain. Rich in its wholeness, trustworthy and distinguished in its sincerity, the 11-track offering is robustly alive, meaningful and significant -- an essential piece to the musical chess board of an American master.
Is there weariness? Are his critical faculties touching and convincing? Does this personal approach stir a raw reaction? Yes, yes, yes.
Indeed, nothing that's real ever eludes Hiatt.
"It's all a lifelong learning curve, and it's steep," said Hiatt. "I've walked through the fire...and only the song survives, right?"

Photos Courtesy John Hiatt
Brian D'Ambrosio's latest book, the positively acclaimed Life in the Trenches, offers 37 narratives and stories of modern day trench warriors -- including Stephen King's favorite folksinger (James McMurtry); a Bronx-born comic who switched from a favorite of the Black Panthers to a conservative spokesman (Jimmie Walker); a boxer who spiraled from the mountaintop into homelessness (Iran Barkley); Greco-Roman wrestler and MMA forefather from the Midwest (Dan "The Beast" Severn); entertainment wrestlers so convincing as villains that they repeatedly put their own lives in danger (Ivan Koloff, "Rowdy" Roddy Piper).