Its seems that the defensive end of the Houston Texans, JJ Watt, can do it all this season. Not only is he a feared one-man wrecking crew on the defensive front, but...
In Week 2 against Oakland, Watt lined up at tight end and caught a one-yard touchdown pass from Ryan Fitzpatrick.
Two weeks later he intercepts a pass and rumbles 80 yards for a score against Buffalo.
It's what everybody has come to expect of Watt, who seems a threat to raise the bar for defensive linemen every time the ball is snapped.
But he continues to surprise his fans, and fans of football... off the field.
Last week on his way home, Watt saw a pee wee football team practicing.
He stopped by and gave an impromptu inspirational speech to the young players that no one there will ever forget.
One of the players, Roman LoPreto said:
When our coach, [Fred Weary - former offensive guard for the Houston Texans] told us we had a special guest speaker... I couldn't believe my eyes when JJ Watt walked up. It was an inspiration to have my idol walk up and stand less than three feet away from me. I want to play in the NFL one day and I know the words JJ Watt told me with stay with me forever.
Another player, Drew stated, "It made me want to try harder in football and listen to my coaches."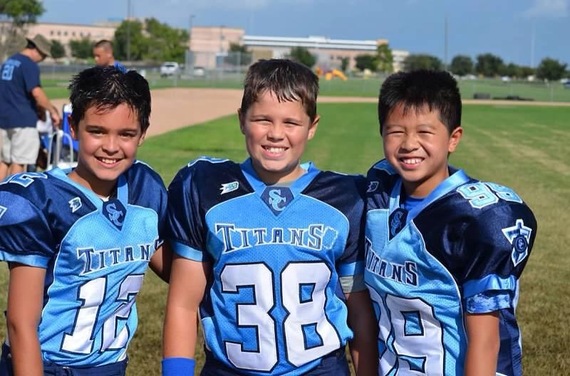 Left to right: Roman LoPreto, Drew, Cody Nguyen