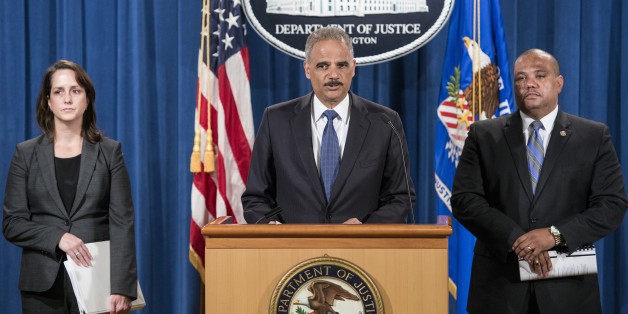 Media Reports Point to End of Criminal Case
Multiple media reports, beginning with the New York Times, late Wednesday night have indicated that the United States Department of Justice will decline to prosecute former Ferguson, Missouri police officer Darren Wilson, 28, in the shooting death of Michael Brown, 18 last August. The death and subsequent St. Louis County grand jury decision not to criminally indict the officer prompted both peaceful protests and instances of violent rioting across the country. It is likely that Wilson's partially corroborated self-defense claims hobbled the ability of federal prosecutors to clearly establish that the officer exhibited malice to intentionally and violently interfere with Brown's civil rights.
The media reports indicate that Department of Justice attorneys are recommending that no criminal charges be filed against Wilson and are preparing a legal memorandum explaining why. While outgoing Attorney General Eric Holder and civil rights division head Vanita Gupta, a former ACLU lawyer, could still overrule the recommendation not to prosecute, that is highly unlikely.
Two Investigations
The Justice Department sent 40 FBI agents to Missouri to investigate the killing, interviewed 200 witnesses, reviewed video and audio, and undertook their own independent autopsy. The twelve-person county grand jury, constituted before the shooting, consisted of three African-Americans and nine whites. Over a few months the grand jury, which operated in secret, met for 25 days, hearing over 70 hours of testimony of 60 witnesses, including Officer Wilson.
The 6-foot-4-inch, 210-pound Wilson, who sustained minor bruises to the head, testified that he was acting in self-defense when he shot the 6-foot-4-inch, 292-pound teenager. Wilson fired a total of 12 shots, commencing while he was still in his vehicle during what he said was a struggle for his gun. A total of at least six shots struck the unarmed teenager, with the fatal one to the front of the head, taking place after the officer gave chase on foot with the two facing each other. Despite the oft stated protest refrains of "hands up, don't shoot," eyewitness testimony was at times in stark conflict about whether or not Michael Brown was surrendering or charging at the time of the fatal shot.
Although federal authorities sometimes relied on evidence collected by local authorities, they stressed that their's was an independent investigation as Attorney General Holder explained shortly after the county grand jury decision in November:
While the grand jury proceeding in St. Louis County has concluded, the Justice Department's investigation into the shooting of Michael Brown remains ongoing. Though we have shared information with local prosecutors during the course of our investigation, the federal inquiry has been independent of the local one from the start, and remains so now. Even at this mature stage of the investigation, we have avoided prejudging any of the evidence.
Federal Prosecutions Require an Additional Finding
The county grand jury had a range of possible offenses to consider, including lesser offenses other than murder, that punish deaths caused by recklessness and negligence. Federal prosecutors had far more limited options centered on a post civil war statute entitled "Deprivation of Civil Rights Under Color of Law," 18 U.S.C. §242 that covers misconduct by government officials like police or corrections officers that violate civil rights.
While both federal and state criminal laws both require a finding that cases be proved beyond a reasonable doubt, the federal law requires more elements be proven to that high evidence standard. The federal law has four elements, each of which must be established beyond a reasonable doubt, for a conviction to take place:
a defendant's acts deprived the victim of a protected right under the Constitution or statute, including the right to live;
the defendant was acting under color of law in that he is a government official acting in that capacity;
the victim is an inhabitant of the United States;
defendant acted willfully.
The Justice Department had to prove a purposeful intent by Officer Wilson beyond a reasonable doubt to interfere with Michael Brown's protected civil rights. This includes the right not be killed without a trail. As in a state case, a showing of reasonable self-defense by the officer would trump a prosecution. A bigoted racial motive on the part of the officer would suffice for prosecutors if proven, but other bad motives prompting excessive force, could also be effective.
It is likely that Wilson's partly corroborated version of self-defense, coupled with Brown's tragic unavailability to challenge it, diminished a prosecutor's required claim that the force was both excessive and motivated by racial or other illegitimate animus. Prior successful uses of the federal criminal statute involved instances where malicious intent was more overt. These included the videotaped beating of Rodney King by Los Angeles officers after he was on the ground and the anal sodomy of a black immigrant detainee with an object.
Civil Options Remain Viable
Despite the apparent prosecutorial setback, the Justice Department is highly likely to pursue and win reforms civilly against the racially homogenous Ferguson police department under a 1994 federal law that allows federal court oversight. A court, either upon a voluntary settlement by the parties or an actual judicial finding of a pattern or practice of violations, such as racial profiling or excessive force, can mandate changes under consent decrees with federal monitors.
Furthermore, Brown's family is actively exploring a civil suit. Civil actions for monetary damages enable a decedent's heirs to prevail by a much lower standard of evidence in either a state tort law proceedings for wrongful death, or in a civil case in federal court. In federal court a civil case for monetary damages could be attempted under a companion statute to the federal criminal one: 42 USC 1983. The standard for both types of civil cases, preponderance of the evidence, only require a showing that the plaintiff's position is more likely than that of the defendant police department or municipality.
While the criminal case in this heartbreaking killing appears to be all but over, a civil case is likely, as are broad based reforms relating to how police-civilian interactions are handled not only by the Ferguson police department, but by others across the nation as well.