I tapped the door twice. No one heard in all the chaos, so I walked in without warning. If she was changing, it was a show I'd seen countless times, a fact known only to a few people in the room. She looked up and met my eyes through the mirror's reflection and smiled. The stylist finished the last loop on the back of her dress, and she moved away to reveal a perfect bride in a beautiful, white gown. Her mother, sister and future mother-in-law were breathless. She was shy and a bit skeptical. Through the mirror, she smiled again, sighed, then asked, "Bri, what do you think?"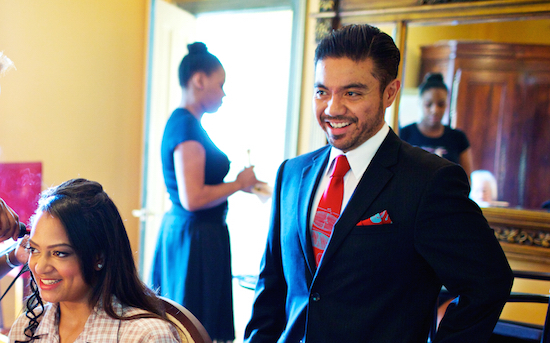 That look. It was in her eyes, the perfect lifted angle of her eyebrow, that little extra glow in her already high cheekbones, the glossy smile with the semi-open mouth. It was an expression I had cherished for years, only because it was such a rare event. You had to do everything just right, and with a little bit of luck -- and a little bit of God -- you could earn that smile. It was the look that erased the cynical Jersey snarl she perfected to keep people at arm's length. This particular smile only happened maybe twice a year, and here I was, catching this orchid bloom for the first time in what felt like forever. I forgot. I forgot she was capable of charm at this level. It was the smile that reminded you of what it was like to fall in love with her at the beginning of time. It was the smile that made you forget she was the only one in the world that could infuriate you, a smile that reminded you that this force to be reckoned with was also capable of loving with more heart than you or anyone else deserved. This was the smile that made sense of all the usual yet unusual over-the-top traditions that define a wedding. She was worth it, more than worth it. And with that smile, in that dress, she was spectacular.

"Well?" she asked, returning to the snarl.

I noticed her sister's side glance as she tried to imagine what must be going on in my mind. I knew I better answer before her soon-to-be mother and sister-in-law started wondering the same thing. I cleared my throat, showed a bit too much of my teeth, and said, "Stunning."
Her smile reminded me that today was as melancholy as it was joyous. I tried to focus on the joy, but could no longer ignore a certain part of my soul that I was about to give away. There was a part of her in me that I had never really let go of, and maybe never could. Perhaps it was nostalgia, perhaps it was the thing about never getting over your first love, or perhaps it sunk in at that very moment that I might be giving away my soul mate.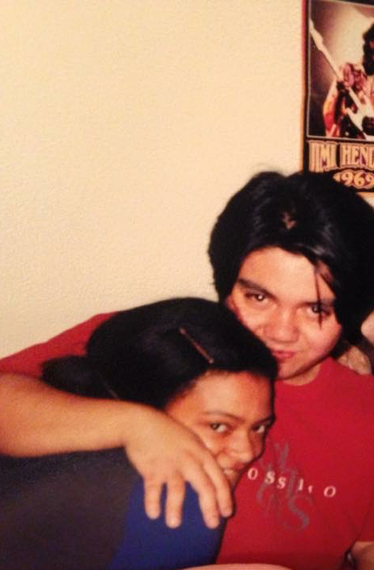 We started dating at the very beginning of college, and by some miracle, stayed together all four years. The last two years were rough, but before we could act on the conclusion that things weren't going to work out, it was already time to graduate. And after graduation, we decided to move back to our hometowns. We knew long-distance wouldn't work for us, anyway, so we cut our inevitable demise short with the intention of saving our friendship. And despite our rocky last year together, the final goodbye was a wet and hysterical affair at the Oakland Airport. And for a sentimental guy like me, I never loved her as much as when I said goodbye. Genuine heartbreak was a new and horrible life experience to start our adult lives, but we were determined to remain friends. However, she beat me to the first rebound, and I couldn't handle it. I wasn't over her, and I couldn't be her friend. It broke my heart to tell her, but I needed to be left alone to get over her. It broke her heart, too, but she respected it and we said our goodbyes again. The distance combined with enough time made it easier for us to heal and move on with our separate lives.

About a year later, she called me after a particularly bad breakup. She hadn't made any close friends back in New York and had no one to talk to. I didn't want to talk, but once I heard her cry, I didn't know how to hang up. It was tough having no one in a big city, and I could relate, being in the same boat on the opposite coast. From that conversation on, our friendship crept its way back into our lives. Instead of the distance making us grow apart, it made it easier for our relationship to grow in a natural and non-romantic way. Soon enough, we were giving each other advice in our new relationships, quick to point out behavioral and emotional flaws in each other in a way that only best friends could get away with doing.

Years passed, and one day, she told me about this great guy she had started seeing. I visited them that summer, and noticed that this was different. As a partner, he was perfect for her. She asked what I thought of him, and I joked with her, saying, "He doesn't seem to mind at all that I'm in your life. So, I say marry him." Seven years later, she was in her wedding gown, and for the first time, I didn't know if I was going to be OK. Even my parents had worried before I left.

"Man of Honor? Is that even allowed?" they asked.

"Of course it is," I said, brushing it off. The sound of spoons and forks clanging on plates soundtracked several seconds of silence.

"But, four years together, even living in sin! Her fiancée knows that? But are you sure?" Mom said.

I laughed. "Yes."

"But you. I mean you. Are you sure about this?"

I wasn't ready for that question. I changed the subject.

"Her fiancée's family doesn't know, though," I said, half-smirking.

She shook her head and laughed. "Hmph. If this was the Philippines, if his family found out that you two [makes vague hand motion], they'd keel you," Mom said, emphasizing "Keel... You" while making two stabbing motions. Her unintentional sense of humor and timing were impeccable.

"Well, if I ever get married, my future wife and her family will have to be OK with her being my Best Woman," I said.

"Best Woma... wait... what?" Mom asked.

It wasn't just my parents. My friends' reactions ranged from "You're a good guy, but that's crazy," to, "Oh hell, no," and everything in-between. Most of them would have supported the idea if I was just the male best friend. But the college ex-boyfriend best friend? No way.

Was it that crazy? I was touched that she'd asked, and I was happy to do it. Yet everyone's reactions caused me to second-guess myself. I started to think that being Man of Honor was like winning the worst kind of second place.

As the bridal party prepared to leave the house and line up at the garden for the procession, her sister rushed over to me, whisper-yelling, "She needs you." I found her in the sitting room alone, looking out the window, a couple tears running down her face. It made me nervous, but I jumped in.

"Really? Now?" I said, smiling.

"Shut up," she laughed. "It's just a bit overwhelming."

"You're overwhelmed?" I said. "While all you girls were getting hair and makeup done and drinking champagne all day, I had to run around this whole estate making sure this show is going to go off without a hitch."

"That's why I picked you," she joked. "I knew I could put you to work since you didn't have to put on a dress and get all dolled up." With tears came sass, like always.

"If I had known how crazy wedding preparation is, I would've let you pick the dress," I said. "And trust me, I've been getting the dress joke from everybody for the last several months."

"Thanks for doing this, Bri. Besides the guy I'm about to get hitched to, you're the one who really knows me," she said.

"And can put up with you," I added.

"I'm being serious. I can trust you with everything. And one day, when you get married, I'm going to make sure your day is perfect, well, as long as your wife isn't a crazy ass bitch. Because if she is... I'll keel her." [Makes stabbing motion]. Her impression of my mom was still spot-on.
And with that, I understood the reason I was there. Like true friends, no circumstance could keep us from being there for each other. Ours was an old friendship, and it was rare and earned. At times we both had to swallow our pride, and at times we both had to accept that there would be friends and loved ones who wouldn't get it, but none of that mattered because the one thing we could agree on was that our friendship was worth our time and effort. And that's also what love is, and that's how it evolved. It was distance that gave us enough space to heal, time that gave us a chance grow and a heartbroken girl seeking the counsel of an old friend that created the right circumstances for a re-defined friendship to thrive. In the end, our past became our foundation.

We made our way down to the garden. The procession music started, and I looked back and gave her a corny thumbs up. I took her mom's arm in mine as we lined up for our turn down the aisle. But before we took our first step, her mother asked me the same question my mom had asked.

"Are you OK?" she said.

I winked back and smiled. "I wouldn't miss this for the world."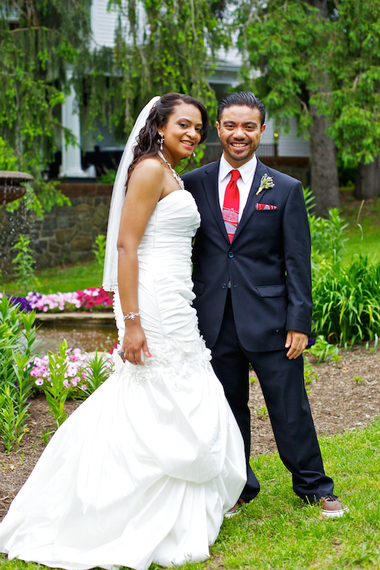 Also on HuffPost:
PHOTO GALLERY
Candid Wedding Photos