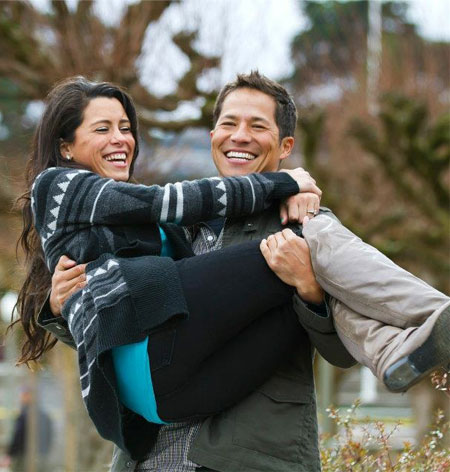 Meet Grace. A giddy bride-to-be, Grace could barely contain her overwhelming excitement when her longtime boyfriend, Brad, popped the question Christmas Day of 2010. Grace hadn't seen an engagement coming in the slightest when she pulled a special note out of her stocking that morning and realized their song was playing. But after digging a small box out of the couch cushions, her now-fiancé proceeded to get down on one knee and propose! After several round of kisses and more than a few (happy) tears, the pair shared the big news with their families. Quickly thereafter, Grace logged onto Facebook to spread the word amongst her friends. Before Christmas day was over, Grace had already received dozens of "Likes" on her newly-engaged Facebook status.
Here, Grace tells us how she and Brad are using Facebook to help plan their wedding.
1. To get guests pumped. "We have been sending out countdown updates to the guests about every month or so," Grace says. It's such an easy, instant way to get the excitement going!
2. To share the wedding weekend schedule. Grace used Facebook to let her friends and family know about fun events she and Brad have planned around their wedding weekend. "We are having a welcome BBQ for everyone the night before and yoga and a hike the morning of," Grace notes. "Also we are doing a golf tournament one morning as well as a beer-tasting from the local micro-brew one afternoon!"
3. To share the nitty-gritty details. Grace and Brad chose to hold their upcoming fall nuptials at Twenty Mile House, a stunning venue in the small town of Cromberg, California. Located just four hours north of San Francisco, the green wedding venue features local produce and has a low carbon footprint. She's been able to relay all of the cool details to her friends and family who will be in attendance.
4. To post weather updates. "We've been sharing daily weather reports because it is supposed to be really hot!" This is good for guests to know so they can choose their party attire and pack accordingly.
5. To let guests know what else they can do for fun at the destination aside from attending the wedding. Facebook can also be used to alert guests of fun activities they can do aside from the wedding festivities. "We've been sharing the great historical info about our venue on Facebook," says Grace. She loves that it's located at an old railroad stop and has a cool general store to poke around in. She goes on to list off a million other things guests can choose to do (which we agree is so important). Just to name a few: hiking, biking, fishing, walking, boating, swimming, rafting and just relaxing in the mountains!
6. To find out whose coming to the wedding. Facebook can help you remind certain people to get those pesky RSVPs back...
7. To share a taste of what's to come. Grace had the idea of uploading wedding-related pictures to get her guests psyched about her big day. She and Brad are growing their own succulents for centerpieces and favors, making a surfboard guest book as an ode to one of their favorite activities and folding 1,000 paper cranes in honor of Brads Japanese heritage. All things that guests would love to see take shape over the next few months before the big day!
We couldn't be more excited for what sounds like a truly magical day for Brad and Grace. Check out more of Brad and Grace's engagement photos on our Facebook page, and let us know how you plan to use social media to help plan your wedding.
You Might Also Like:
42 Outstanding Wedding Cake Designs
The Hottest Wedding Dress Trends Right Now
How Much Do Wedding Bouquets Cost?