I love to entertain. I don't even mind the swiffering that has to
come before and after. I have no problem with the expense (I should,
but I don't) and I love planning the menu, even if it's
just Trader Joe's Spanakopita (they're really good, if you haven't heard). I like to make a cheese plate—there should always be a cheese plate. And I love to bake.
If you've checked out any of my work for bonappetit.com's Project Recipe, you know that baking is my strong suit. (Well, except for pies.) So sweets are key at my parties.
Here's the problem: Desserts can be a tough sell at social events—or rather casual social events. Sure, birthday cakes get eaten, but in a non-celebratory setting, my guests are sometimes reluctant to go for the frosting.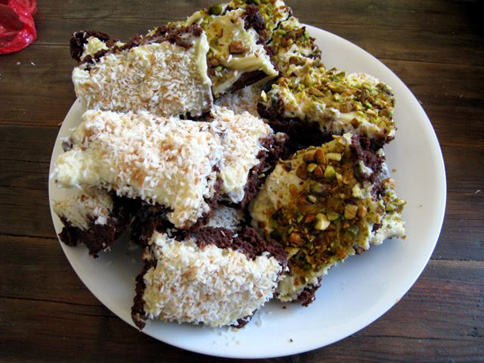 For my latest event, a housewarming party, I wanted to make bonappetit.com's Top 100 Brownies that we tested last week for Project Recipe. So I decided to employ some strategy.
1. I cut them into very
small pieces. This is key. People are intimidated by large slices
of anything. Seriously. Let them cut their own Humboldt Fog, and
give them small bites of brownies. This could be because
everyone's on Weight Watchers (one of those brownies is probably 11
points, seriously) or maybe they have already had a quarter pound of
guacamole, but my guests will always try a little piece of something,
I bet yours will too.
2. Arrange the dessert so it looks like two or three pieces are already missing from the serving platter—tricky but works
every time. You might think that conning your guests into eating
things is unnecessary, people should be allowed to eat or not eat
whatever they want. But that's short sighted. They are always happy
once they do. I believe I made people's days with those brownies. Which brings us to...
3. Make it worth it. There's nothing worse than eating something sweet or rich and then thinking, "Those calories would have tasted better coming from Dunkin Donuts." So you have to make something killer. And let me tell you, these brownies are assault and battery by chocolate with a deadly weapon of cream cheese frosting thrown in. And I'll be sure to report back on more of Bon Appetit's best desserts.