Last night's episode built on a theme that came up last week: When do you decide to pursue a dream? And how long do you keep that dream to yourself? Because if there's anything that "Mad Men" likes, it's a secret.
And what do you wear when you have a secret?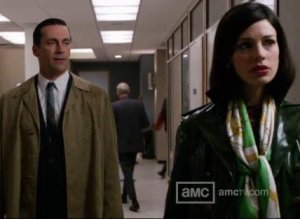 >
A trench/raincoat.
Raincoats are a seasonal staple that has largely fallen out of fashion, albeit inexplicably. (After all, it didn't stop raining after 1966.) Most raincoats on the market seem to be on the more decorative side, often made out of untreated canvas or cotton, functioning more as a lightweight layer than as protection from the elements.
But raincoats can connote so much, stylistically, particularly the trench-styles worn in episode 8. It's the uniform of detectives or spies, but it also can go the way of the flasher. The trench, then, is what to wear when one has a secret (or wants to expose one, if I can put it delicately).
So let's see who was, in multiple scenes, wearing a trench:
- Megan Draper. The star of this episode, she had a secret that was not-so-easily hidden: She wants to be an actress, not a copywriter. Her trench raincoat? Again, not something that exactly blends in with a crowd. It's an emerald green vinyl trench that reflects the world around her. Just like how her secret caused everyone connected to her, professionally, to reflect upon her decision. Peggy wonders how her workload will change once Megan leaves. Stan (the art director whose name I perpetually forget) reflects on the somewhat thankless nature of their profession. And Don thinks about how he can avoid her becoming Betty.
- Don Draper. The man of a thousand secrets, Don wore a classic khaki 'Mac' jacket. The 'Mac' style, made popular by Burberry in World War I, was the preferred rainwear for fashionable men in the '60s. Single-breasted with no belt, the jacket has a clean line that suits Don beautifully. In this episode, Don's not revealing the fact that he feels, without Megan's constant presence in the office, that he might slip back into his old ways. To wit: After Megan officially leaves Sterling Cooper Draper Pryce, he heads straight to his office bar and has a drink -- alone. We haven't seen that behavior this season. Also, he smokes after the cringe-worthy Cool Whip pitch. Megan has previously cautioned him against smoking, so it's another sign of the old Don.
- Pete Campbell. Like his ersatz role model, Pete also wore the 'Mac' style trench. But unlike Don, Pete is lousy at attempting anything secretive in his personal life. This episode we found Pete attempting to start an affair with his fellow commuter's wife (played by Alexis Bledel, a.k.a. Rory Gilmore) and for the time being, it looks like a one-time thing. But who knows, really? The parallel's between Pete and Don's choice of rainwear aside, it's as if Pete took on Don's Betty-era personal life this season. And like Don back then, he's not particularly happy.
Elsewhere in this episode, we saw Megan's chunky chain necklace again, Joan in an abstract floral pattern and Peggy repeating a dress. All this -- and more -- in this week's "Mad Men" style recap slideshow below.
And for more "Mad Men" style highlights, check back here next Monday to discuss the pivotal costumes in episode 9.
PHOTO GALLERY
Mad Men Episode 508 Style Recap