So "Mad Men" finally came back for season 5 on Sunday, which I referred to as "Second Christmas." You see, I'm not just a "Mad Men" fan. I'm the equivalent of a Trekkie for that show. To say that I was excited to finally see where the action picked up after the 17-month-long hiatus from season 4 was an understatement.
Since the premiere was shrouded in secrecy, I spent the better part of those 17 months hoping that the new season wouldn't take place too far into the future. I dread the day when we see Don in wide lapels, Peggy in corduroy elephant bells and Roger in a Nehru collar. Thankfully, we've put off that inevitability for at least another year, as season 5 picks up in 1966.
For a premiere episode, things were a little dull. No huge revelations, cliffhangers or Don writing in a diary (thankfully). Don didn't even really drink in this episode -- just a sip in one scene. Which in its own way is shocking, but considering this is the series where someone got their foot cut off by a lawnmower, this ranks low on the "Mad Men" shock scale.
The main action in the episode is when Megan (a.k.a. the new Mrs. Draper) decides to throw Don a surprise 40th birthday. Because a man whose life is based on a lie loves nothing more than surprises! Let's see what it looked like: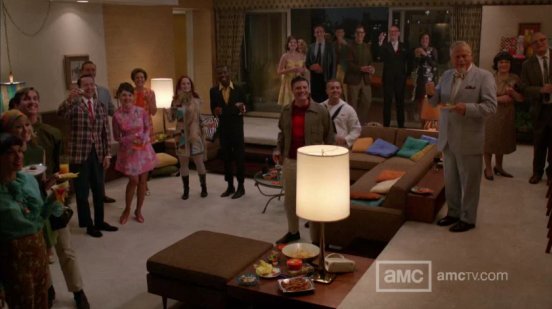 Well, let's just say Don had a good reason to be lukewarm about this shindig. This doesn't look like the kind of crowd that he would want in his fabulous new apartment. But what I liked about this scene is how 1966 it is, fashion-wise. You have the mod influence on everyone under 30, while the older generation clung to their JFK and Jackie ensembles. Again, I find something distinctly comforting in seeing Don and his skinny ties. And see if you can spot Pete Campbell's party blazer.
Also: Joan had her baby and was decidedly non-Joan in her appearance for most of the episode, but still busted (no pun intended) out one of her power wiggle dresses towards the end. Peggy is still wearing the same dress she wore twice already in season 4. And Megan sang a sassy French song while wearing wizard sleeves. For all these highlights -- and then some -- check out the slideshow.
And stay tuned for next Monday's "Mad Men" style recap!
PHOTO GALLERY
'Mad Men' Style recap