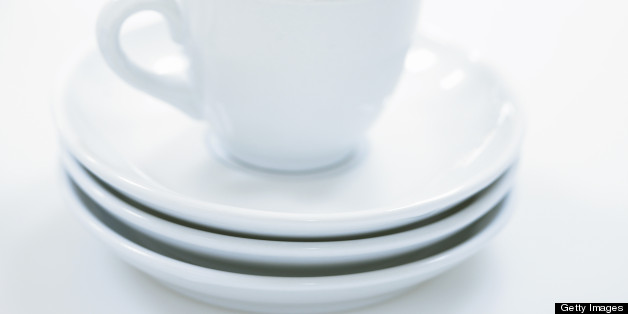 Want to turn a few unused items into an elegant, masterfully designed DIY project? All you need are a few pieces of dinnerware and a pair of candlesticks! While you could use this creation for a mini cupcake tray or serving platter, we think it's perfect as a unique jewelry display. No one else will have a way to keep their baubles organized quite like this!
You'll need: two candlesticks, a small bowl, two differently sized plates (one large and one small) and E-6000 glue.
Note: We found an awesome set of matching plates at Target, but any set of teacup saucers or appetizer plates will work. If you don't have a pair of candlesticks, head to your local thrift store to pick up a few.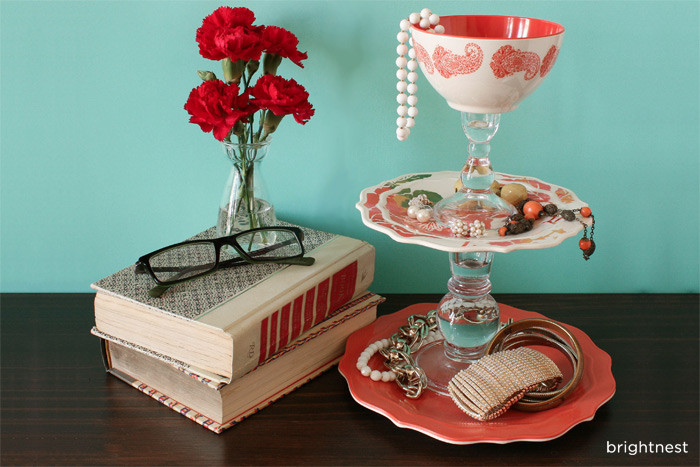 How to:
1. Add glue around the bottom of one candlestick, focusing on the candlestick edge (the part that will be touching the plate below it). Press the bottom of the candlestick down onto the center of your base plate (make sure it's the larger of the two plates).
2. Add glue along the top edge of the exposed candlestick, paying special attention to the area where the plate's bottom will come into contact with the candlestick. Place the second, smaller plate on top of the candlestick. Keep it centered!
3. Repeat step one with your second candlestick, securing it to the small plate. Then, add glue to the top of your second candlestick and secure the small bowl atop the candlestick. Press firmly and evenly to make sure it will stay together.
4. Let everything dry, and then pile on your jewelry! Use the small bowl for dangle earrings, studs and rings. The middle tray is great for more delicate necklaces and bracelets, and the larger, bottom tray is perfect for heavier bangles and long chains.