The heat was on today, literally. Whilst Paris basked in an Indian sun, the fashion world sweltered in stuffy convents and yes again hotel ballrooms. With summer going on for longer, maybe it's time Paris Fashion Week was outside. 'Lovvies' dug out their fans to keep cool in the front row.
Temperatures were also rising. People snapped at PRs for badly organised seating plans and models looked decidedly sweaty.
Today saw Dior, Isabel Marant, Lanvin, and Vivienne Westwood amongst others.
Isabel Marant's funktastic American retro collection was in of all places a convent and a dingy one at that. Each designer stays in the same old venue - doesn't really leave much room for innovation.
Rachel Zoe was in attendance with her hubbie - like a Queen Bee - and yet again Anna Della Russo in a straight-off-the-runway dress, a black and silver number which was to be admired in the heatwave.
The collection was tie-dye central mixed with random patchwork and denim. There was a groovy bright knitted jumper, though sure my Aunty Muriel could have done better.
Maybe I am starting to sound like a catwalk cynic, but little has jumped out this season so far apart from Carven's rainbow collection.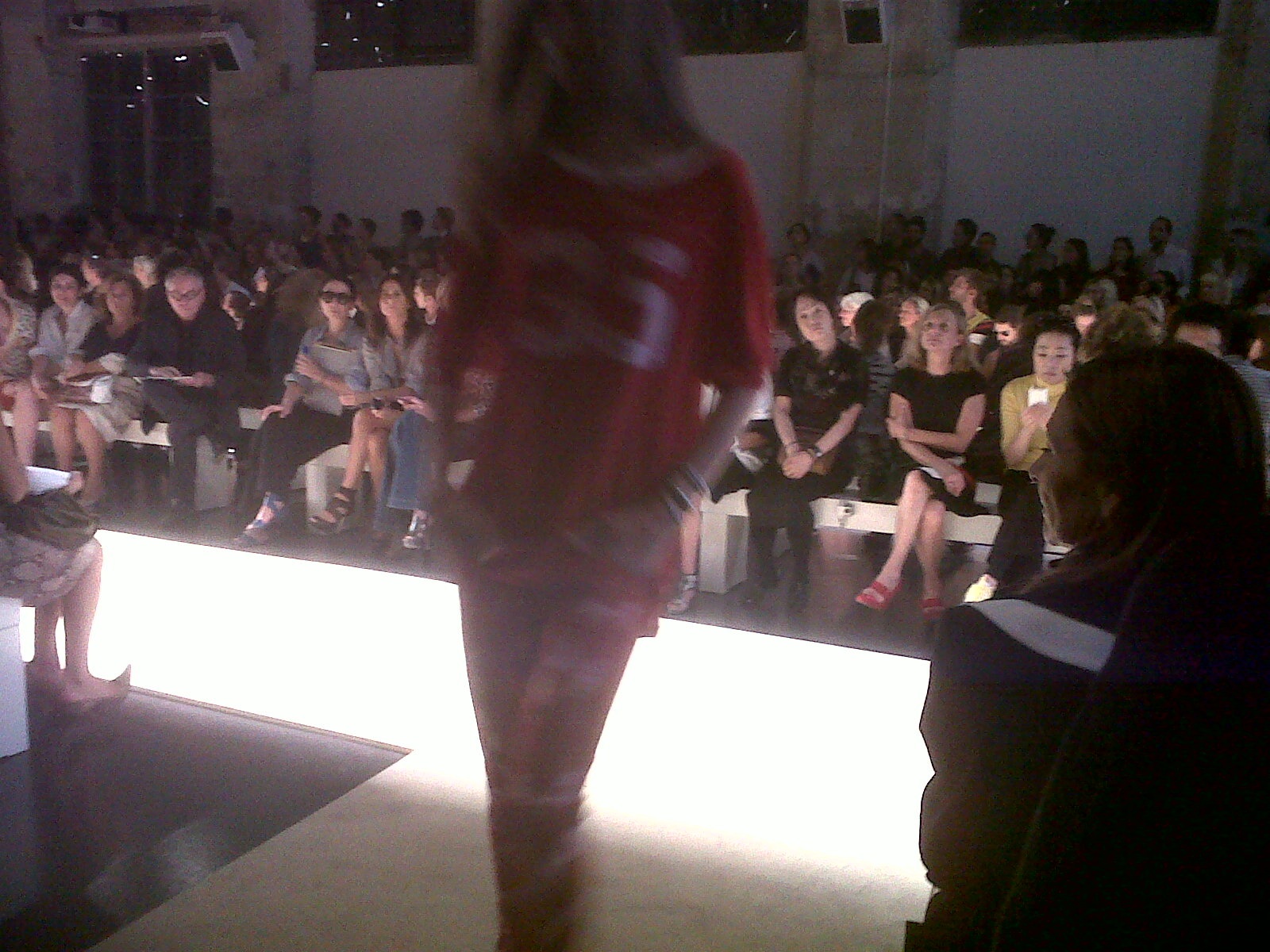 Dior was all about sheer - in fact all twitters have been about seeing model bare bottoms. Lanvin was just hot - not geared for ventilation.
Westwood however redeemed themselves. Having been iffy about me being 'digital' media they gave me a great seat at the show. In fact not just a great seat. A front row one.
Waiting for the show was an experience itself: Vivienne gives you permission to go nuts. Mohawks with feathers. At one point the Net-a-Porter TV guy muttered "check out the legs on her" - he was pointing at the hairiest legs of a boy in a skirt. Girls also butched up in suits.
Before the show I had this strange compulsion to buy a Zadig & Voltaire hat. There was a very English rugby scum to get in. People screeching me-me-me. Funny to see high-heeled gals and gay boys scrambling to be first in. Vivienne was doing a press conference on a balcony for all to see - ever the savvy creatrice.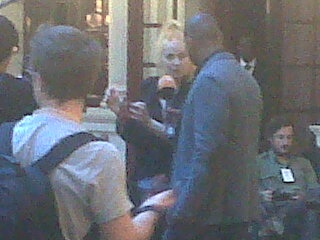 The room was unreal - chandeliers and flourescent lighting - and a circular catwalk. The clothes were out of this world - vampire meets angel. All conventions subverted. Blue makeup on dark skin, orange-y pink on light. No pumping music. Just a pianist and classical melodious. Vivienne won hands-down today, in fact the whole week. At the end of the show she came out and hugged her girls. Everyone shouted "hip-hip-hooray!" in Brit style. No cold prima donna behaviour here.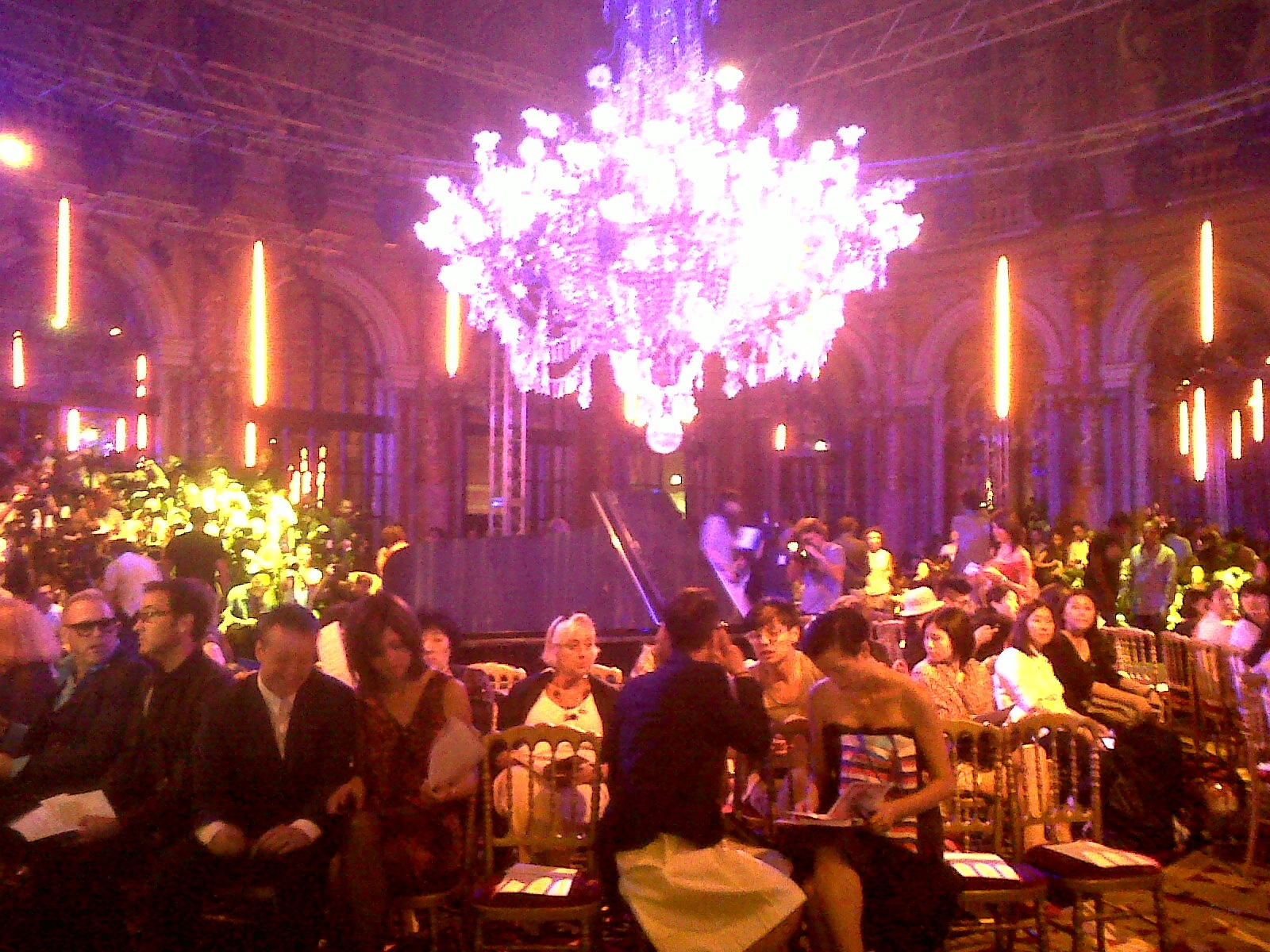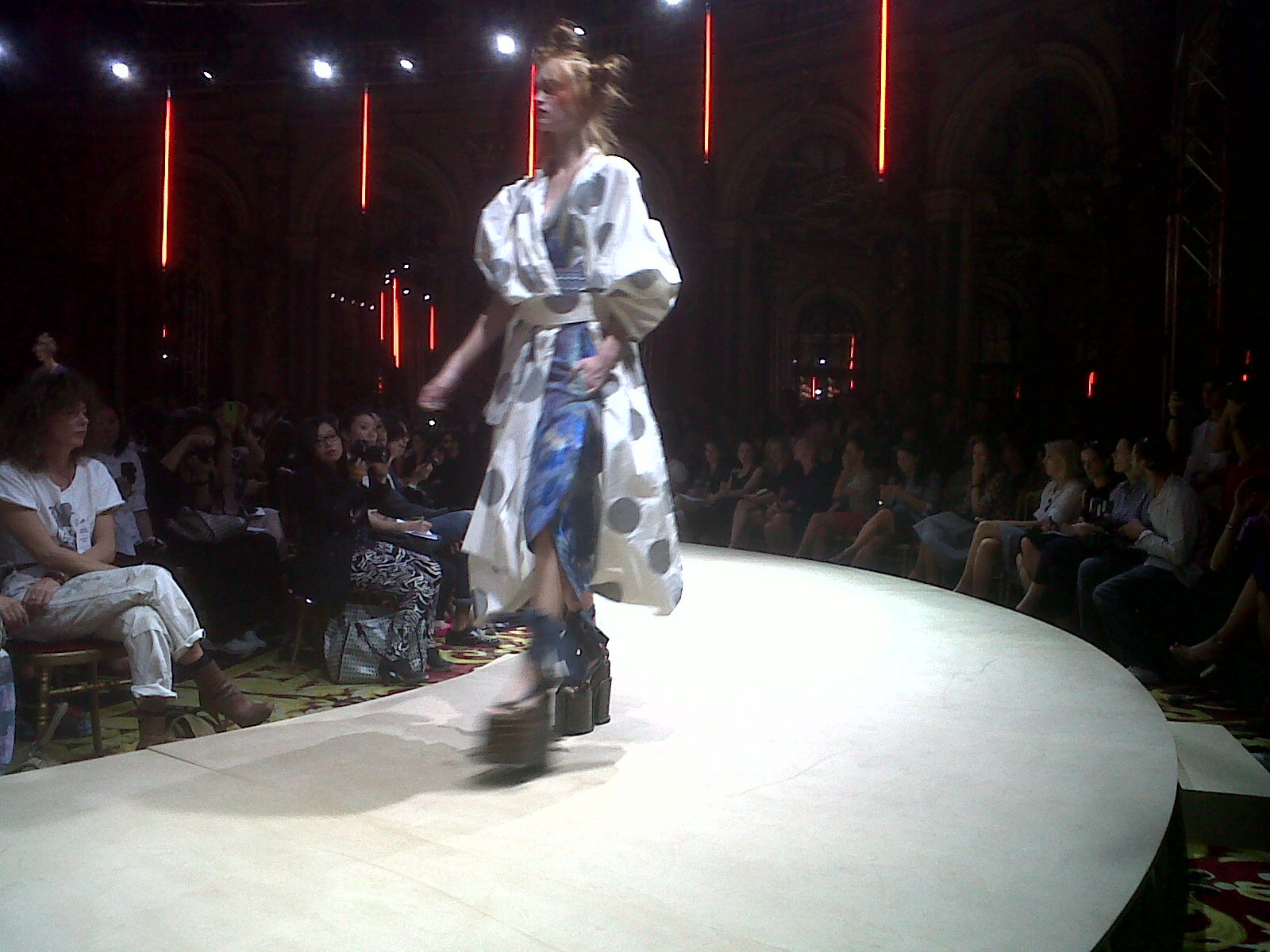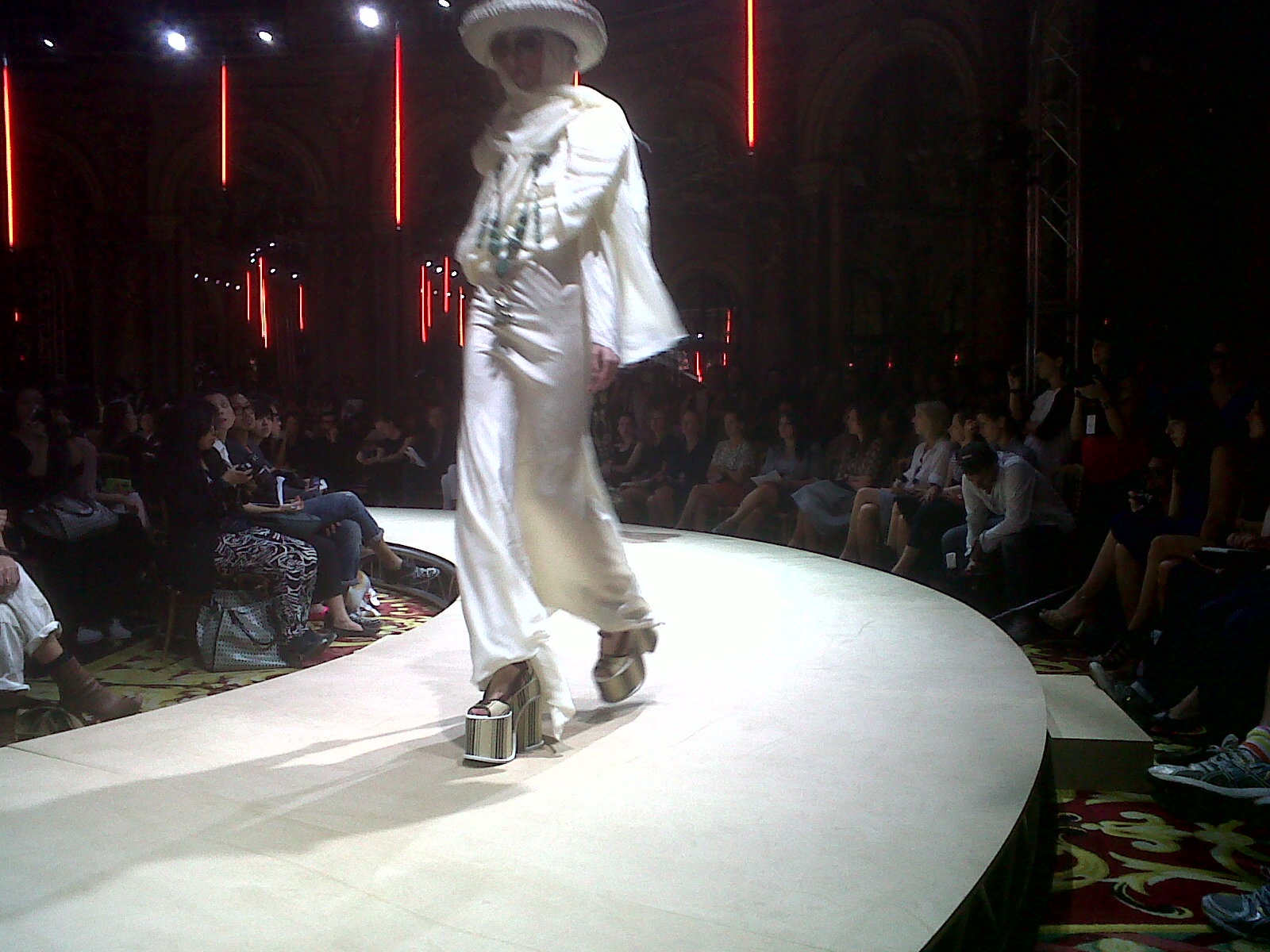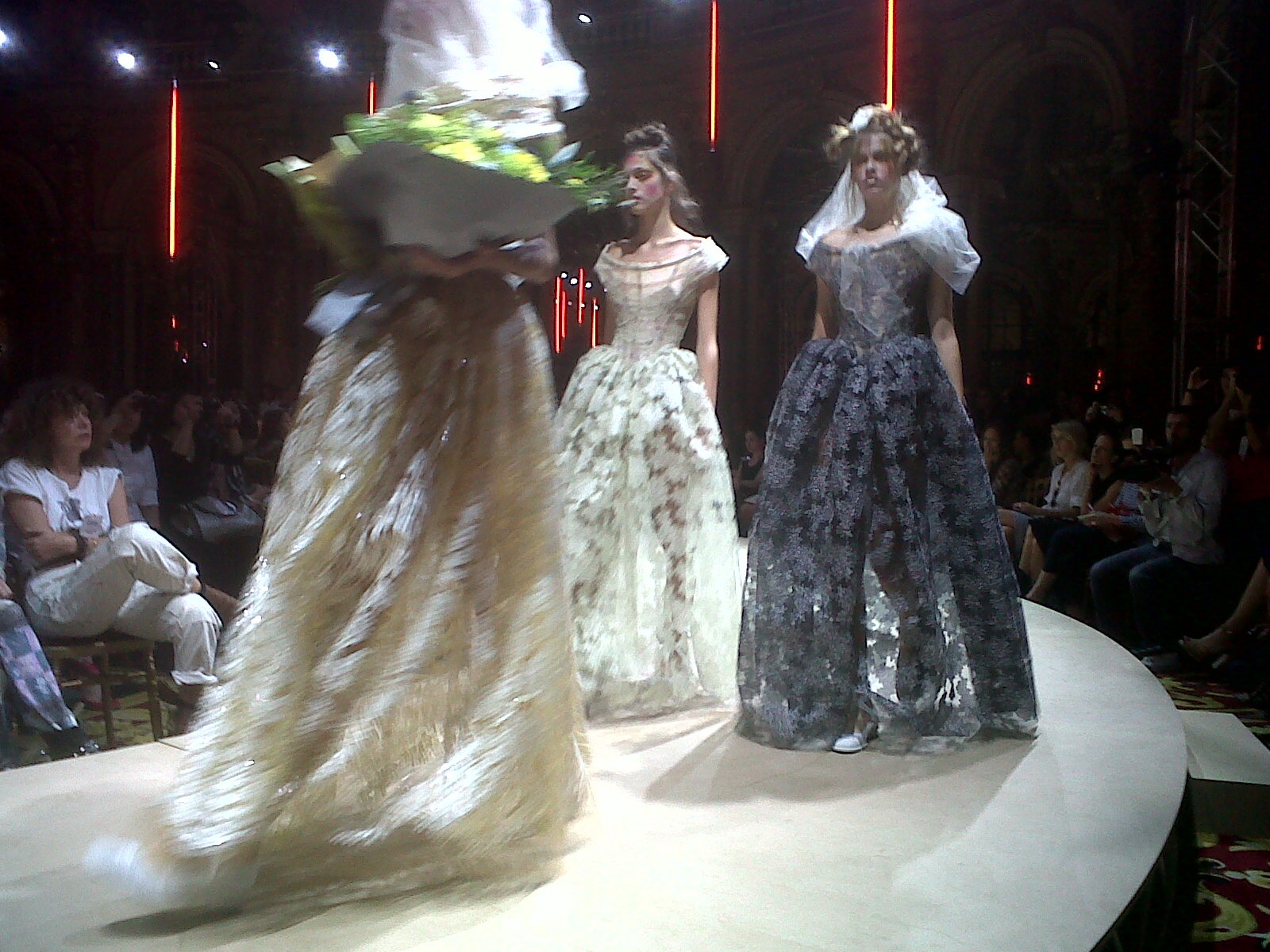 The after-party of the moment was Hogan/Lagerfeld. In the sumptuous hotel Rothschild and its gardens. Karl in all his ponytail-ness had cleverly teamed up with the groovy shoewear from Tod's. Like Lady Westwood, he worked the party hard only going public for interviews. Ines de la Fressange was there, plus many of the catwalk models (incidentally nibbling on nibbles, thank goodness). One room was devoted to four girls posing and strutting around in strobe lighting within a material maze. My friend and I wanted to join in, but we would have spoilt the "art."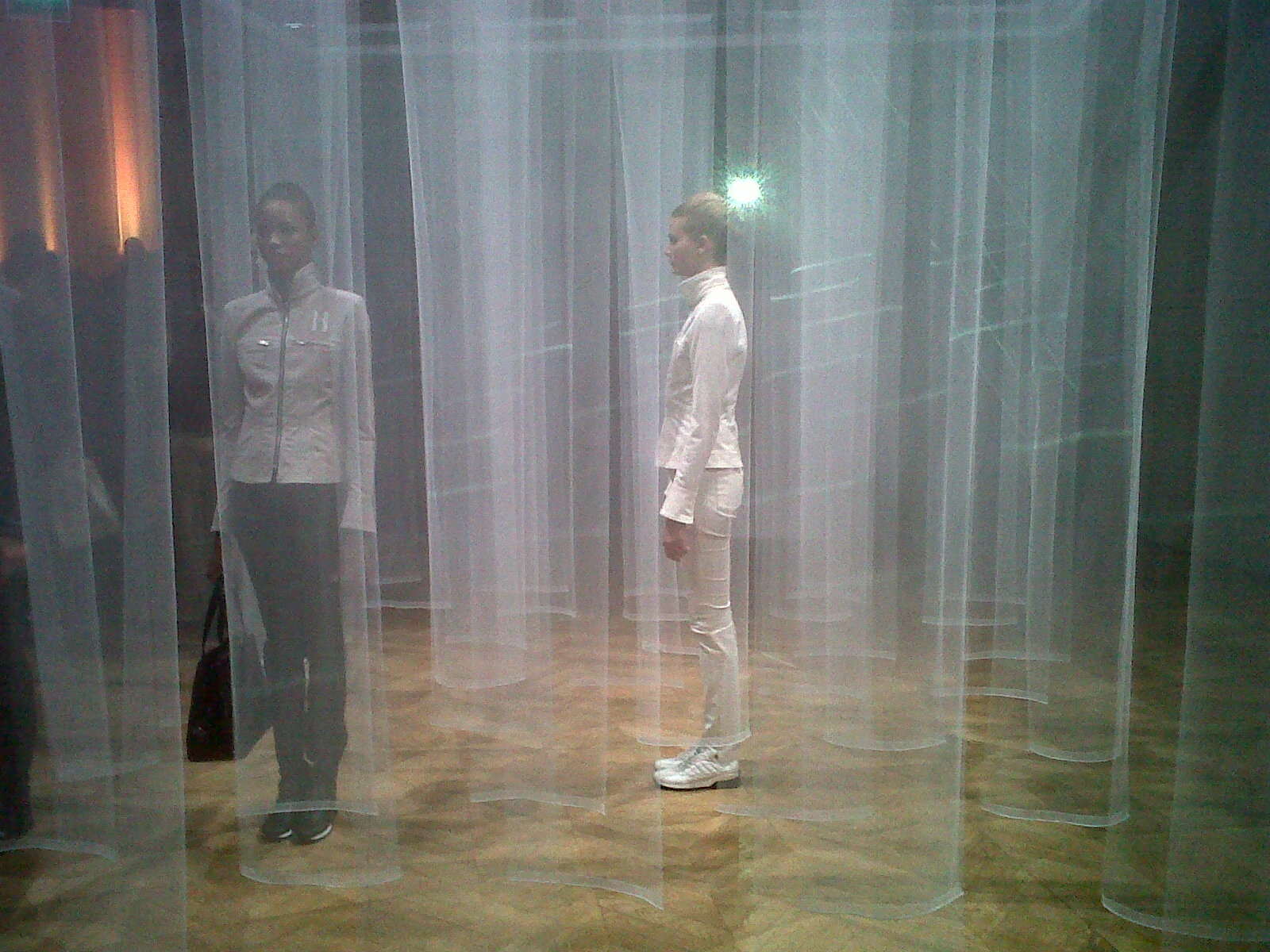 The funniest moment of the day was afterwards outside a local cafe seeing two models try to cross Avenue Hoche in tight shorts and wedge heels. They looked double the size of a passing group of Frenchy boys. Off the catwalk they looked rather freakish...more like urban giraffes.
Tomorrow Kanye is doing his own show - it is rumoured to be littered with celebs and VIPs as fashion gets raptastic. BritChick will be twittering live and le full gossip Sunday morning in Stylelist...