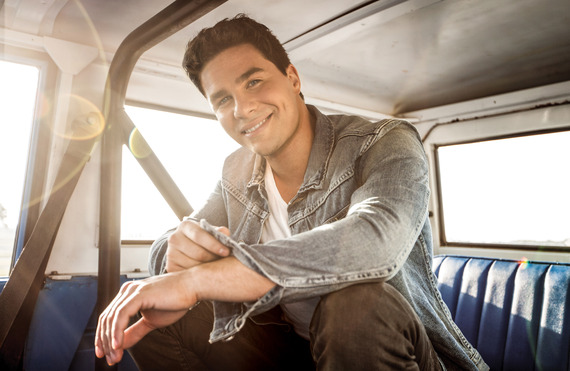 "I'm a product of 90s country," admits Toronto-born, Nashville-tested singer-songwriter Steven Lee Olsen. "I grew up listening to Garth and Bryan White and George Strait and Vince Gill. Those are the guys who made me fall in love with country."
Olsen, whose debut single "Raised By A Good Time" hit radio airwaves last week, cites those early influences as instrumental to his sound, but is quick to note that other childhood influences can also be heard. "It's a combination of all the things I loved growing up: country, some R&B, some rock, the whole deal," he says. "I wouldn't call it traditional by any means."
It may not be "traditional," but the song is certainly resonating with country audiences. And although he's a newcomer at country radio, Olsen is no stranger to Music City. He made the move from Canada almost a decade ago to pursue his dream of becoming a country singer-songwriter.
"When I first moved to Nashville, I literally had only written about three songs," he says. "I really wanted to move there and learn from the best and learn the true craft of songwriting. At the same time, I was naive and ridiculous. I had never even been to Nashville before. I just thought I was going to get a record deal and be off making an album within the first year. So, it was really eye-opening for me to see the landscape and the amount of talent that was in Nashville. It has humbled me and helped me raise my game."
Olsen has collaborated with some of the most successful writers in Nashville, penning hits for several artists and the television show Nashville. He also recently had a song recorded by one of his country idols, but more on that later.
Olsen recently took a break from his daunting, cross-country radio tour for an exclusive interview. Here's an excerpt of our chat about his upcoming album, his musical aspirations, and even his most embarrassing secret.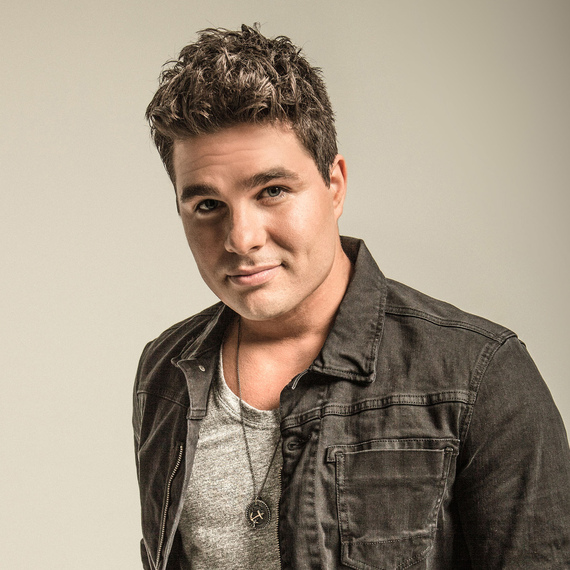 You've been on this radio tour for a while now, right?
Yes, and we'll be on it for the rest of my life, I'm pretty sure. There are 166 stations to visit, and we've been to 60 so far. So we're not even a third of the way through. But, I'm having an amazing time. My guitar players keep me in line. It's been a blast meeting the people from each station. This tour feels more like home now than home does.

Have you had a chance to check out any hot spots from city to city?
The schedule is pretty crazy, but we always find some time to explore the city we're in. When we went to Seattle we went to Voodoo Doughnut, because you have to go there when you're in Seattle. We had barbeque when we were in Texas. My favorite meal along the way was in Portland, at a place called Mother's Bistro. They have the absolutely best biscuits and gravy you'll have in your entire life. I went to Vegas for the first time and I didn't gamble until we got to the airport to leave. I had $5 in my pocket and I made $25 bucks. So, I left Vegas up for the trip!

Were you campaigning for "Raised By A Good Time" to become your debut single?
I'm very happy it made it to first single. It seems to be very fitting. That song has been around for a couple of years now, but it's the song that stayed in my CD player in my car forever. I write so many songs, so usually the newest song is my favorite, but that one just kept coming back. It's a song about all the stupid things my co-writers Cary Barlowe and Chris Stevens and I did when we were young. The writing style of the song is definitely a product of me being in Nashville and learning from the best songwriters there are, and just taking pieces of knowledge from them.

Is "Raised By A Good Time" representative of what fans can expect to hear on your forthcoming album?
It's definitely a good introduction to what I do. It's melodic and rhythmic and has some modern phrasing. As far as lyrics go, it's basically how I grew up. You'll get a good idea of who I am from that song. Furthermore, this record will go a lot deeper. Right now we're cutting a few songs that come from past experiences. There's some heartache, there's some anger, there are some big love songs. Fans can expect it all.

As a songwriter and a singer, how do you decide which songs to offer other artists and which ones to keep for yourself?
It's a tough decision, because every song is like a child. You put so much love and hard work into it. To tell you the truth, any song that I'm writing right now I'll probably hold for myself. I give it the old four-week test: if I'm still absolutely loving the song in four weeks, I'll continue to hold it. There are some songs I've held since way before I got my record deal that other artist wanted to cut and I gracefully bowed out and held onto them for myself. You never want to let a song go and let it be a massive hit for someone else this early in my career, because I would be thinking forever, "Man, that could have been a massive hit for me!" It's one of those things that as a songwriter it's totally gratifying, but as an artist you want to kick yourself in the ass for letting it go.

Garth Brooks recorded your song "Cold Like That" for his new album. What was that experience like?
I don't know if anything can beat that for me. Garth is the man. He invited me to one of his concerts in Greensboro and I can honestly say it was the best concert I've ever been to, and I don't that any concert will ever beat it. He's done everything perfectly [in his career]. He is the most loyal person. He's giving and thoughtful and charismatic. I got to meet him and sing backgrounds on "Cold Like That" on the album, and really got to know him, and it was just unreal. I was so scared to meet him for the first time. I didn't know what to expect, and I didn't know what I was going to say. I didn't even know what to call him! I wasn't sure if I should call him Mr. Brooks, or Garth, or Garth Brooks, or G-Man, or whatever. He's in my phone now as G Dawg. He really just put all of the nerves at ease within the first five minutes. He just felt like Uncle Garth after that.

Getting a Garth cut is pretty huge. Who's another dream artist you'd love to write a song for?
I've always wanted a Keith [Urban] cut. I think he's a class act, and a hell of an entertainer, and I've just always been a fan of what he's done. That would be a really cool cut. I mean, I'd love to write for any of the greats that I grew up listening to. I'd love to get a Vince [Gill] cut; that would be unreal.

What's one thing you like to do in your downtime?
I love playing hockey. I grew up playing, and it's still the best way to really get aggression out. I just can't get rid of it. I still play with my brother.
Do you think your loves of hockey and music might ever merge?
I love going to Nashville Predators games. It's an amazing experience. The crowd gets so into it. It would be a dream come true for me to write and perform the Preds' goal song. Right now, every time they score they play a version of "I Like It, I Love It" by Tim McGraw, but with changed lyrics. It goes, "I don't what it is about this Predators scoring, but I like it, I love it." I need to dethrone Tim McGraw and come up with a more modern goal song. I think it's time for the new guard to come in for that particular song.
What's something country fans would be surprised to learn about you?
I must confess: I love Michael Bolton. My mother used to make me listen to him all the time. She would drive me to school when I was really young, and she would just blast the stereo. I would be so embarrassed, because she would roll down all the windows and lock them, so all of our friends knew that we were coming in the car with a mother blaring Michael Bolton. I can actually do a pretty good Michael Bolton impression, and the funny thing is that now I love him. It definitely embarrassed me as a kid listening to it, and as an adult I'm even more embarrassed telling people what a fan of his I am. I even have a signed 8x10 picture of him. It was post-hair, after he'd cut all of his hair of, so I feel like it's not even really Michael Bolton anymore, but I still have it.

Your major-label debut album has been 10 years in the making. Would you change that?
I wouldn't change a thing. The 10 years have been hard. There have been ups and downs, lots of doors slammed in my face, every label turned me down twice, the whole deal. That seems to be the typical story, but it was crucial because up until now I don't think my musicianship and artistry was where it needed to be to present it to the world. Now that it actually is where it needs to be, everything has come together: my producer, the label, the A&R staff, my band members, and so many other moving pieces. It's really been a blessing that it happened the way it did, and now that I'm more confident than ever in my music and the team around me, I can't wait to share this album with the world.