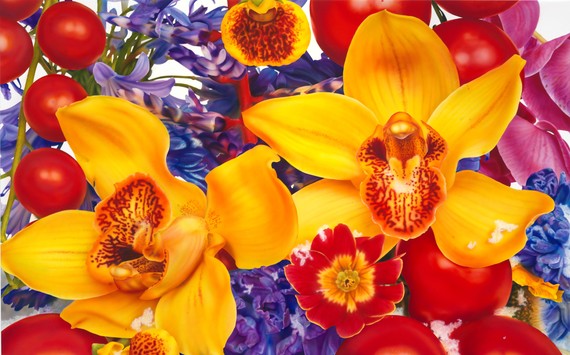 Marc Quinn, Sunrise Sunset, 2010, Oil on canvas,169 x 270 cm (66 ½ x 106 in.).
This super-sized photorealist-inspired composition of orchids and contrasting flora has a mesmerizing attraction to viewers, who inspect Quinn's work for clues to its complicated process and skilled perfection. (Courtesy Osborne Samuel Gallery, London)
Early December is the time when the international art community descends on South Florida for what's commonly known as Miami Art Week, not only to escape the freezing weather elsewhere, but to attend the biggest gathering of diverse, high quality art fairs on earth. Miami is a vibrant tropical city with a population of over 400,000 residents of extraordinary diversity, and now is considered the third most important American art center after New York City and Los Angeles. Throughout its rich past, Miami has been a place of great history and survival, and in the last twenty years has continued to grow and attract accolades for its distinguished architectural range, business energy, Art Deco preservation districts, numerous museums and a lively, active arts community.
An important component to this city's energy is Art Miami, celebrating its 26th year as the original and longest-running contemporary and modern fair, which has just opened a star-studded line-up of artists and dealers that's not to be missed. As the no.1 ranked international art fair for attendance in the U.S. and second-most attended globally, Art Miami attracts more than 85,000 new and established collectors, curators, museum professionals, and press and art world luminaries annually to its 200,000 sq. ft. pavilion in the Wynwood Arts District. Opening night was certainly the most festive and exciting evening that I had experienced in many moons over the Atlantic, complete with an illustrious and fashionable crowd whose refined apparel was clearly influenced by contemporary art designs, patterns and splashes of robust color.
During my first several hours of walking the fair, I came across an encyclopedic inventory of absolutely first rate examples from respected galleries of superior works by legendary and pioneering modern artists, including Picasso, de Kooning, Motherwell, Kline, Dali, Hofmann, Calder, Miró, Dzubas and Tàpies, and dozens of other exquisite works that could fit quite comfortably into MoMA's permanent collection.
On the contemporary side of the fence, there were a surprising assortment of amazing large-scale works by Frank Stella, who also is currently exhibiting at the Whitney Museum in Manhattan. Joining the fraternity of art stars were fascinating works by Freud, Warhol, Johns, Koons, Hirst, Weiwei, Richter, Murakami, Prince, Hockney, Twombly and Dumas, just to name a few that caught my attention. In addition, I spotted examples of engaging classic works by Christopher Wool, Antony Gormley, Ed Ruscha, Claes Oldenburg, Wayne Thiebaud, Eric Fischl, Dan Rizzie, John Baldessari, Banksy, Anselm Kiefer, Cecily Brown, John Chamberlain, Jenny Saville, James Rosenquist, George Condo, Julie Mehretu, Cindy Sherman and Helen Frankenthaler.
It also was gratifying to discover emerging young artists like the talented Brent Estabrook, whose photorealistic group portraits of stuffed animals were sold in the first hour of the fair; Houston-based artist David Solomon's surrealist inspired compositions at Peter Marcelle Project; or young genius Greg Haberny at Ethan Cohen New York, who, quite literally, has a burning desire to torch his work and make engaging assemblages accented with homemade fingerpaints out of the ashes.
With 120 galleries from nineteen different countries offering important modern masters and blue chip contemporary artists, here are my 'baker's dozen' top picks of particularly noteworthy works of art showcased by an array of international galleries: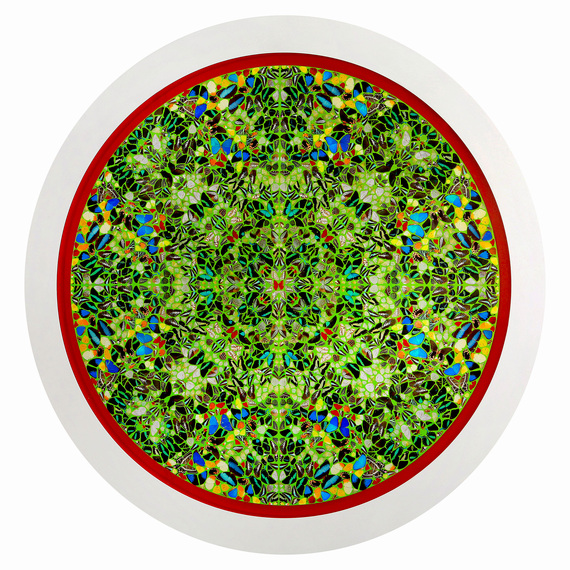 Damien Hirst, Freedom, 2007, Butterflies and household gloss on canvas, diameter 182.8cm (72 in.). Courtesy Jerome Zodo Gallery.
Life and death are consistent themes in Hirst's work, along with a twist on nature that's often diced, sliced and stuffed. Butterflies are among the artist's most beloved media, which represent hope, beauty, and the fragility of life, and this work supports a unique universal, spiritual symbol for timelessness and mortality. (Jerome Zodo Gallery, London)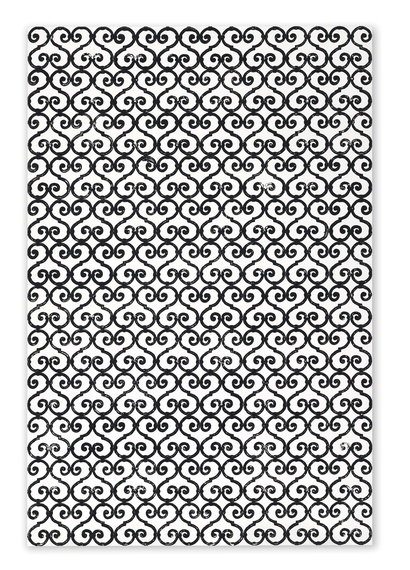 Christopher Wool, Untitled, 1987, Alkyd and flash powder on aluminum and steel, 182.8 x 121.9cm (72 x 48 in.). Courtesy Galerie Boulakia.
The imagery in Wool's historic, early and quite rare work at Galerie Boulakia later evolved into his best known stenciled letters on white canvas. In the 1980s, the artist was creating a neo-pop brand of painting using commercial rollers to apply decorative patterns, and this work is a classic example of that technique. (Galerie Boulakia, Paris)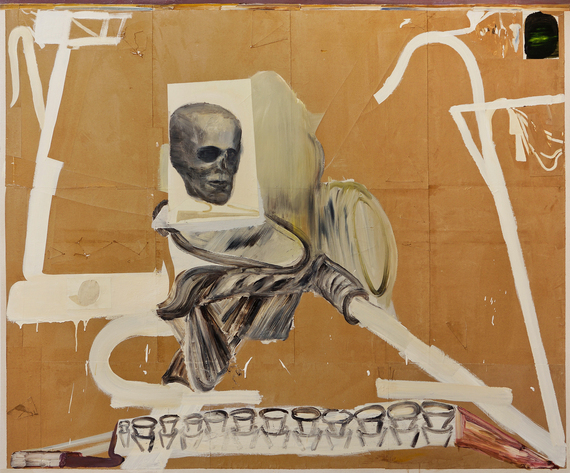 Reima Nevalainen, Gardener, 2015, Acrylic and collage on canvas, 165 x 200cm (64.96 x 78.74 in.). Courtesy Galerie Forsblom.
This artist was Finland's Young Artist of the Year in 2015, and Nevalainen constantly explores the very foundations of existence. In these provocative mixed-media works, removal and destruction are just as important as creation and addition. (Galerie Forsblom, Helsinki)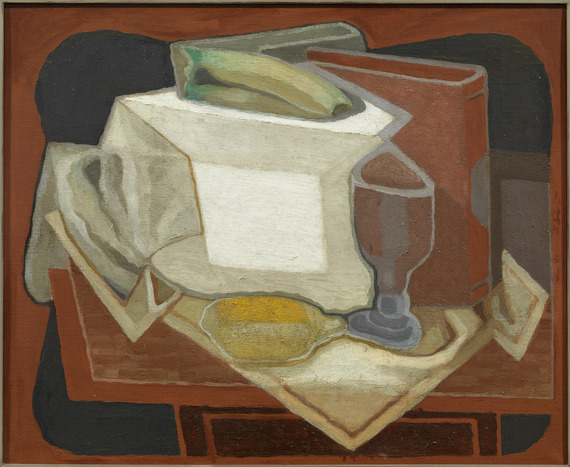 Juan Gris, Les Bananes (The Bananas), January-July, 1925, Oil on canvas, 38 x 46cm. Courtesy Galería Barbié.
Perhaps the most classic painting at the fair, this still-life by Juan Gris is a remarkable, significant tribute to the innovative artistic genre Cubism, and his works are among the movement's most distinctive. In 1906, he became friends with Matisse, Braque, Picasso and Leger, who all were an obvious positive influence on his art. (Galería Barbié, Barcelona)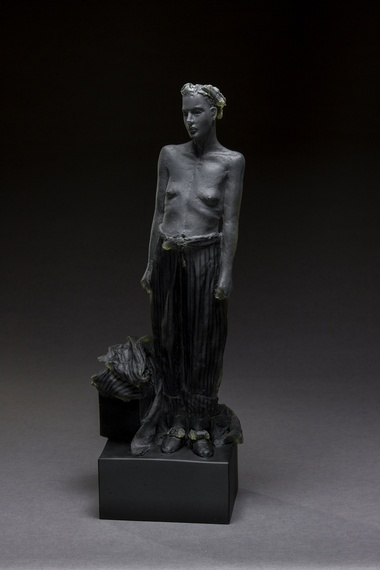 Nicolas Africano, Untitled (striped pants), 2015, Cast glass, 28 x 9 x 8 in. Courtesy Nancy Hoffman Gallery.
Africano, who creates sculpture primarily in cast glass, is one of the most sought after and notable artists who utilize this challenging medium. Employing the lost wax technique, the forms in this series modeled from his wife and muse are delicately cast and are dramatically beautiful and innocently sexual. (Nancy Hoffman Gallery, New York)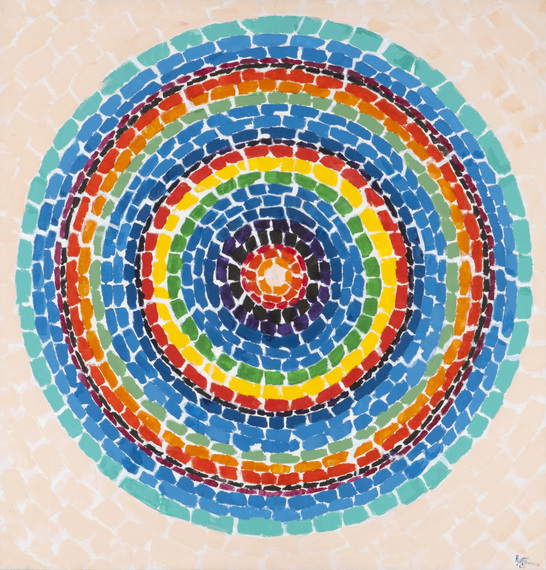 Alma Thomas, Wind Dancing with Spring Flowers, 1969, Acrylic on canvas, 48 x 50 in. The Estate of Vincent Melzac; copyright Alma Thomas. Courtesy CONNERSMITH, Washington, D.C.

This important work is a quintessential example of the Earth Series, created in the prime of Thomas' career. This distinguished color field painter was the first African American woman to have a solo show at the Whitney Museum of American Art, and the painting exhibited here is on the cover of the catalog published for her retrospective. (CONNERSMITH, Washington, D.C.)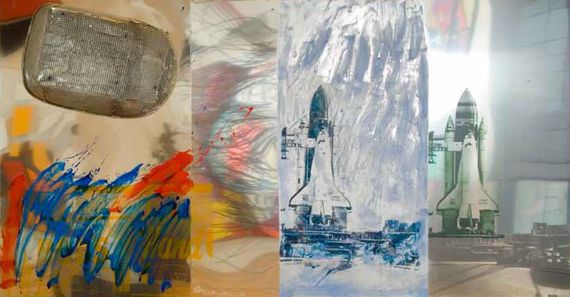 Robert Rauschenberg, Shuttle Buttle/ROCI USA (Wax Fire Works), 1990, Acrylic, fire wax, enamel and object on mirrored aluminum, 72 5/16 x 144 5/16 x 17 ½ in. Courtesy Hollis Taggart Galleries.
I had the distinct pleasure of watching Rauschenberg paint on a series of mirrored aluminum in his Sanibel Island, Florida studio, as he was preparing for a show at my Worth Avenue gallery. The intimate discovery I experienced was that the artist worked fast and furious, almost always without a game plan, and used an instinctual DNA to place photographic images that he intuitively snapped together as if they were bits of collaged paper. (Hollis Taggart Galleries, New York)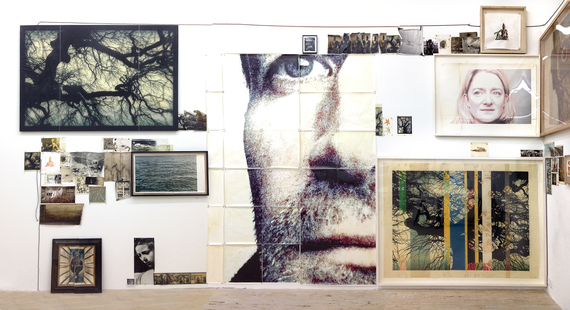 Doug & Mike Starn, Untitled, 2015 © Doug & Mike Starn, Artists Rights Society (ARS). Courtesy HackelBury Fine Art, London.
This amazing site-specific installation was a showstopper, as the entire wall was embellished with photographic works pasted, tacked and framed to produce a rich and ambitiously handsome idiosyncratic composition of metaphors instantly recognizable as by this dynamic duo. (HackelBury Fine Art, London)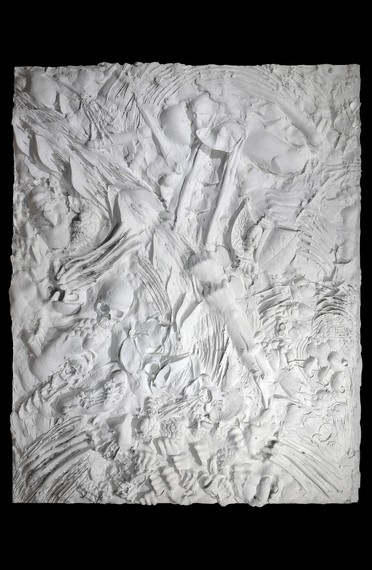 Robert Morris, Untitled, 1982, Plaster relief with metal frame, 61 5/8 x 51 ¼ in. (156.5 x 130.1cm). Courtesy Mark Borghi Fine Art. Photograph by Christopher Fay.
Perhaps one of the most profoundly unique and oddly beautiful works in the fair is a classic plaster relief that is hauntingly attractive and slightly macabre. Morris has long been considered as a bulwark of the radical New York sculptural establishment whose work is derived from confrontational Minimalism. (Mark Borghi Fine Art, New York, Palm Beach, Bridgehampton)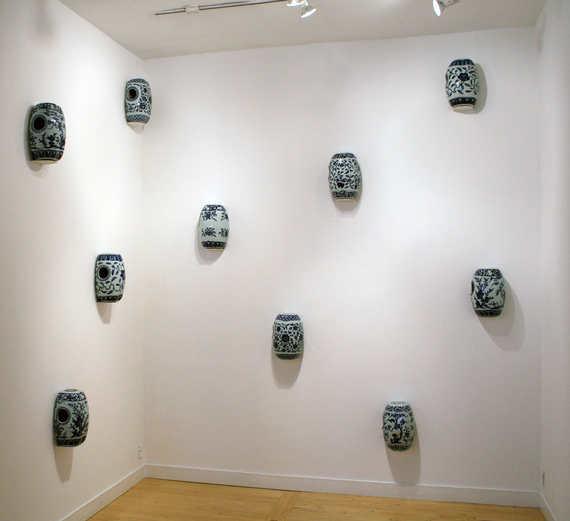 Ai Weiwei, Owl House, 2010, Porcelain, 16.5 x 12 x 8.5 in. Courtesy Haines Gallery.

Weiwei incorporates Chinese history into this handsome series of works. The beautiful grouping inspired by traditional porcelain garden stools becomes an elegant and safe living environment for birds. Covered in the blue-and-white designs associated with Ming Dynasty ceramics, these sophisticated habitats evoke associations of home. (Haines Gallery, San Francisco)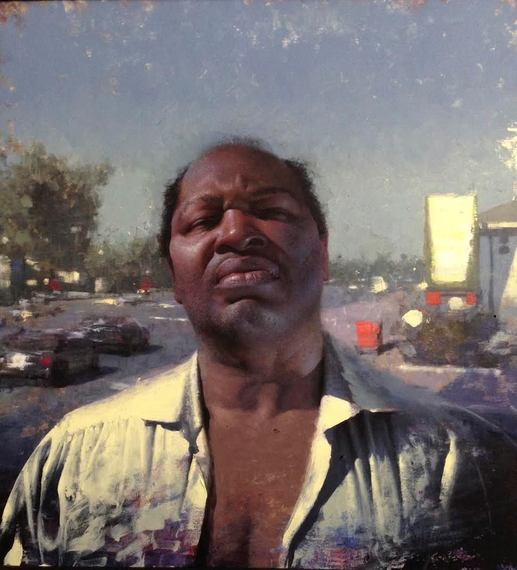 Daniel Sprick, Nathan, 2014, Oil on board, 24 x 24 in. Courtesy Peter Marcelle Project.
For any critic implying that great portraiture is dead, a good close-up inspection of Sprick's realist, meticulously executed portraits will no doubt change a mindset. These works recall those of the Dutch and Flemish traditions, bringing back the sumptuous human aspects of refined articulation of perfect, convincing brushstrokes. (Peter Marcelle Project, Southampton)
Art Miami continues through December 6, 2015. For more information: http://www.artmiamifair.com