I first arrived in Palm Beach in 1982 to open a contemporary art gallery on Worth Avenue, one of the most famous retail streets in the world, which I operated for 14 years. During my tenure in this exclusive town, I acquired a small vintage cottage a few steps from the Atlantic Ocean that inspired me to take a calming walk on the beach every morning. Bare feet in the sand, usually at sunrise, meandering south as I approached the east side façade of the mighty Breakers Hotel, I often would wonder what it must have been like when this extraordinary structure rose from the uninhabited tropical wetland during the last few months of the 19th century. Little did I know that this famous landmark would become so familiar and enjoyable to have as a next door neighbor. For the past 25 years, I've also passed by the stunning front entrance to this legendary hotel several times a week, gaze irresistibly drawn to its impressive silhouette, flags proudly billowing in the wind, and have spent many moons there, including my honeymoon, at glorious black-tie events surrounded by gracious interiors that were ready-made for a movie set.
The true story of this marvelous hotel is as remarkable as its ongoing popularity and prestige. The American industrialist Henry Morrison Flagler had just completed an eighth grade education before starting his first job at a family member's grain store, and soon showed the first spark of his sharp business acuity, moving quickly up to salesman. From early on, he used his entrepreneurial experience, work ethic and genius to build other hugely successful companies. His reputation as a visionary businessman persuaded John D. Rockefeller to approach Flagler for investment money and as a partner to form the Standard Oil Company, which went on to become the biggest and most prosperous and monopolizing oil empire of their time.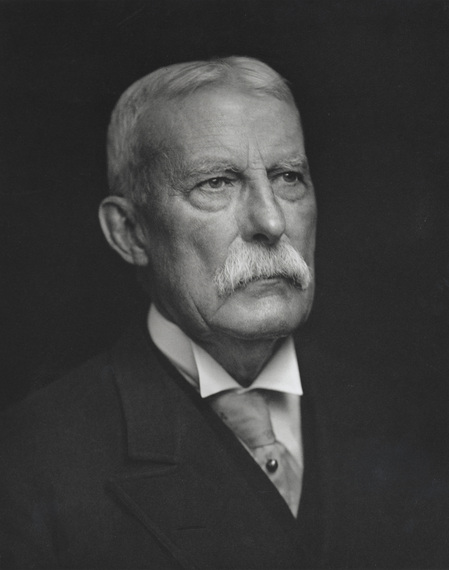 Henry Morrison Flagler, Founder, The Breakers Palm Beach (1896).
In the late 1800s Flagler's first wife Mary was in ill health, and on the advice of their physicians, he took her south to the healing warmth of Florida's sunshine, where he discovered the potential of inexpensive undeveloped land coupled with the state's wonderfully mild winter climate. This move motivated him to develop outstanding hotels, starting with the 540-room Ponce de Leon Hotel in St. Augustine in 1885. He soon recognized the need for a sound transportation system to support his hotel ventures and founded the Flagler railroad, later renamed the Florida East Coast Railway, which eventually stretched all the way from New York City to Key West. His Royal Poinciana Hotel on the shores of Lake Worth in Palm Beach was at the time the largest wooden structure in the world, overlooking the Atlantic Ocean in pristine Palm Beach. Later he built the magnificent Breakers Hotel, which to this day shines as one of the world's great hotels, occupying 140 acres beside the sea and still owned and operated by members of the Flagler family.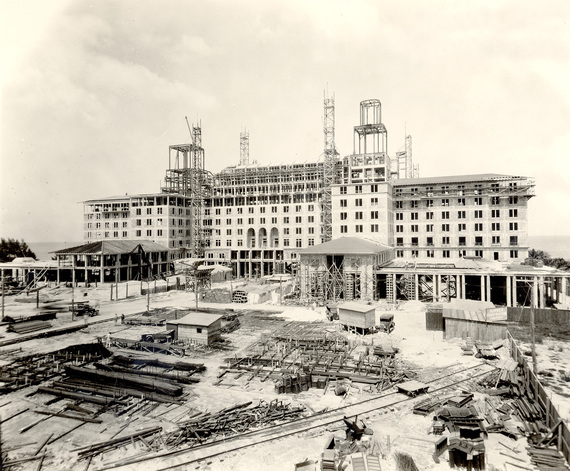 Construction, The Breakers Palm Beach, 1925-1926.

Visiting The Breakers recently with my wife and daughter, I was reminded of the hotel's great historical significance combined with its abundant hidden visual treasures in unexpected places. There's something to be said about making an entrance, and on first view the newly renovated grand gateway can take your breath away.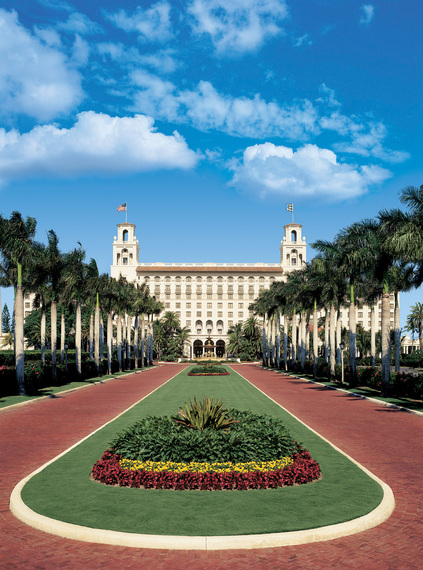 New main drive, The Breakers Palm Beach.
Listed on the National Register of Historic Places, the hotel also was ranked seventh by the American Institute of Architects on its list Florida Architecture: 100 Years. 100 Places. It's easy to agree as you step into the foyer of this glorious seven story building; the first thing you notice is the incredible painted ceilings that would give a Roman cathedral a serious run for its money. The architectural firm Schultze & Weaver, which designed the Waldorf Astoria, Pierre, and Sherry-Netherland Hotels in Manhattan, utilized a distinctive style of the Italian Renaissance, but in particular the Villa Medici (1575). The Breakers was established on a foundation of high quality architecture and craftsmanship, with 73 Florentine artisans imported from Italy during its seemingly impossible construction schedule of less than a year, making this hotel an unrivaled masterpiece. Recently while visiting the hotel again, I came across works of art that had been acquired over 100 years ago, and still hold up as significant, classic works of art.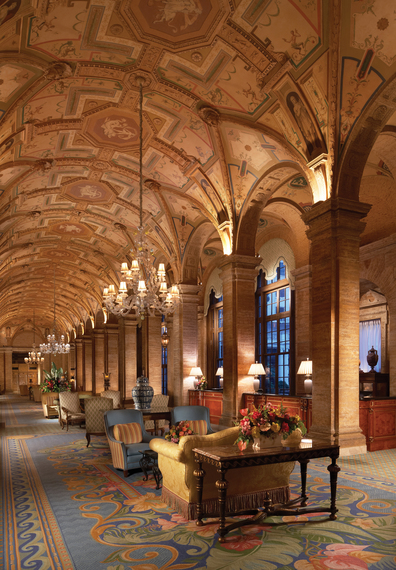 Main lobby, The Breakers Palm Beach.
As you cross the threshold, there is a nostalgic sense that you are entering another world, perhaps somewhere in Europe, where style and luxury are honored traditions. After a coincidental invitation a few days later to meet friends in the newly renovated HMF lounge, an ode to the classic "Palm Beach cocktail culture," we realized that the art to eat was out of the frame and onto the plate. HMF are the initials of the hotel's founder Henry Morrison Flagler, and have now become a kind of in-the-know code for the place to be on the island. Drinks in this fashionable watering hole could be mistaken for exotic concoctions mixed by a celebrated artist, and the carefully curated wine list makes this experience unique. As the accompanying dazzling appetizers are being served at nearby tables, you can often overhear applause of amazement.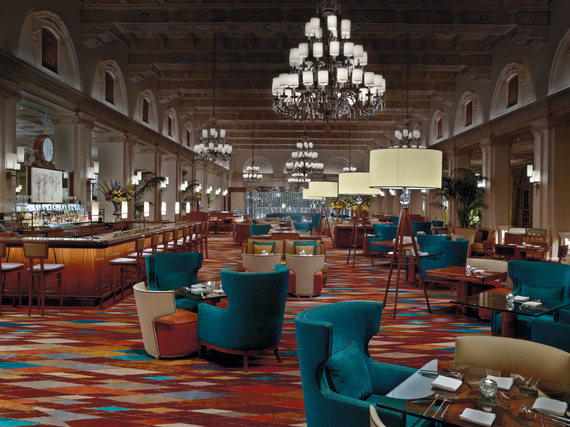 HMF lounge, The Breakers Palm Beach

After a late night stroll in search of a nightcap, we made even more edible findings, which convinced me to create an art-related review of a work that's always in progress. The following weekend I returned with pen and pad confidently tucked away in a secret inside pocket as I foraged discreetly for more fascinating details about which to write. My first stop was The Circle, named for a jaw-dropping, intricate, hand-painted stained glass ceiling juxtaposed with splendid ocean views. This restaurant is often a Sunday Brunch favorite for inviting house guests to a memorable occasion. Our personal preference is the Seafood Bar, not just because the fare is caught in local waters, but that the bar, open until 2 a.m., has become a signature aquarium where finned creatures glide under clear Plexiglas, just below your margarita. After getting more acquainted with the inside story as a reporter and exploring the complicated routine of running a first class hotel with 2,000 associates, all striving for the highest standards of service, it increasingly became clear how important the role of Paul Leone, President of The Breakers, plays on a daily basis. As far as I could see, his positive influence was not only behind the remarkable list of annual awards the hotel has earned, but it becomes obvious that Leone has developed a passion for his position and was exposed to the hospitality industry at an early age, having been raised in a family that owned and operated five local motels and two restaurants. The roster of Breakers personnel is impressive, but the one fellow I met, Anthony Sicignano, Executive Chef for the entire operation of seven on-site restaurants and in charge of 120 culinary staff members, seems to take everything in stride, all while taking time out to explain and demonstrate for me how the culinary magic is created on a daily basis. As he took me on a quick tour, I noticed that he seemed to know everyone by their first names as he checked on kitchen preparations for the evening.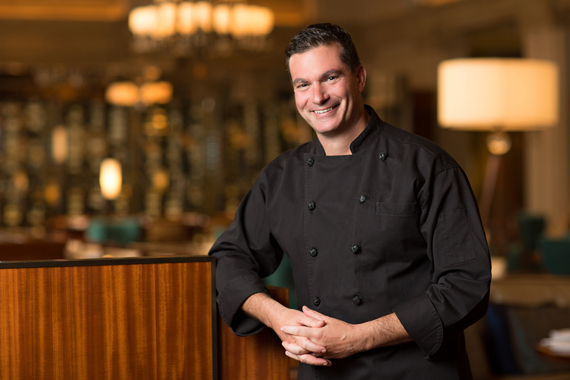 Anthony Sicignano, Executive Chef, The Breakers Palm Beach
Many of the hotel's hallways are decorated with works of art that were popular at the turn of the century, like the Gibson Girl variations whose female forms and flowing white dresses became permanently pressed into rag paper surrounded by a gold frame. Other rooms commemorate grand explorers of the world or serve as a theatrical backdrop for the historic events that have hosted numerous presidents, heads of state or just the merely famous during the past century. The hotel has had many notable visitors, from industrialists to royalty, including the Rockefellers, J.P. Morgan, and Prince Charles and Princess Diana. The Breakers received its name from visitors who commented on with the thrilling waves "down by the breakers" that crashed along the shore, and still today a walk on the beach brings back a romantic sense of history and intrigue as the same moonlit waves conjure up an aquatic rhythm that repeats itself each night. With my reporter's pad now full of notes and the realization that I could certainly go on indefinitely making more aesthetic discoveries, I decided it was time for someone else to come along and explore The Breakers as they would a respected museum while having their own truly first class visit.
For more information you can contact the resort toll-free at 1-888-BREAKERS or visit www.thebreakers.com