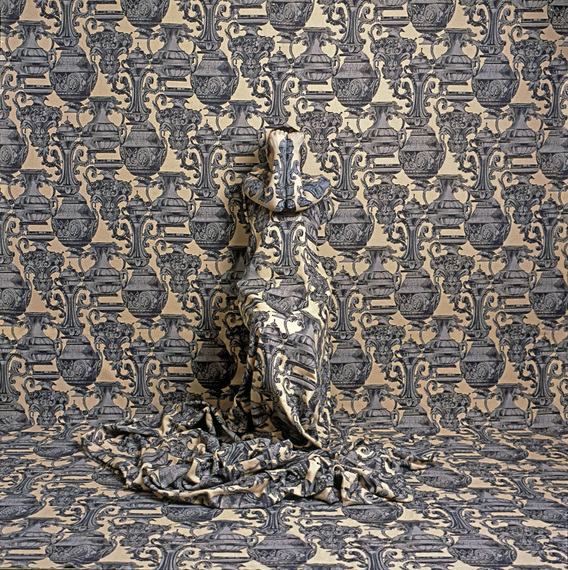 Cecilia Paredes, Corinthians Blue, 2014, acid free photographic print, 51 ¼ x 51 ¼ in. (130.18 x 130.18 cm), ed: 1/7. Courtesy Diana Lowenstein Gallery.
As the infamous "Black Friday" shopping extravaganza approaches at the end of November right after Thanksgiving Day, most Americans seem to be mesmerized over the opportunity to purchase an electronic doohickey at a deep discount, along with those misguided souls who are actually stationed in a pup tent just outside the entrance to a Walmart weeks in advance for the dubious honor of being the first in line for that bargain TV. Last year I read about a woman who prepared herself with a winning strategy for a potential Xbox battle by spraying two cans of concealed mace towards other customers' eyes, enabling her to grab her ill-gotten loot and make a run for it!
For a relatively small but distinguished fraternity called the "art world," most of the pre-Thanksgiving conversations turn to the extraordinary activities developing in Miami and the artists to watch who create the works presented during the biggest art week anywhere in the world. To be nondiscriminatory, I must point out there are plenty of well-dressed folks who don't mind spending time in an advance line to gain entrance on opening night to one of the major satellite exhibit halls just to get a glimpse of a trendy new artist, accompanied by a possible first shot at acquiring a work of art before someone else claims ownership. In fact, there is a kind of mad dash into a quasi-post-Black Friday syndrome, as each of a dozen or more fairs opens the flood gates to a crowd with a mission. In reality, rushing to get first dibs on a really hip artist may not be worth racing down a packed corridor, as many of the top collectors already have nailed down their acquisitions in advance that will remain on display for the duration of the fairs. But not to worry: There are plenty of goods on display, whether you're an early bird or arrive later in the week.
The majority of the hundreds of emails I start receiving daily in early November are almost all connected to Miami Art Week, and the interaction between art dealers and the impressive complexity of the individuals who descend on the city, including many of the world's most ambitious and committed art collectors. Everybody seems to have a press release that pitches their wares, and each day the information on this event seems to multiply in all directions with increasing fervor. There's a lot of money at stake during Art Week in Miami, both buying and selling, trading and baiting, mixing and matching, hedging and wedging, and, of course, schmoozing all afternoon and into the endless parties at night. At the end of the day, the climax of the cocktail conversation inevitably turns to new discoveries and what's hot and what's not.
Art fairs come and go, but the city's original and longest-running contemporary and modern art fair, Art Miami, celebrating its 25th anniversary this year, together with its adjacent sister fair CONTEXT, has the enviable position of showcasing annually a great deal of high-level, cutting-edge works that are always a highlight. Maintaining this enviable and preeminent position in America's contemporary art fair marketplace is a complicated feat, as each year the management employs a rigorous vetting process for galleries that invariably denies some prior participants to make room for new and more exciting prospects. Needless to say, the management turns away more qualified applicants than it can possibly accept, as they strive to maintain or exceed the previous selection of top-quality exhibitors. Visitors to the fair obviously reap the benefits of a strict and highly competitive admission process. With over 200 galleries exhibiting nearly 2000 artists from 60 countries, it's like a world art tour with only two stops.
The recently released list of galleries to join Art Miami continues to make this fair a remarkable assemblage of innovative works by emerging and established artists. Here's an accounting of noteworthy new exhibitors that caught my attention: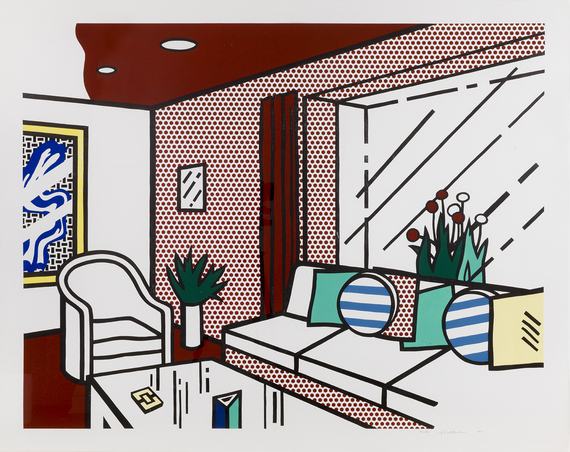 Roy Lichtenstein, The Living Room, 1980, woodcut and screenprint, sheet size: 58 1/8 x 72 in. Printer/Publisher: Gemini G.E.L. Catalogue raisonné: Corlett / Fine 250. Ed. size: 60, plus proofs. Signed, dated, and numbered, lower margin. Courtesy Susan Sheehan Gallery.
The late Ivan Karp, the genius behind O.K. Harris and the original partner with legendary art dealer Leo Castelli, once told me that Roy Lichtenstein was arguably the most consistent artist of the 20th century and likely the best of his Pop Art compatriots. The Living Room by Lichtenstein, presented by Susan Sheehan Gallery (New York), is a great example of the artist's best work from Gemini G.E.L. (Los Angeles) and combines elements of woodcut and screenprint that depict a sophisticated interior environment that is about as idiosyncratic as this artist could get, including an artwork about art.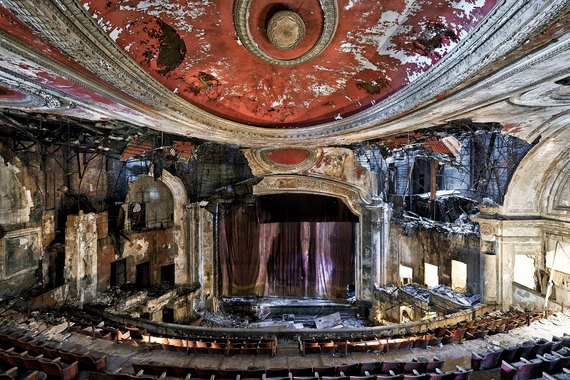 Fabiano Parisi, Il mondo che non vedo #110, 2011, archival fine art pigment print, 39 3/8 x 59 in. (100 x 150 cm), Ed: 1/6. Courtesy Diana Lowenstein Gallery.
Fabiano Parisi's panoramic and dynamic images from Diana Lowenstein Gallery (Miami) are among the most fascinating and mysterious photographic images at the fair. Perhaps the wide-angle jumbo architectural compositions of Thomas Struth and Andreas Gursky may have had a positive influence on these majestic portrayals of public places in various stages of decomposition. The grandeur and magnificence of these spaces on their way to extinction make this series a jaw-dropping history lesson in aesthetic deterioration and ultimate, tear-jerking destruction. Part forager, documenter, trespasser, surveyor, adventurer, risk taker and discovery artist, Parisi offers works that are impossible to pass by without stopping for a closer examination.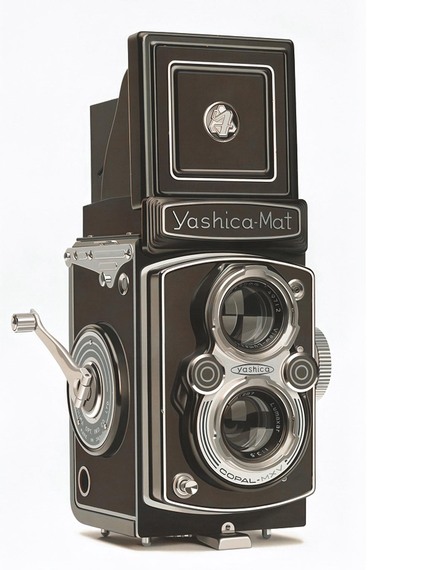 William Fisk, Untitled No. 75 (from the Portrait Series), 2014, oil on canvas, 74 x 48 in. Courtesy Nicholas Metivier Gallery.
William Fisk's astonishing, life-like paintings render delicately crafted utilitarian objects that can take the artist between three months and a year to complete. The new works presented by Nicholas Metivier Gallery (Toronto) would indicate that Fisk likely could master any item he discovers that can provide a decent creative encounter. He scours secondhand stores or the Internet to find just the perfect challenging image that also may include humorous elements or patinaed irony as technology has rendered them obsolete. In other cases, the artist decides on an exquisite, practical form that he knows instinctively can be successfully recreated in his signature photorealist style.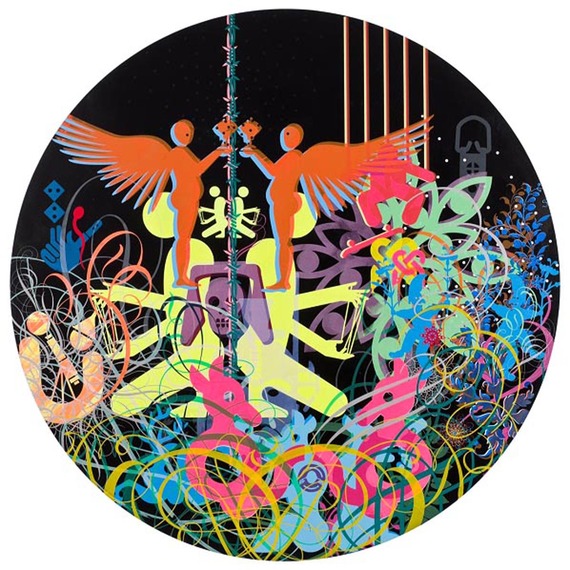 Ryan McGinness, Superstring Wormholes, 2010, acrylic on wood panel, 48 in. diameter. Courtesy Galerie Forsblom.
Ryan McGinness of Galerie Forsblom (Helsinki) throws out a grab bag of disparate images collected from memory that skillfully incorporates contemporary icons and recognizable symbols. The artist reaches into his design background and picks out graphic fragments that are mixed and matched and often mirrored against each other. McGinness presents an unexpected but pleasant rainbow of colors that explode within a circle, which are tied together with swirling lines that range from barbed wire to a wandering, meandering ball of string on the loose.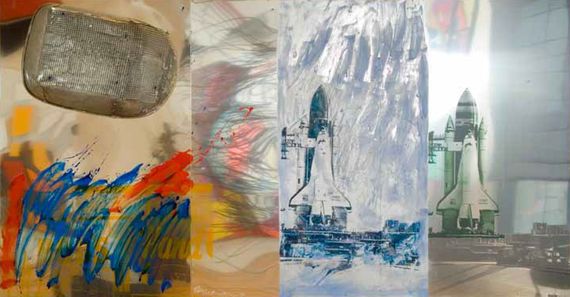 Robert Rauschenberg, Shuttle Buttle/ ROCI USA (Wax Fire Works), 1990, acrylic, fire wax, enamel, and object on mirrored aluminum, 72 5/16 x 144 5/16 x 17 1/2 in. Courtesy Hollis Taggart Galleries.
Hollis Taggart Galleries will present Robert Rauschenberg's Shuttle Buttle/ROCI USA (Wax Fire Works), which depicts a double portrait of the space shuttle that, on a clear day, the artist might have been able to see launch from Cape Canaveral on the other coast from the end of his long dock on Captiva Island. Rauschenberg, a master of masters at incorporating images from printed mass media, could take any subject and make it sing. As one of Rauschenberg's dealers and a friend for many years, I was fascinated to see close-up this whirlwind of a man piece together extraordinary compositions with confidence and perfection. When he decided a found object was necessary to complete his assemblage, he simply went out to his backyard junk pile and immediately scooped up a winner.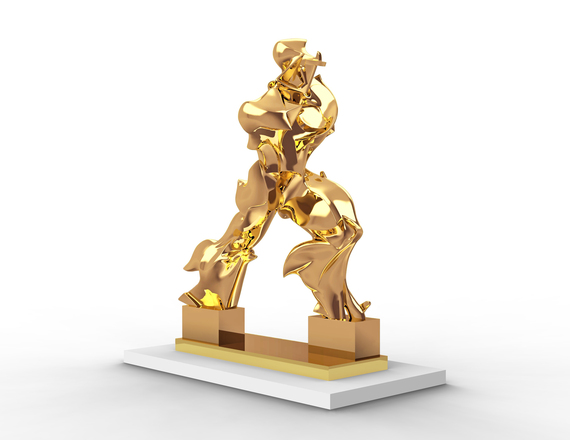 Barry X Ball, Perfect Forms, 2010-2014, mirror-polished 24K gold on nickel on copper on SLA rapid prototype model and solid brass with stainless steel armature/fittings and resin filling, 21 x 16.4 x 7 in. Copyright Barry X Ball, courtesy CONNERSMITH., Washington, D.C.
Barry X Ball of CONNERSMITH. is definitely on the ball with his series of Perfect Forms, which are delightful, mirror-polished 24-karat gold on nickel on copper with solid brass and stainless-steel armatures. The artist got his inspiration from Boccioni, who was stimulated by the industrialization in Italy at the turn of the 20th century. This anonymous dashing figure seems to sprint through intergalactic space in his coat of armor right out of an adventure movie, accompanied by multiple sharp angles and sophisticated curves that add to his ambulatory sprint and could fit right into the Guggenheim's recent Italian Futurism show.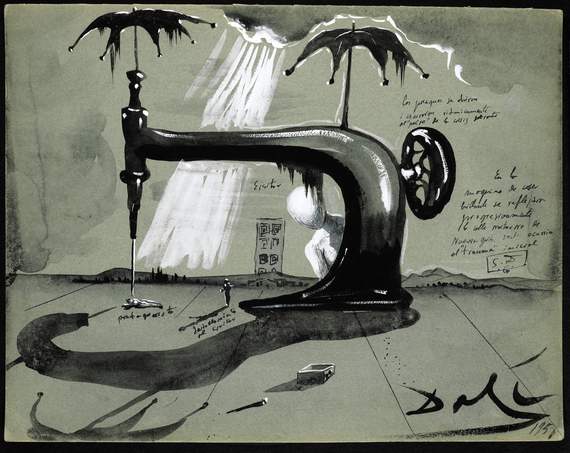 Salvador Dalí, Sewing machine with umbrellas, scene shoot for a film project involving a writer and model, New York and Madrid (1951), gouache on cardboard, 25 x 32 cm. Courtesy Galeria Mayoral.
Salvador Dalí's Sewing machine with umbrellas, offered by Galeria Mayoral, likely may be the most interesting and original work by this history-changing artist that I have seen in many moons. In this composition, a vintage sewing apparatus morphs into an architectural futurist structure (a factory for patching things up?) on center stage in the foreground, with a distant landscape and other buildings in the background. It's an exceedingly handsome, unique example of the surrealist sensibility that Dalí invented.
These personal picks are just a comparative handful of remarkable artists represented by 45 new exhibitors for the 2014 edition of Art Miami, which opens with a VIP Private Preview on Tuesday, Dec. 2, and benefits the Perez Art Museum Miami and Miami Light Project.
For the latest updates on Art Miami and CONTEXT and a full list of this year's exhibitors, visit art-miami.com and contextartmiami.com.