Next week, London hosts contemporary auctions organized by Christie's, Sotheby's and Phillips de Pury. While there are gems on the docket like Warhol's brilliant Electric Chair and works by other very iconic American figures like Basquiat and Calder, the collection is overwhelmingly European.
There is an unusual vintage selection of Lucian Freud drawings and paintings, as well as great examples of works by German Neo-Expressionists like Gerhard Richter, Georg Baselitz and Sigmar Polke. Britain also is well-represented with the likes of Damien Hirst, Francis Bacon, David Hockney and Jenny Saville. All it takes is money. If there is a common denominator inherent in the imagery it surely is representation with a heavy dose of figuratism, especially when it comes to examining the human face on canvas. The catalog covers from Sotheby's and Christie's feature a hauntingly beautiful portrait by John Currin, Francis Bacon's Study for a Portrait and a stunning Warhol painting of Debbie Harry as a homogenized and pasteurized Blondie. This unusual promotional positioning of images sets the stage for a delightful and abundant array of portraiture interpretations. My list focuses its attention on the best of the lot without regard to estimated value, hype or pedigree. The following are my ten personal favorite picks for the most interesting portraits on the block next week.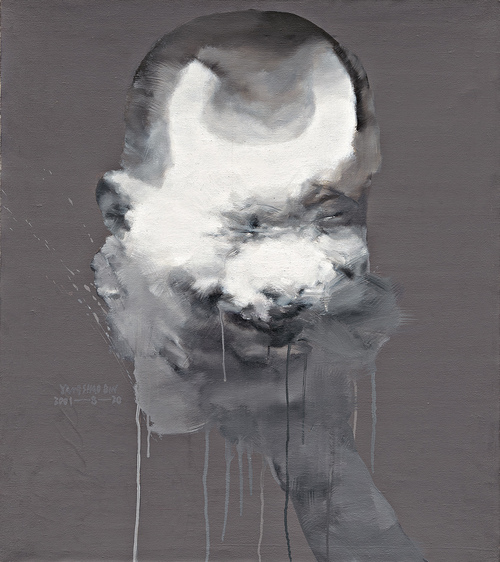 1. Yang Shaobin (Lot 166) Fighting No. 3, 2001, oil on canvas, 35½ x 31½ in. (90 x 80 cm) Estimate: $56,500-$72,600 USD. PHILLIPS DE PURY/Contemporary Art/Day/June 28. Courtesy of Phillips de Pury & Company. Private Collection; Courtesy Alexander Ochs Galleries Berlin| Beijing
YANG SHAOBIN's splashy, two-tone depiction of a retiring pro boxer magically floats on the canvas like a butterfly but stings like a bee. Purposeful drips and dizzying smudges, with a swollen-shut eye to boot, emulate a state of physical defeat. The black and white tones recall a stuck newsreel that has just captured a moment in sports history.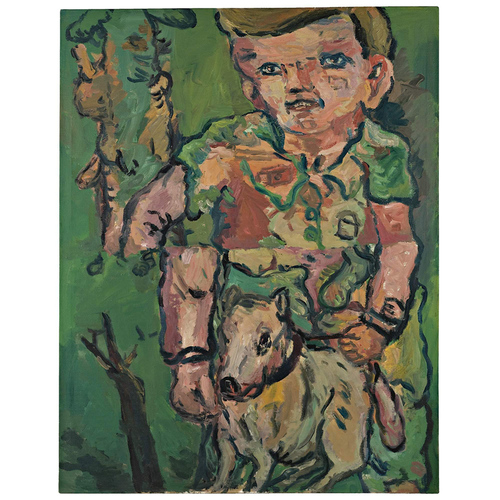 2. Georg Baselitz (Lot 31) Hundejunge (Dog Boy), 1966, oil on herringbone cloth, 70¾ x 55¼ in. (179.6 x 140.4 cm) Estimate: $1,330,000-$1,990,000 USD. SOTHEBY'S/The Duerckheim Collection/June 29-30. ©Georg Baselitz. Courtesy of Sotheby's
GEORG BASELITZ pulled the art world upside down with his iconic reversal of gravity in figures standing on their heads. This early painting, executed in 1966, of a boy with his dog is a handsome, sectional composition where nature meets mankind in a camouflaged harmony of heavily outlined expressionist components.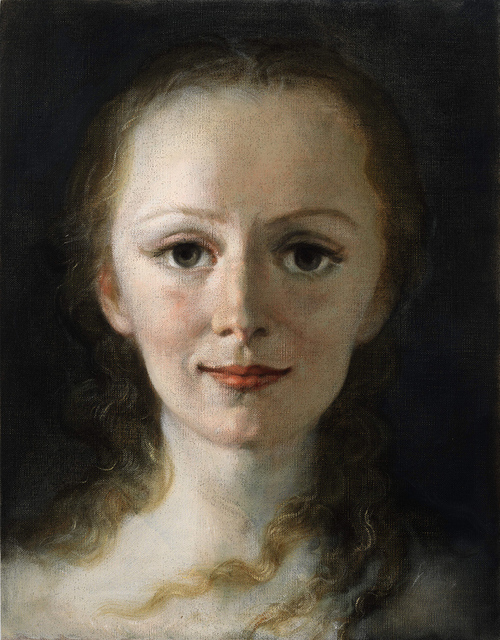 3. John Currin (Lot 229) Edwardian, 2010, oil on canvas panel, 18 x 14 in. (45.7 x 35.6 cm) Estimate: $497,000-$665,000 USD. SOTHEBY'S/Contemporary Art/Day/June 30. ©John Currin. Courtesy of Sotheby's

JOHN CURRIN demonstrates here why he has changed the face of contemporary portraiture. This small, stunning and delicate portrait is a celebration of grace, style and grand tradition. Currin pushes a subliminal button of near comic exaggeration with his head and shoulders depiction of an Edwardian maiden, whose sympathetic stare has an arresting attraction.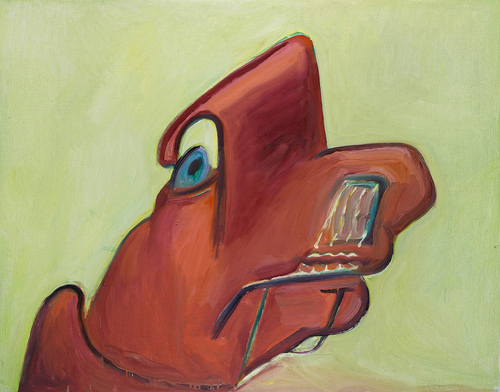 4. Maria Lassnig (Lot 253) Augapfel, 2010, acrylic on canvas, 39 3/8 x 50 in. (100 x 127 cm) Estimate: $49,700-$66,500 USD. SOTHEBY'S/Contemporary Art/Day/June 30. Courtesy of Friedrich Petzel Gallery and Hauser & Wirth.
MARIA LASSNIG's Augapfel brings an amorphous shape to the viewer that is reminiscent of a road trip gone mad around an island or up a mountain. The half-cartoon and half-spooked dinosaur form emphasizes the timid red profile with a red extended beak only a mother could love. The "portrait" on a lime green background begins to speak, but his mouth is full.
5. Jenny Saville (Lot 8) Interfacing, 1992, oil on canvas, 48 x 39 7/8 in. (122 x 101 cm) Estimate: $610,000-$900,000 USD. CHRISTIE'S/Post-War & Contemporary Art/Evening/June 28 Courtesy of Christie's
(Image not available)
JENNY SAVILLE takes her portraits seriously. Her close-up depiction of a face being pulled in one direction offers an unwelcome introduction to a fleshy character that lets it all hang out. Here the artist develops the same sense of intensity you experience when you look in a mirror: a subject that has become very up close and personal.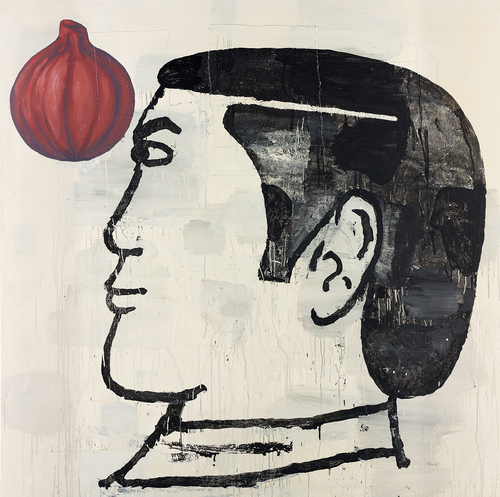 6. Donald Baechler (Lot 327) Onion Eater, 1989, acrylic, oil and collage on canvas, 74¾ x 74¾ in. (190 x 190 cm) Estimate: $24,200-$32,300 USD. PHILLIPS DE PURY/Contemporary Art/Day/June 28. Courtesy of Phillips de Pury & Company. Courtesy Cheim & Read, New York ©2011 Donald Baechler/Artists Rights Society (ARS), New York

DONALD BAECHLER's Onion Eater is a stylish, pensive caricature outlined in black that could serve as a handmade Haitian Barber school sign that offers no-nonsense grooming. Here the artist has patched together sections of the canvas that take on a traveling circus sideshow billboard aroma. The purposeful naïve depiction of the subject is full of unbalanced charm.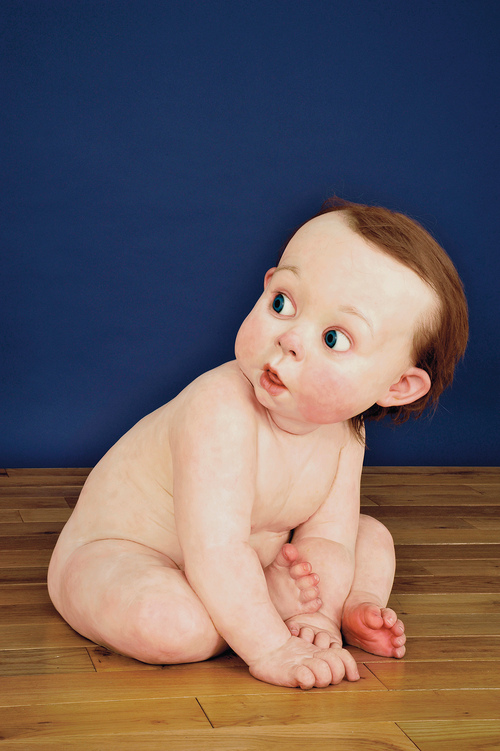 7. Ron Mueck (Lot 7) Big Baby, 1996, mixed media, 26 3/8 x 24 x 23 5/8 in. (67 x 61 x 60 cm) Estimate: $910,000-$1,200,000 USD. CHRISTIE'S/Post-War & Contemporary Art/Evening/June 28. Courtesy of Christie's Images LTD. 2011
RON MUECK's Big Baby is a charming sculptural portrait in mixed media that seems impossible to create, especially at 26 inches high and climbing. The artist has an absolutely uncanny method of hand-constructing utterly convincing figures, whether they are towering over a viewer or asleep in a miniature bed. For hyper-real pure physical presence, nothing beats this inventive superiority.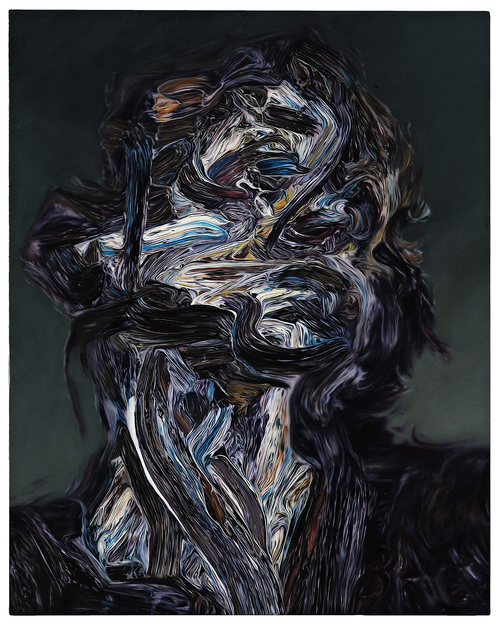 8. Glenn Brown (Lot 37) Secondary Modern, 1998, oil on canvas laid down on panel, 22¼ x 16 5/8 in. (56.6 x 47.4 cm) Estimate: $830,000-$1,160,000. SOTHEBY'S/Contemporary Art/Evening/June 29. ©Glenn Brown. Courtesy of Sotheby's
GLENN BROWN's Secondary Modern might pay homage to the lead singer of a hair band or be an acknowledgement to the Chicago school of painters called the Hairy Who. His aggressive, abstract expressionist strokes swirl in an endless, multi-colored and fragmented covering that supports a mysterious depiction of a tortured face, which manages to retain its vitality.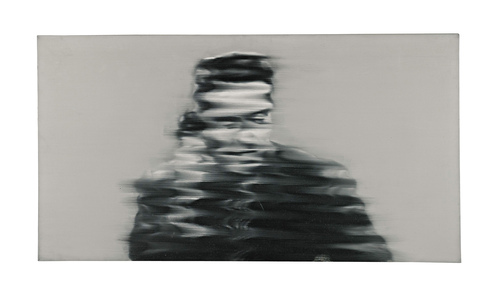 9. Gerhard Richter (Lot 7) Telefonierender (Man on the Telephone), 1965, oil on canvas, 27½ x 51 1/8 in. (70 x 130 cm) Estimate: $3,310,000-$4,970,000 USD. SOTHEBY'S/The Duerckheim Collection/June 29-30. Courtesy of Sotheby's
GERHARD RICHTER has been slicing and dicing and scraping away his pictures for years, revealing another level of consciousness in his subjects and abstract squares. In the case of Telefonierender (Man on the Telephone), a lonely Elvis is positioned as the Talk Show King on a low frequency channel through a blurry television wavelength all the way from heaven.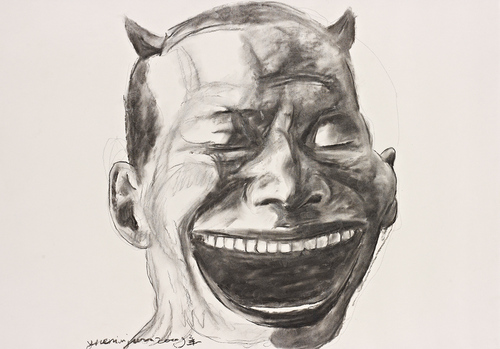 10. Yue Minjun (Lot 168) Untitled (Portrait), 2009, charcoal and graphite on paper, 21¼ x 30 3/8 in. (54 x 77 cm) Estimate: $32,300-$48,400 USD. PHILLIPS DE PURY/Contemporary Art/Day/June 28. Courtesy of Phillips de Pury & Company
You can always spot a wiseguy in YUE MINJUN's hysterical depictions of Chinese people laughing at and with each other over an officially sponsored state of confusion. This artist's portrayal of an exaggerated smiling face is often duplicated with a gang of fraternity pranksters posing for a picture. This sweet drawing created with charcoal and graphite has a freshness and honesty that breaks a characteristic monotony.
For more information on auction listings, please visit:

www.sothebys.com
www.christies.com
www.phillipsdepury.com

For additional information on Artists to Watch, go to The Art Economist.