Read more "The Book of Broken Promises: $400 Billion Broadband Scandal & Free the Net"
Verizon NY (VNY) is supposed to have 100% of New York City upgraded, replacing the aging copper-based networks with a fiber optic infrastructure for the delivery of a service called FiOS that offers cable TV, High-speed Internet and Digital Phone services. Being done as part of a cable franchise that was signed in 2008, the construction was to be completed by June 30th, 2014.
Unfortunately, in April 2013, then NYC Public Advocate, now-Mayor Bill de Blasio presented facts that Verizon's buildout was way behind schedule. Using data from July-through-December 2012, (and published in April 2013), Verizon only had 51% of NYC residential 'housing units' capable of ordering FiOS service. According to the City, there are 3.4 million housing units and Verizon had "passed" only 1.7 million of them.

And the devil is in the details, as there are different terms being used. Updating this data using Census and FCC information we found that:
"Housing Units": Verizon may have as little as 59% of residential "housing units" covered with FiOS in New York City, and only 51% of the rest of New York State covered.
Examining "Homes & Businesses": Verizon's own press releases supply the coverage of "homes and businesses"; Using this metric, NYC only has about 46% covered while only 42% of New York State has been done.
In New York State, about 80% of the municipalities and cities are out of luck or are getting partially done. Verizon is only doing work in 183 towns and cities out of 996 municipalities in New York State.
Yet, 100% of Verizon phone customers have been hit with multiple rate increases since 2006 for "massive deployment of fiber optics" (a story we will be telling in future articles).
Note: There are different measurements at play. If you read through press statements and documents you will see a host of terms being used. For example, there are residential 'homes', 'households' or 'housing units' while there can be "businesses", "firms" or even "establishments", not to mention combining "homes and businesses", that can also use the terms "locations" or "premises". And note; the City of New York examined only residential 'housing units', as the NYC Verizon FiOS cable franchise does not include commercial spaces.
And yet, according to Ars Technica, quoting Verizon, Verizon's claimed that their fiber optic service in June 2014 passed buildings in "90 percent of the Bronx, 89 percent of Brooklyn, 94 percent of Manhattan, 90 percent of Queens and virtually the entirety of Staten Island".
However, in conversations with people who contacted us because they couldn't get FiOS in areas that have been marked 'completed', we now believe that the contradictory data reveals massive holes in deployment and holes in Verizon's story.
Let's Walk through the Numbers
(The bulk of this information was originally presented in the Public Utility Law Project, (PULP) report "It's All Interconnected", published May, 2014 and written by New Networks Institute, with David Bergmann, Esq. of Telecom Policy for Consumers.)
Updating the New York City Advocate's 2013 data (for the year ending December 2012), we find a problem.
Verizon's press releases detailing the FiOS deployment in New York State showed that by the end of 2012, Verizon only had 3.45 million 'homes and businesses' that were capable of getting FiOS and by the end of 2014, Verizon had added about 550,000 additional "passed" locations that were capable of getting the service, for the years 2012-2014.
If we do the basic math for just 'housing units', Verizon only had 59% covered by the end of 2014, but the rest of New York State, then, only had 51% covered. Based on the information supplied, it would appear that Verizon split the construction between upstate NY and NYC, around 50%-50%.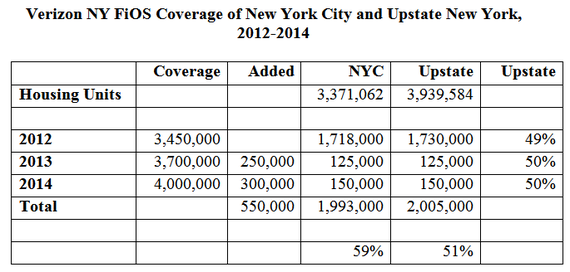 Verizon NY's Press Releases about Wireline Construction for 2012-2014
Here is the series of Verizon NY press releases detailing the wireline construction in New York State. Unfortunately, notice that the numbers provided by Verizon are for "homes and businesses". Moreover, it covers New York as well as Verizon's Connecticut territory, (which is a small part of CT, so it has nominal affect on the deployment information).
2012: "Verizon invested over 1.5 Billion on New York's and Connecticut's wireline communications, IT Infrastructure in 2012."
"At year's end, FiOS services were available to more than 3.45 million New York and Connecticut homes and businesses."
2013: "Verizon Invested More than1.6 Billion in New York's and Connecticut's Wireline Telecommunications Infrastructure in 2013."
"At year's end, FiOS services were available to more than 3.7 million homes and businesses in the two states."
2014: "Verizon Invested More Than 2.3 Billion in 2014 to Further Strengthen New York's and Connecticut's Telecom Infrastructure" (but only1.5 billion was spent on wireline networks).
"At year's end, FiOS services were available to more than 4 million New York and Connecticut homes and businesses."
The Math: FiOS Coverage in New York and Connecticut
The following chart supplies the raw Census information for New York City and New York State for housing units and businesses, followed by the percentage of Verizon New York's holdings in the State, as well calculating NYC and New York State's percentage of homes and businesses. And we added the FiOS information provided by Verizon's releases, (excluding the Connecticut portion).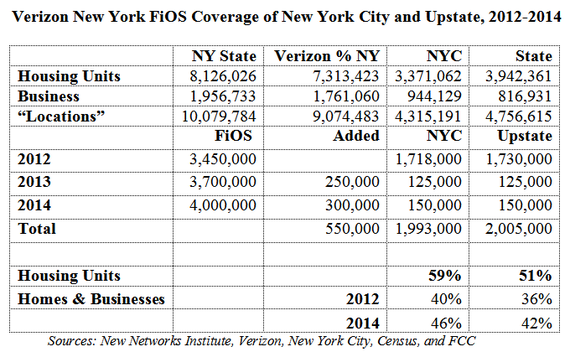 There are about 3.4 million residential units and 944,000 businesses in New York City, while there are about 10.1 million business and residences, total, in New York State.
Verizon New York covers approximately 90% of the state's population, based on using FCC-supplied data on phone lines. This means that there are about 9.1 million 'locations' total. However, Verizon covers 100% of New York City.
Outside of New York City, there are 3.94 million housing units and 816,931 businesses in New York State -- 4.76 million total 'premises'.
Basic math suggests that at the end of 2014, Verizon New York has passed about 42% of the 'premises' with FiOS in its New York State service territories.
Basic math suggests that at the end of 2014, Verizon NY passed about 46% of 'locations' in New York City.
80% of New York State's Municipalities are Not being Served by VNY's FiOS.
According to Newsday, January 31, 2014, Verizon spokesman John J. Bonomo stated that Verizon had commitments to deploy FiOS fiber optic services in 182 communities.
"Bonomo said the company is required to complete fiber-optic 'buildouts' in about 182 New York State communities where Verizon holds franchise contracts."
In an interview on WAMC radio, November, 27, 2013, Bonomo claimed there are 183 municipalities in VNY's service territory that do or should be able to receive FiOS TV. VNY had no plans for expansion beyond these commitments.
"But right now we have commitments to 183 municipalities where we need to complete 100% of our network. So we want to make sure that we make good on those commitments before we reach out and get new commitments. Of franchises in other communities, namely like Albany."
According to Wikipedia, there are a total of 996 towns and cities in New York State.
"This is a list of towns in New York. As of the 2010 United States population census, the 62 counties of New York State are subdivided into 932 towns and 62 cities."
With an estimate of 90% of coverage of New York State households by Verizon New York, based on the FCC's access line accounting, this would mean that only 20% of towns have been or are being upgraded by Verizon New York for FiOS.
But it appears that low income areas were doubly harmed. In May 2012, a group of nine mayors from upstate cities outlined how Verizon had been 'redlining poor and minority communities'. Stop the Cap wrote:
"Virtually every mayor in the urban centers of upstate New York is accusing Verizon Communications of redlining poor and minority communities when deciding where to provide its fiber-to-the-home service FiOS...The mayors are upset that Verizon has chosen to target its limited FiOS network primarily on affluent suburbs surrounding upstate New York City centers."

"'Verizon has not built its all-fiber FiOS network in any of our densely-populated cities. Not in Albany, Buffalo, Syracuse, Binghamton, Kingston, Elmira or Troy,' the mayors say. 'Yet, Verizon has expanded its FiOS network to the suburbs ringing Buffalo, Albany, Troy, and Syracuse, as well as many places in the Hudson Valley, and most of downstate New York. As a result, the residents and businesses in our cities are disadvantaged relative to their more affluent suburban neighbors who have access to Verizon's FiOS, providing competitive choice in high-speed Internet and video services."
This issue has been both a downstate as well as upstate issue. On April 26, 2013, now-Mayor Bill de Blasio, and then New York City Advocate, released a statement:
"Public Advocate Bill de Blasio today assailed the City and Verizon for falling behind schedule in providing access to high-speed Internet, especially in the lowest-income communities. Five years into one of the biggest franchise agreements issued by the city, roughly half of homes still have no access to fiber network connections--most of them concentrated in low-income areas like Upper Manhattan, the South Bronx, Western Queens and Central Brooklyn.
Verizon Claims They Are on Now Track for Wiring All of NYC with FiOS.
According to a Verizon interview in the New York World, March 28, 2014
"'Verizon is on pace to meet our obligations called for in the franchise agreement to run an all-fiber network throughout the entire five boroughs," said company spokesperson John Bonomo in an emailed statement. 'We will complete the premises passed portion of the FiOS build in 2014, meaning we will have fiber up and down each street and avenue in the entire city, providing meaningful competition that benefits all City residents'."
Uptake Issues: New York State is Mostly Copper-Based
According to Verizon Communications Annual Report for the year ending December 31, 2013, of the premises passed nationwide Verizon had about 40% 'penetration rate for FiOS Internet and 35% for FiOS video. i.e., FiOS Internet and broadband are sold separately from the cable TV services in some areas.
"As of December 31, 2013, we achieved penetration rates of 39.5% and 35.0% for FiOS Internet and FiOS Video, respectively, compared to penetration rates of 37.3% and 33.3% for FiOS Internet and FiOS Video, respectively, at December 31, 2012."
This means that of their 3.7 million households and businesses passed in 2013, Verizon NY only had, at best, 40% are actual customers - 1.48 million customers.
Others have Noticed
According to Crain's, in September 2014, the City initiated an audit of Verizon's books pertaining to the FiOS franchise agreement, which was supposed to be done in four months.
And then there are the holes in deployment. The Communications Workers of America, CWA, the largest telecommunications union, put up a site called "Where's my FiOS?" in 2015. They have people on the ground doing the installs... and they know that NYC has major deployment gaps and they blame it on staff cuts.
"When it received its franchise from New York City in 2008, Verizon promised FiOS would be available to every NYC resident by 2014. Now the company says it's completed its obligations. But customers in many parts of New York City still can't get FiOS. Instead, Verizon has cut 8500 jobs in New York State and slashed its workforce in New York City by 37% over the last decade."
Coda:
Verizon of course, refuted Advocate de Blasio's numbers. According to Crain's, Verizon claimed that the City's "numbers refer to the video deployment Verizon has committed to rather than the fiber Internet deployment we have completed in the city", and that it had completed its obligations by 2012. However, according to Crain's, the City also pointed out that the "data reported by the company to the state shows whether each census tract has at least one household with access to fiber broadband as of December 2012". Similar to a zip code, this means that if they have one customer in the 'census tract', it is considered a 'completed' area.
This minutia is 'weasel room'--and it is what Verizon has done in all of their states to puff up their deployment numbers or get out of obligations. Problem is--the Franchise Agreement says every residential unit has to be offered cable service and all households, including those in an apartment complex, gets service--not some 'census tract' accounting or--where they might say 'We only have to 'pass' the house--we don't have to actually offer service to an individual'.
"3.1. Initial Availability of Cable Service: Franchisee (Verizon) shall make Cable Service available to all residential dwelling units..."
.
"DEPLOYMENT; PROVISION OF CABLE SERVICE
"The FTTP Network will pass all households served by Franchisee's wire centers within the Franchise Area in accordance with the table attached hereto as Appendix F, with final completion no later than June 30, 2014. For purposes of this Agreement ..."pass" or "passage" of a household shall mean MDU's (Multiple Dwelling Units), whether or not network created and single family units whether or not a drop is installed."
Verizon also has complained that it has been having trouble getting access to buildings. With only 46%-59% still not upgraded in New York City, or worse in New York State, there's more going on than simply blocked access to a few buildings.
And what about the fact that 100% of Verizon NY phone customers were charged extra for 'massive deployment of fiber optics', even if they can't get the service? I'll get back to that in the next few stories.