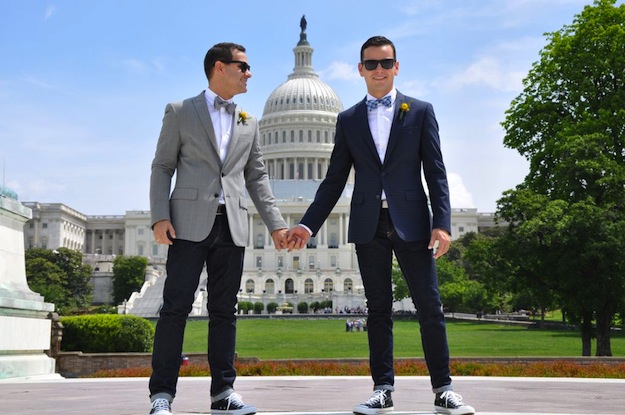 Photo by Joanna Chau
It's official. The Supreme Court has announced that it will decide the fate of the inaptly named Defense of Marriage Act (DOMA), the absurd law that forces the federal government to deny the very existence of married gay and lesbian couples by defining marriage as between "one man and one woman."
This news was greeted with wary celebration by same-sex couples continuing to suffer the consequences of this law. They expect President Obama, the self-proclaimed fierce advocate for LGBT equality, to implement policies that respect and protect their marriages while DOMA is still the law of the land; but the president, for his part, has thus far refused to do so.
In 1996, when President Clinton signed DOMA, no state in the country permitted same-sex couples to marry. Yet Congress, in its infinite capacity for irony, passed this anti-gay law that defended no one and that represented a pre-emptive rollback of civil rights that had not yet even been won. When gays and lesbians did win the right to marry, first in Massachusetts in 2004 and eventually in eight more states and Washington, D.C., tens of thousands jubilantly tied the knot. It was amidst those celebrations that the far-reaching impact of DOMA finally became clear. Despite advances at the state level, same-sex spouses were nothing more than strangers to each other in the eyes of the federal government. DOMA undermined, devalued, and in some cases, even destroyed their marriages.
One group that has suffered these harsh repercussions is gay and lesbian Americans with foreign spouses. Denial of federal recognition of their marriages means they are completely shut out of marriage-based "green cards" and fiancé(e) visas, two vital family unity provisions of our immigration law. For these binational couples, DOMA is the sole obstacle to their basic need: to be able to live together in this country.
Because of DOMA, an estimated 40,000 same-sex binational couples in the U.S. live each day with the threat of separation, their lives tethered to the ticking clock of an expiring or lapsed visa. Others maintain long distance relationships for years, only seeing each other during painfully brief visits as though prisoners of their respective countries. Finally, there are the invisible thousands of gay and lesbian Americans who leave everything behind to live in forced exile abroad -- a phenomenon blogger Andrew Sullivan coined "The Spousal Diaspora" -- to be with the person they love.
Until recently, gay and lesbian binational couples tended to shy away from public advocacy largely out of fear that if they emerged from the shadows to protest, they would be torn apart or risk the precious visa eligibility that is, for many, their lifeline. But the times, they are a-changin'. Pushing back against the tyranny of DOMA, they have unleashed the tremendous power of their individual and collective voices, sharing heart-breaking stories of love, commitment, and sacrifice: parents separated for years from their children; spouses, oceans apart, celebrating the holidays over Skype; dreams deferred or never realized; weddings, funerals, and anniversaries missed; years lost; and love interrupted. These are also triumphant stories shared by couples assuming their own intrinsic equality who have never needed a court or a Congress to tell them that their marriages are deserving of the same respect and, most importantly, the same protection under the law.
Armed with unwavering conviction, a handful of couples brought these stories into immigration courts across the country, compelling judges and prosecutors to respect their marriages. And they didn't stop there. For the first time, they took their stories to the media, telling national television audiences that the U.S. government was tearing apart their marriages only because they were gay. In doing so, they achieved something that no mainstay LGBT organization had even attempted. They persuaded the Department of Homeland Security (DHS) to stop deporting spouses and partners of gay and lesbian Americans. DHS finally put the policy in writing in October. It was a narrow victory that provided the possibility of protection only in the worst-case scenario, but it taught binational couples a valuable lesson. They needed nothing but their own voices to change hearts and minds.
Two historic events coincided with the emergence of gay and lesbian binational couples as empowered messengers for equality. On July 8, 2010, 78-year-old U.S. District Court Judge Joseph Tauro, the longest-serving Nixon appointee on the federal bench, became the first judge to strike down DOMA's definition of marriage as unconstitutional. Then, seven months later, on Feb. 23, 2011, the Obama administration dropped a bombshell: the Department of Justice would stop defending DOMA. Instead, its lawyers began to appear in court in support of gay and lesbian plaintiffs who were suing the federal government. And together, they won. In one ruling after another -- 10 times in two years -- DOMA was struck down as a violation of the U.S. Constitution. Still, the Obama administration continues, without apology, to deny green card petitions filed by gay and lesbian American citizens for their spouses.
The troubling disconnect inherent in the administration's "enforce but not defend" position on DOMA was on flagrant display in a California court last September. In a brief filed on behalf of a gay binational couple, the DOJ conceded that the denial of their green card petition violated the U.S. Constitution but insisted that U.S. Citizenship and Immigration Services must continue to enforce DOMA because it is the law. This put the administration in the untenable position of destroying marriages and tearing apart families.
Gay and lesbian binational couples have seen this cognitive dissonance and have mobilized to pressure the president to find a third way. They have begun filing green card petitions and fighting to have them put on hold -- that is, neither denied nor approved -- until the Supreme Court rules on DOMA. The DOMA Project first called for this "abeyance" policy in 2011 as soon as the White House announced that it would no longer defend DOMA, but the campaign really picked up steam in December when it became clear that a final judicial resolution will come from the Supreme Court by June 2013.
To build support for this advocacy, The DOMA Project and The DeVote Campaign teamed up with binational couples to record their stories and air them in the court that matters most -- the court of public opinion. Throughout 2012, we traveled around the country interviewing spouses from all walks of life who believe that equality is within reach, but are too wise to take it for granted and know there is still much work to be done. Among those we met were a lesbian grandmother who wanted nothing more than to be able to leave the country to attend her son's wedding in Scotland, young mothers seeking to create a stable, nurturing environment for their daughters, and a former Mormon missionary and his husband, forced to postpone having children of their own until their immigration status is resolved. The result is a series of short films titled "Love Stories: Binational Couples on the Front Lines Against DOMA."
The first to be released introduces Daniel and Yohandel, two young men who first locked eyes across a dance floor in Miami and soon found themselves searching for a way to stay together in the U.S. Yohandel juxtaposes the promise of freedom that prompted his parents to leave Cuba with the experience of second-class citizenship he experiences as a gay American. He and Daniel make an impassioned and personal case for nothing more than the protections available to opposite-sex couples in the same situation. Intent on securing their future together, they take the obvious next step; they file a green card petition based on their marriage. It is denied because of DOMA and they immediately file an appeal. As the film draws to a close, we are left defiant. Their deep and abiding love -- what ultimately keeps all gay binational couples going -- must win out in the end.
Los Angeles-based writer and filmmaker Brynn Gelbard started the DeVote Campaign in 2010 after having to cancel her wedding because of the passing of Proposition 8. For more, visit devotecampaign.com, facebook.com/devotecampaign and twitter.com/devotecampaign.
In 2010, with his law partner, Noemi Masliah, Lavi Soloway launched the DOMA Project, a campaign to stop the deportations, separations and exile of binational lesbian and gay couples. For more, visit www.domaproject.org, facebook.com/thedomaproject and twitter.com/gaybinationals.
Follow Lavi Soloway on Twitter: www.twitter.com/lavisoloway