No one loves a pseudo-holiday more than burger-bar operators. Come Monday, the corned beef will pile on and the Guinness will flow. Special St. Patrick's Day burgers will be menued at many spots. The Buck Burgers & Brew in St. Joseph, Mich., is readying not just Irish Pub Burgers but also Fish N Chips, Irish Egg Rolls and, yes, a Reuben.
Boom Burger in Rochelle Park, N.J., will be serving its St. Patty La Frieda Burger. Doncha know that's a beef patty topped with peas, carrots, corn and ground beef in rich Guinness gravy and Cheddar, with a side of stewed cabbage, potato and onion.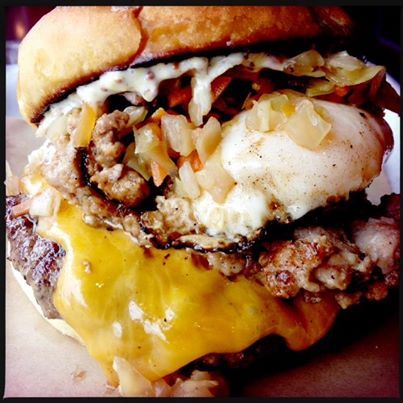 Jake Melnick's Corner Tap in Chicago offers a "$5 Pre-Soak All-You-Can-Eat Breakfast" on Saturday. Fare includes Guinness pancakes with whiskey syrup, green eggs and ham, corned beef hash and more. Holy Cow Del Ray in Alexandria, Va., instead is doing an Irish Breakfast Burger (above): A grilled Angus patty with Cheddar cheese, smoked Irish-style banger (sausage), Guinness-cider-braised cabbage, fried egg and whole-grain mustard aᅢᆵoli on a potato bun. You'd order that.
Here's what planned at a sampling of other burger joints across this great land (plus Canada):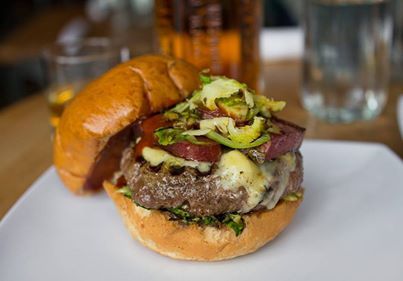 8 Oz. Burger Bar, Seattle. St. Patrick's Day Burger (above)
House-blend ground beef, buttered Brussels sprout leaves, Guinness-braised corned beef, Irish cheddar and a Jameson BBQ sauce.
The Avenue, St. Petersburg, Fla. Get Lucky
Angus patty topped with peas, carrots, corn and ground beef in rich Guinness gravy and Cheddar, with a side of stewed cabbage, potato and onion
Blue Door Pub, Saint Paul, Minn. Erin Go Blucy
Beef patty stuffed with Swiss cheese then topped with corned beef, sauerkraut, more Swiss cheese and Aran Island sauce (similar to Thousand Island dressing)
Bucket List Burgers, Riverside, Calif. The St. Patty Melt
A hand-formed patty loaded with grilled onion and two slices of Cheddar cheese on toasty grilled marbled rye bread
Burger Bar, Bristol, Va. Shepard's Pie Burger
Open-faced burger with Cheddar cheese, roasted vegetables, mashed potatoes, and brown gravy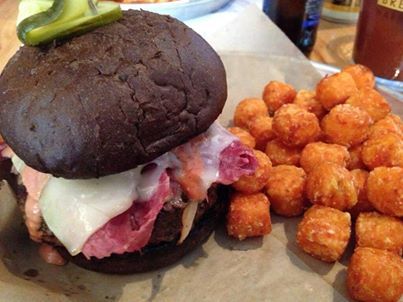 Burger Bar Chicago March Madness! (above)
Steamed corned beef, house-made sauerkraut, Gruyᅢᄄre cheese and Louie dressing on a half-pound burger on a pumpernickel bun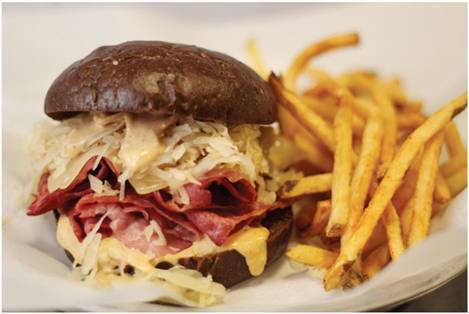 Burger Boss, Elmwood Park, Ill. The Irish Boss (above)
Topped with slices of savory, lean corned beef, blanketed by a layer of melted Swiss cheese, dressed with tangy sauerkraut, and house-made 1000 island sauce on a whole wheat bun
Burger Republic, Nashville. O'Rueben Burger
Certified Angus Beef burger topped with corned bee, pickled red cabbage, sautᅢᄅed onions and Swiss cheese
Drakes Haus, Boulder, Colo. The Dublin
A Merlot-infused burger topped with slow cooked corned beef, braised cabbage, Haus-made stout mustard and Swiss cheese
HB Jones, Elmhurst, Ill. The Reuben Kincaid
Corned beef piled high with sauerkraut and Swiss cheese, then grilled; served with Russian dressing and fries (OK, not a burger, but a great name)
Kuma's Too, Chicago. Tome (one of the only Irish Doom bands we know of)
A 10-oz. burger with corned beef, stout-braised onions, potatoes O'Brien and whole-grain mustard
Moo Cluck Moo, Dearborn Heights, Mich. The Corny Moo
Our delicious all-natural burger stuffed with corned beef and topped with tangy pickles, Swiss cheese and classic mustard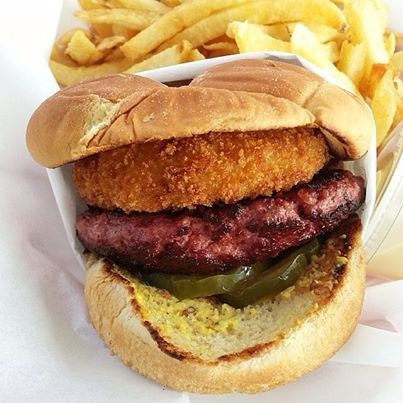 The Oinkster, Los Angeles. St. Patrick's Burger (above)
A 6-oz. ground corned beef brisket patty topped with a fried potato and cabbage bubble n squeak round, Oinkster horseradish mustard & pickles on a potato bun. Wash it all down with our Lucky Charm Shake
Relish Gourmet Burgers, Fredericton, Nova Scotia. The Irish Pickle
Burger patty with deep-fried pickles, mozzarella cheese, sautᅢᄅed mushrooms and back bacon
Shake Shack, multiple locations. "When Irish Fries Are Smiling"
Shack fries topped with horseradish cream, scallions, and crispy bacon (not a burger either, but a great burger side!)