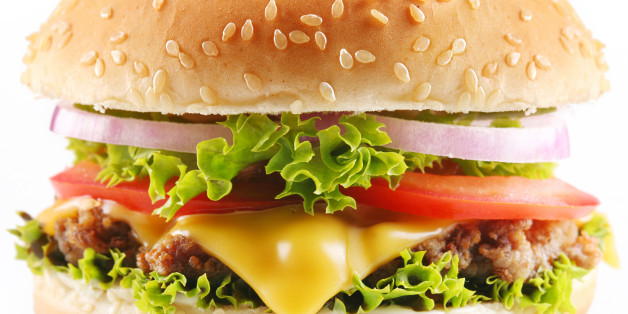 No, the "burger boom" still isn't over. It remains vital and appealing to both consumers and entrepreneurs. Burgers are culinary survivors: They can adapt no matter where mainstream tastes flow. If Peruvian-Korean fusion cuisine or heirloom tomatoes are what strike diners' fancies, burgers can handle them.
Given the culinary and business currents we're already seeing, I'm expecting 2014 to be the Year of Fresh for burger bars. For chain burger restaurants, I forecast a Year of Loyalty.
By fresh I don't mean simply the opposite of frozen, although using fresh beef is one example of the movement I'm seeing. But "fresh" also means house-made. Look for more ground-in-house beef and house-made sauces, relishes, aïolis, side dishes and even cheeses. There will be less push for fancy or funky buns and more desire for buns freshly baked in-house or at a bakery down the street.
Look for upscale burger bars to begin using more and varied fresh vegetable and herb toppings -- preferably locally grown -- on burgers. Gloppy double cheeseburgers certainly aren't going away, but we should see more burger joints using fresh spinach or arugula accents on them. Artichoke, fennel, mizuna, cucumber, red onion and sliced fruits such as apple and pear will turn up on more burgers.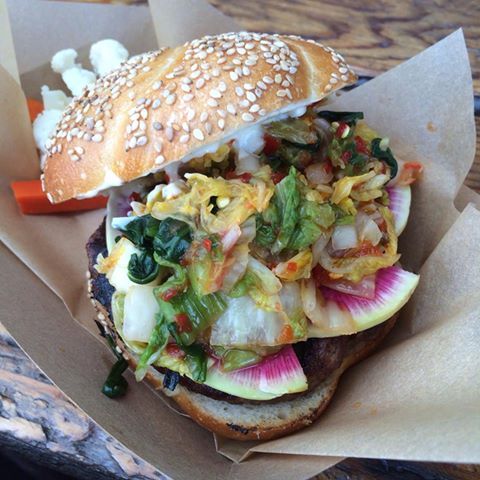 If you need examples of how that's done, check out the weekly burger specials at Victory Burger in Oakland, Calif. A recent special (above) was its Kimchi/Mayo Burger: A Five Dot Ranch beef patty topped with house-made kimchi of Napa cabbage and bok choi, raw watermelon radish, and fresh-made mayo.
Identifying the source of the beef on the menu as Victory Burger does is another aspect of the "fresh" definition. And that push to provide food provenance with burgers will accelerate, too.
We don't all live in California where fresh veggies are at hand year-round, but I expect to see more fresh ingredients. Burgatory in Pittsburgh is an old-school burger bar at heart (and the winner of the 2013 Burger Brackets!) but it has embraced fresh. One of its recent Burger of the Day creations was Garlic-Crusted Beef with Creamy Goat Cheese Spread, Sliced Granny Smith Apples, Arugula and Habanero Jelly. They get it.
I see this slant toward fresher ingredients being driven more by interest in quality than by any desire for "healthier" eating. Fresh is healthier, yes, but it also tastes better. And taste is king.
Although I'm saying "fresh" is a trend for independents rather than chains, the multi-unit folks are getting with the flow, too. Consider that Carl's Jr./Hardee's just announced they'll be baking buns in-house for premium burgers. That's on-trend.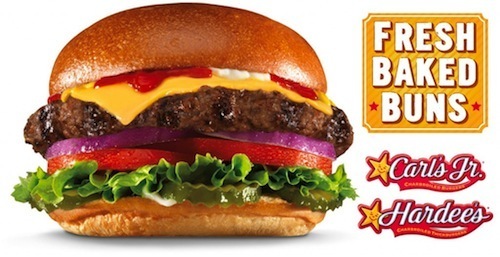 But the more prevalent initiative among chains will be to create or promote loyalty programs that reward customers for coming back. Chain restaurants of all stripes are seeing a decline in customer traffic. Coupons and price reductions attract value seekers who go wherever the discounts are. What chains need is repeat business and loyalty programs foster that. Many casual-dining chains already have loyalty programs, but watch for this tactic to take hold among quick-service restaurants in 2014.
Sonic Drive-In is testing a new "customer engagement" program that Chairman-President-CEO Cliff Hudson recently told analysts "should help to grow loyalty, plus traffic, plus sales and profitability."
Burger King promotes its BK Rewards loyalty program in selected markets, often as part of its BK Delivers initiative. Watch for BK to expand the rewards program on its own. McDonald's just launched a McCafé loyalty card in Canada. Buy seven hot drinks and get a medium hot drink free. Such tactics will be central to burger-chain marketing in 2014, I forecast.
Here are links to some of the other smart trend forecasts out there:
Technomic: See "Every daypart is a snack daypart." Burger bars would be wise to consider midday snack menus.
Baum & Whiteman: Read especially "Look Again at Mideast Cooking." I think more Mideast/Mediterranean foods such as hummus will show up on burgers.
Andrew Freeman & Co.: The croissant is so yesterday; the pretzel bun is now; the biscuit is the future.
Sterling-Rice Group: While I certainly disagree with its forecast that "Burgers, hot dogs, and milkshakes will take a backseat next year to the finer tastes of American classics," SRG also sees Mediterranean flavors and foods coming to the fore, which I think is on target.