Burger King's 40-year-old "Have It Your Way" slogan has morphed into a new positioning, "Be Your Way," that the company says better fits the times and the brand.
Fernando Machado, SVP Global Brand Management, told BurgerBusiness.com that the new tagline is the result of a company reexamination of its brand and its relationship with its customers. "Burger King is a look-you-in-the-eyes brand, a relaxed and a friendly brand. It is approachable and welcoming," he said. "So we wanted the positioning to reflect that closeness. We elevated 'Have It Your Way' to 'Be Your Way' because it is a richer expression of the relationship between our brand and our customers. We'll still make it your way, but the relationship is deeper than that."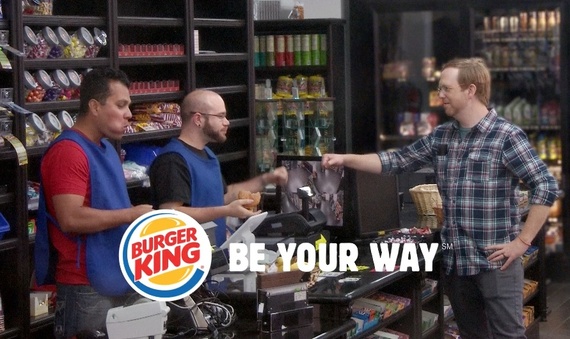 Working with Brazil-based agency David, recently named its agency of record, Burger King began by seeking to understand the brand, not to specifically find a new positioning line, Machado said. And there was no predetermination that any new positioning would need to echo "Have It Your Way." But "Be Your Way" seemed a very natural evolution, Machado said.
Beginning this month, "Be Your Way" will be integrated into all Burger King marketing in the U.S. The intention is that it also will be used outside North America in the future, Machado said. But there is no timetable for extending the line's scope.
Introduced in 1974, "Have It Your Way" was Burger King's ad slogan until 1985. It was brought back in 2002. In 2009, Burger King in Europe began using the line "Taste is King," which later was used in the U.S.
McDonald's has been using "I'm lovin' it" as its global brand positioning since 2003. In France, the chain also uses "Venez comme vous êtes" ("Come as you are"), which has the same sort of casual intimacy as Burger King's new tagline.