Burger King continues to revamp its menu seasonally with waves of new items that surely are going to wear out the poor teens behind its counters. The chain's Spring Menu for 2013 includes five new entrée sandwiches; a wrap; a side; a dessert; a new coffee platform including hot and cold drinks; a smoothie and new iced tea flavor. If that sounds like a lot, consider that it just last month added a new breakfast sandwich, the Bacon Gouda, which can be ordered on a muffin, a biscuit or a Croissanwich.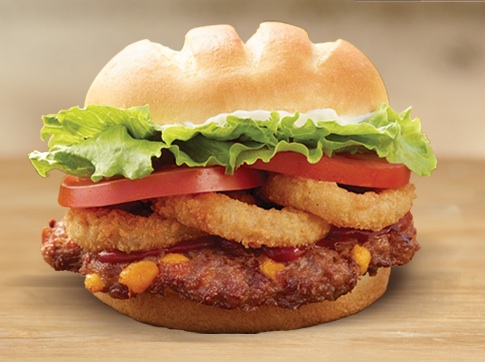 Perhaps so. Here's the lineup, piece by piece:
♦ The menu surprise is the Bacon Cheddar Stuffed Burger (above). As with Jalapeňo & Cheddar BK Stuffed Steakhouse it tried in 2011, the new stuffed burger's fillings aren't so much stuffed as kneaded into the meat. That "stuffing" includes hardwood-smoked bacon and Cheddar cheese. Toppings include lettuce, tomato, ketchup mayo and onion rings on the "artisan" bun used earlier for the BBQ Pulled Pork and other premium sandwiches.
♦ The chipotle items include the expected Chipotle Whopper (topped with thick-cut bacon, pepper-Jack cheese, spicy chipotle mayo, lettuce, tomato and caramelized onion on a sesame-seed bun) that is also available in Whopper Jr. size. The Chipotle Tendercrisp Chicken sandwich gets the same toppings: spicy chipotle mayo, caramelized onion, bacon, pepper-jack, tomato and lettuce on the "artisan" bun. It can be halved and rolled in a tortilla as a wrap.
♦ For non-beef eaters there's a Turkey Burger. Those who eschew their meat get a new Veggie Burger. The 'fire-grilled" turkey patty is simply topped with lettuce, tomato red onion and mayo on that "artisan" bun. The Veggie Burger starts with a MorningStar Farms Garden Veggie Patty and tops it with lettuce, tomato, red onion, ketchup and mayo. It gets the sesame-seed bun.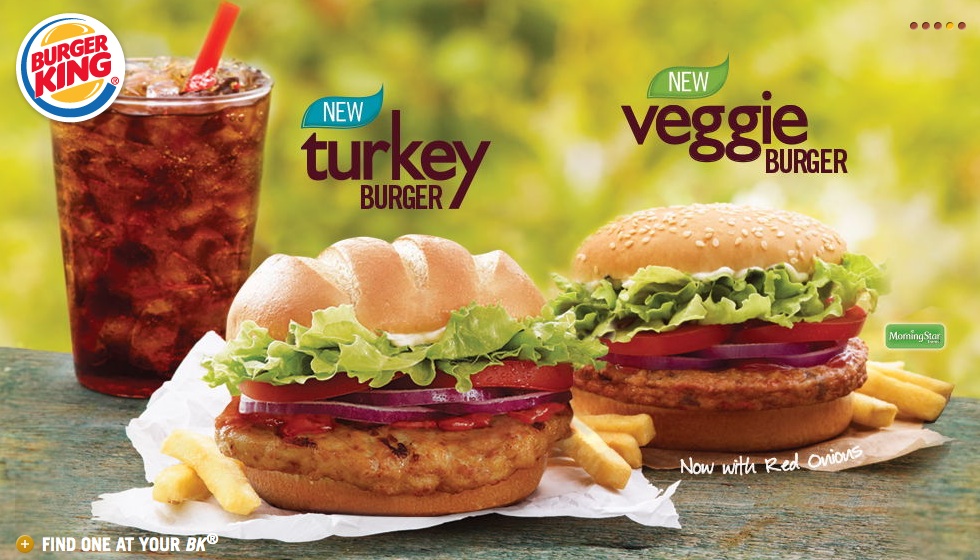 ♦ The new side/snack is Loaded Tater Tots, described as "warm fluffy potatoes filled with flavorful bacon and sweet onions on the inside, with a savory and crisp crumb coating on the outside." If that sounds good, they come in 8-, 10- or 12-piece packs.
♦ Glazed Donut Holes are the dessert/snack item. They're pitched as a companion to Burger King's new Smooth Roast Coffee, unveiled last month. The lattés promised then are now available in plain, caramel, vanilla and mocha varieties for just $1.
♦ Finally, Burger King also adds a Piňa Colada Smoothie and peach-flavored sweet or unsweetened iced tea.
If Burger King stores can handle this kind of repeated menu turnover, they're an operational example for everyone in the business. That may be why Burger King has gone a little lighter in Canada. There it had added an all-chipotle menu that includes the Chipotle Whopper and Chipotle Tendercrisp and Tendergrill Chicken sandwiches and a Chipotle Crispy Chicken Wrap. There's also a Chipotle Breakfast Sandwich not being offered in the U.S. and the smoothie flavor up north is strawberry-banana.