Many Americans greet the New Year with a resolution to be more healthful, and it appears some restaurant chains are doing the same. More poultry -- especially turkey -- is coming onto menus as the calendar turns over.
Jack in the Box led the way with its introduction of an Egg White & Turkey Breakfast Sandwich (below) coupled with the offer to prepare any of its morning sandwiches with egg whites rather than whole eggs. The new sandwich has just 250 calories and 6 grams of fat.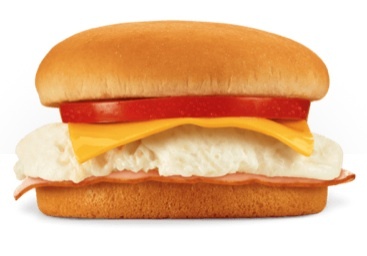 This introduction echoes the similar move McDonald's made last spring with its addition of an Egg White Delight McMuffin. However, Jack in the Box becomes the first major burger chain to use grilled turkey on its breakfast menu. Jack also added Sweet Potato Fries.
Jack in the Box wasn't alone in resolving to make breakfasts healthier with turkey. Tim Hortons has added Turkey Sausage Breakfast Sandwiches (below) in U.S. and Canadian units, available with seasoned egg or egg whites and on choice of English muffin, flatbread panini or Homestyle Biscuit. Depending on choices, calories range from 290 to 430 for the new sandwiches.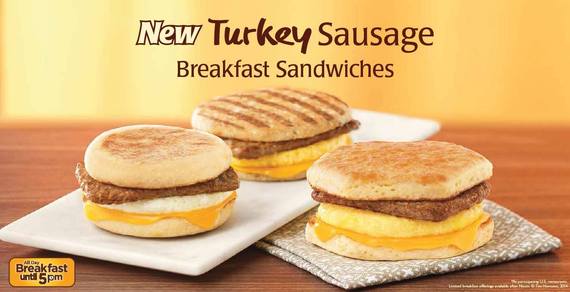 Another Canadian chain, Harvey's, put a Grilled Turkey Burger on its menu in December.
Sonic Drive-In also wants to start the day with a healthy breakfast. This week it added a Salsa Verde Burrito to its breakfast menu. The item is available as a Toaster sandwich as well.
More poultry news: The Big Tasty (called Big 'n Tasty here) is one of McDonald's most popular burgers globally. It has a simple build with lettuce, tomato, onion and -- often -- cheese that makes it suitable for frequent LTO appearances in a variety of markets. Now, in Switzerland, McDonald's has lent the name to a new Chicken Tasty sandwich with the same build. Watch for this sandwich to work its way to the U.S. if beef prices stay high in 2014.