Dunkin' Donuts jumps on the pretzel-roll bandwagon next week (7/29) by rolling out a new Pretzel Roll Bakery Sandwich, the chain told analysts this week.
The introduction follows Wendy's introduction of a Pretzel Bacon Cheeseburger (below) and Sonic's Pretzel Dogs in operators' never-ending search for something new and interesting. The Pretzel Roll Bakery Sandwich also reflects Dunkin' Donuts continuing push to establish itself as more than just a coffee/breakfast concept. Mornings are still vital to its success, of course, as evidenced by the recent addition of a Hot & Spicy Breakfast Sandwich and Hot & Spicy Breakfast Wrap.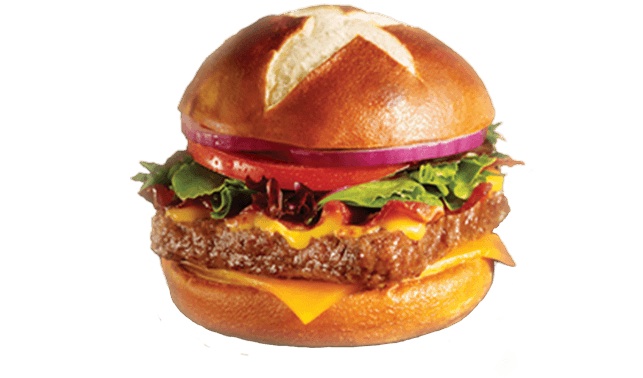 For burger chains like McDonald's, which get 25 percent of sales from breakfast sales, Dunkin' is thus becoming an more serious competitor. McDonald's CEO Don Thompson likes to talk about the need to steal market share in a low-growth marketplace. Dunkin' has a solid share of the morning market, but it's looking to steal lunch and afternoon sales from other QSRs by cycling in more limited-time offer products.
"The introduction of the Chicken Salad and Tuna Salad Wraps and the launch of the new chicken sandwiches both exceeded our expectations and are further examples for growing outside of the morning daypart with products that build on our bakery heritage," Dunkin' Chairman CEO Nigel Travis told analysts this week. The Pretzel Roll Bakery Sandwich name clearly is meant to emphasize that heritage to consumers.
To protect its breakfast share, McDonald's looks to leverage the popularity of its McMuffin. The new Egg White Delight McMuffin is an example. The chain also has tested a hybrid that melds its standard McMuffin with its Steak, Egg & Cheese Bagel. The Steak and Egg McMuffin and Steak and Egg Biscuit have been tested in selected markets, including in Ohio.
Dunkin' Donuts has more than 10,500 restaurants in 31 countries worldwide. Global systemwide sales last year were about $6.9 billion. But the company has said its goal is to have 15,000 locations in the U.S. alone. At the beginning of 2012 McDonald's had 14,157 U.S. locations. Its U.S. sales were $35.6 billion; global systemwide (company and franchised) sales in 2012 were $88.3 billion.