Jack in the Box, reinforcing its reputation for innovative menu items, today introduces the Bacon Insider, the first burger patty made with ground beef and bacon from a major burger chain.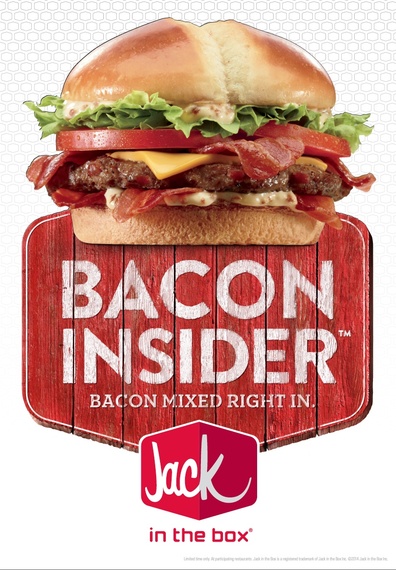 The bacon's not just inside the patty. Nestled above and below the patty are half strips of hickory-smoked bacon (a total of six) and there are schmears of bacon mayo sauce on top and below. Lettuce, tomato and American cheese come along for the ride. All this is served on a brioche bun. "It's a triple-threat bacon burger," Jamie Vanderwal, Jack in the Box Category Leader told BurgerBusiness.com in an interview. "Really this goes above and beyond any bacon burger we've done before."
At $4.99 a la carte and $6.59 as a combo with fries and beverage, the limited-time Bacon Insider outdoes its other burgers on price, too. The Jalapeňo BBQ Burger and Fajita Ranch Melt burgers Jack introduced just two months ago were each priced at $3.99. The BLT Cheeseburger offered last October was $4.99, but that was a combo bundle. Vanderwal said the Bacon Insider burger patty is bigger than its Jumbo Jack patty but she did not give an exact precooked weight for it.
The Bacon Insider's brioche bun, a first for the chain, is another example of its commitment to menu variety, Vanderwal said. In the recent past, the chain has used sourdough bread, a croissant, a waffle and several different varieties of buns as sandwich carriers. "We try to innovate with every element of a menu item," Vanderwal said. "Our customers look to us for that."
She said the Bacon Insider has been in development for several months. The beef/bacon patty required a longer than normal lead-time before the chain could do a systemwide rollout.
No other national chain has a beef/bacon burger patty but the idea certainly isn't unique. A 50 percent beef, 50 percent ground-bacon patty has been the signature item at the Slater's 50/50 chain since it opened in 2009. It now has seven Southern California locations (including one in San Diego where Jack in the Box is based).
Ironically, Slater's 50/50 tomorrow introduces a February Burger of the Month that doesn't use that beef-bacon patty. Its new Pizza Burger starts with all-natural ground-beef that's mixed with mild Italian sausage. It's topped with house-made roasted red pepper and garlic marinara, and fried mozzarella sticks. The burger's served on a toasted-garlic-aïoli and Parmesan brioche bun.
Little more than a month ago Jack was talking healthy eating with its introduction of an Egg White & Turkey Sandwich but Vanderwal says the shift to the indulgent Bacon Insider isn't a mixed message. The chain always has created a variety of items to meet varying tastes, she said. "But bacon's popularity has withstood the test of time," she said. "In focus groups and taste tests the Bacon Insider has had some the best research results. We're confident it's going to find its audience and be a success."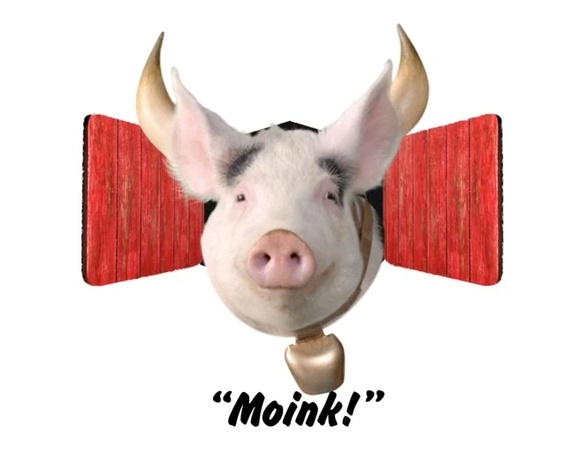 Regional advertising support, via Secret Weapon Marketing, begins February 2, including spot buys during the Super Bowl. One TV spot promotes the beef/bacon blend by taking spokesman Jack down on a farm where pigs have horns and say "Moink." Integrated marketing including in-store merchandising and social-media support begin this weekend as well.