This is Australia's year to get McDonald's promotions it's previously been denied, apparently. It's just finishing its first exposure to that McMarketing chestnut, the Monopoly game-piece promotion. No sooner will consumers find out who won the grand-prize Kia than will McDonald's kick off one of its other global favorite sales-building tools, the America-themed menu.
Sources say that as early as next week McDonald's will introduce Tastes of America limited-time menu items pegged to U.S. locales led by a New York Classic burger with mustard, mayo and pickles. Also planned are a Smoky Texas Angus Burger and a California Chicken Burger. For breakfast there will be a distinctively Australian Road House Brekky Roll. Cheese and Chilli Pops nuggets for snacking, waffle cones and a Banana Split Thick Shake fill out the LTOs.
McDonald's loves America-themed menus and New York City-themed burgers in particular. Its stores in the Czech Republic offered a whole " I ♥ New York" menu in 2010 (below). McDonald's Japan is currently wrapping up the latest run of Big America All-Stars, as the promotion is called there. An Idaho Burger (topped with a hash-brown potato pancake) is featured now. Past versions of the Big America menu have offered a Broadway Burger topped with cream cheese and mustard and, in 2010, a Manhattan Burger topped with pastrami and mozzarella. Seriously.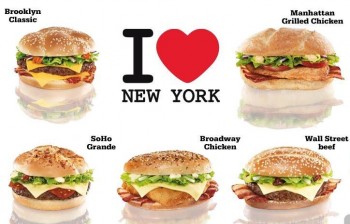 In the UK, where the promotion is called "Great Tastes of America," LTOs have included a New York Special in 2010 and, last year, a New York Classic burger. A supporting TV spot from Leo Burnett showed London transformed into NYC, complete with Yellow Cabs. A NYCrispy burger has been a popular LTO at McDonald's across Europe for two years. And then there were those cupcakes at McDonald's in Germany named for New York City neighborhoods such as Soho, Chelsea and East Village.
It's only right that Australia is getting a Texas burger, too, since that's McDonald's second-favorite LTO locale. A Texas Burger (with bacon, mustard and barbecue sauce) was the previous special on Japan's Big America menu this year. In Hungary, where the promotion loosely translates as "American Sweethearts," a Texas Bacon burger was a hit. The Swiss "Stars of America" version recently included a Texas Chili burger with pepper-Jack cheese.
Burger King, meanwhile, took a pass this week on giving an American city some menu attention. In Canada, Burger King just added a BBQ Pulled Pork sandwich similar to the one it introduced here last summer. What's different is that the U.S. item was labeled Memphis BBQ Pulled Pork. The Memphis name was apparently stopped at the border.
Also, Burger King's $4.99 King Deals promotion has performed strongly enough where offered that a national rollout is expected to be announced soon.