As a reminder that QSRs' use of wacky advertising in the competition for market share isn't something new, Burger King is bringing back the "Subservient Chicken." Launched on April 8, 2004, the promotion was one of the first to tap into social media such as dedicated Web pages and YouTube to announce a new menu product (at that time, TenderCrisp Chicken).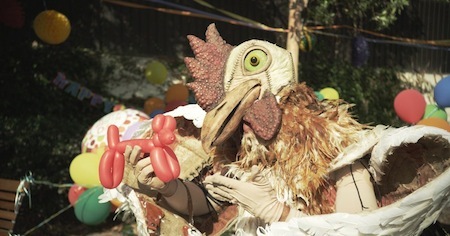 Originally, Burger King created a webpage where a man in an outlandishly cheesy chicken costume appeared to do whatever visitors asked (Throw pillow. Jump rope. Turn out the lights, etc.). The campaign's tagline was "Chicken the way you want it." Its 1 billion views opened eyes to the possibilities of digital marketing.
"It's the 10-year anniversary and we want to celebrate our new Chicken BIG KING Sandwich, truly in epic fashion," said Eric Hirschhorn, Burger King CMO-North America. "This sandwich is a big deal so it felt fitting to partner with the Subservient Chicken who is a pop culture icon."
Burger King says the video "chronicles what happens to Internet sensations when their 15 minutes of fame is over and the real world comes knocking at their door. Dustin Diamond, familiar to many as the character "Screech" in Saved By the Bell, makes a cameo appearance. The video goes live on April 30 at 9 a.m. ET. Watch it here.