Culver's -- ranked as the 10th largest burger chain by Technomic -- is testing a new tier for its chicken platform: premium chicken-breast sandwiches in a variety of preparations and flavors all served on ciabatta rolls, a carrier it hasn't used before. It's also testing new versions of its Pub Burgers, which almost were the first to use pretzel buns.
The Crispy Buffalo Chicken Sandwich is a crispy chicken patty tossed in Buffalo sauce and finished with creamy blue-cheese spread. The Crispy Southwest Chicken Sandwich has a "boldly breaded " chicken filet with pepper-Jack cheese and jalapeňo ranch dressing. The Blackened Grilled Chicken Sandwich has a Cajun-seasoned chicken breast that's marinated and then grilled. It's topped with smoked Gouda and a creamy Cajun mayo.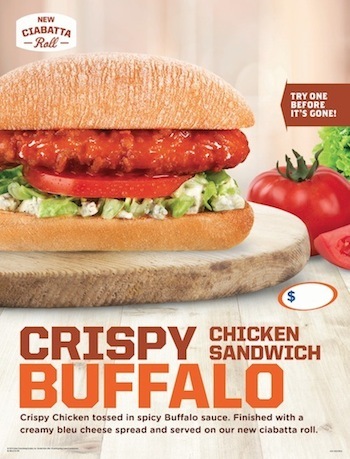 When the sandwiches were given the usual "shakedown" test in Culver's stores around its Prairie du Sac, Wis., headquarters, they scored well. But customers loved the ciabatta. "We wanted to see if ciabatta would be more appealing than the hoagie roll we're using currently for chicken," David Stidham, Culver's VP-Marketing told BurgerBusiness.com. "The only marketing was point-of-purchase materials on the counter, some with the hoagie and some with ciabatta. People understand trends and flavor profiles a lot better than we give them credit for because they chose the ciabatta 2-to-1 over the hoagie roll."
It's a sign that consumers continue to be increasingly sophisticated about new foods and flavors. "Everybody's a foodie now," he says. That's good because five years ago customers likely would have asked what ciabatta is. "It's a great, tasty roll. It's soft but it holds that chicken well so it's not as messy to eat," he says.
Now that the three chicken sandwiches are getting in-restaurant testing -- but with no marketing support other than menu-board translights -- Culver's is watching sales to see which might be selected soonest as a national LTO. "We're also going to watch very carefully how this ciabatta bun does," Stidham says. "That could lead to other opportunities for some of our other sandwiches like pot roast, prime rib, fish and so on.
Burgers, however, are pretty firmly wedded to their traditional kaiser rolls with the exception of the Pub Burger platform Culver's created in September 2012 with the Colby Jack Pub Burger. The build included one or two beef patties with Wisconsin Colby Jack cheese, crispy fried onions and a special four-pepper mayo with a dash of A.1. Steak Sauce. It was served on what the chain called a Supper Club bun. However, during initial tests it was served on a pretzel bun that could have made history.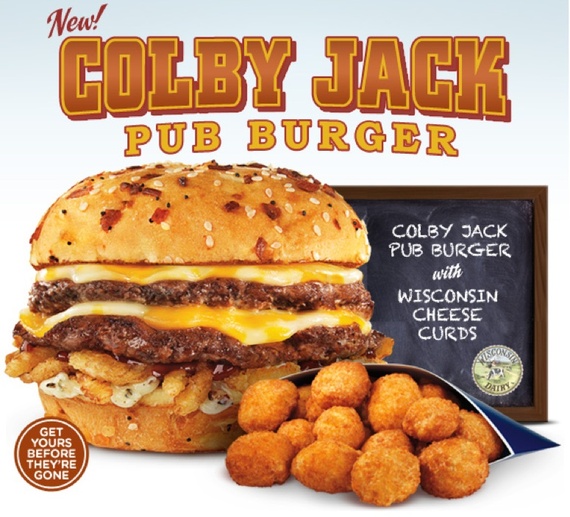 "That was before Wendy's Pretzel Bacon Cheeseburger, before everyone," says Stidham. "But we made the decision to not use the pretzel bun [as testing advanced] because it was really dense and heavy and had a sheen over it. Since we use fresh beef, it's a lot juicier than some others, and it almost had a greasy look. It was very messy. When we thought about it in the drive-thru we wondered how many 'one and done' customers we'd get because they'd make a mess of it."
Culver's might have regretted the decision to forgo the pretzel bun if the Colby Jack Pub Burger hadn't been a huge hit. "It blew the doors off," says Stidham. "So we said, 'OK, we're going to put an LTO burger on TV for the first time in three years.'" The Colby Jack Pub Burger returned to the menu in April 2013, this time with TV support and it became the chain's best-selling LTO.
The chain -- which opened its 500th unit opened in March and is in 21 states -- followed the same strategy last fall with the Pepper Grinder Pub Burger. This build included layers of real Wisconsin Swiss and Cheddar cheese, bacon and signature four-peppercorn mayo on its pub bun. "It definitely hit the marks. It was our second-best LTO ever," Stidham says. So the Pepper Grinder Pub Burger is back on Culver's menu now, promoted with a TV spot featuring co-founder Craig Culver talking burgers with James Beard award-winning chef/restaurateur Tory Miller of L'Etoile and Graze in Madison, Wis.
Two more Pub Burger builds are in market tests now. Stidham says Culver's would rather test new variations than make a single Pub Burger a permanent menu item. "We believe there's something to creating pent-up demand," he says. "And like other chains, we notice that when you run an LTO you have a ramp-up period and then sales start to slow down. We think eight weeks is about the sweet spot. We feel we're on target with the length of time we run them."
That said, Stidham is wary of the too-many-LTOs pitfall that Burger King and McDonald's admit they fell into. "I've been in this business a long time so I know the saying that 'New news drives traffic.' But we want people to love the products they can have any time of the year, too. Sometimes brands forget that and think consumers only respond to what's new. If that's true, they're not confident in their core products.
"Sometimes you want people to love you for who you are. We feel our core products are our heroes."