Madison Rising, the self-proclaimed "most patriotic rock band in America," kicked the NASCAR racing season off on Saturday with what many are calling the worst rendition of The Star Spangled Banner since Roseanne Barr stunk up the joint at Jack Murphy Stadium in Cincinnati 24 years ago.
"We took some liberties," says lead singer Dave Bray, who describes the most patriotic rock band's rendition of America's most patriotic song as "a death march" that is "sung in a very sullen way."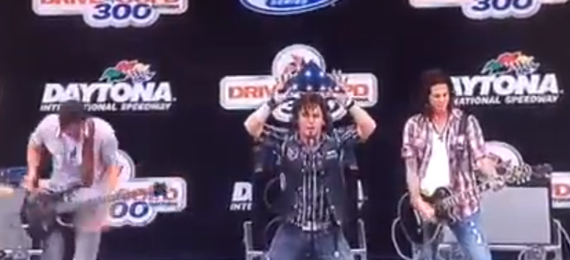 According to the band's website, Madison Rising "is on a mission to not only make great music, but also send a message that American culture is alive and well."

Madison Rising's guitar player and bassist, who also shifted weight from one foot to the other throughout Saturday's performance, could not be reached for comment.
Speaking of which, here's a digest of the Youtube response.
Gil Michelini
This is what I wake up to every morning. Great way to start the day reminding me that my citizenship in America is as much of a gift as is my membership in the Church, the body of Christ.
tommy anderson:
That ranks up there with Rosanne...AWFUL!
Jodi's supporter
those who think that "we're the free" are sadly mistaken!
America is becoming more like China.
crosstraffic
HORRIBLE!!!!! Stop trying to outdo what Hendrix did perfectly 45 years ago.
ROCKYMOUNTAINRACER
THAT WAS AWESOME... AND THE FACT THE LEAD SINGER IS A VETERAN MAKES IT THAT MUCH AWESOME!
Rebecka Vigus
Totally disrepectful. I don't care if he is a veteran...that was awful.
Norm Loewen
I guess Bieber was busy...