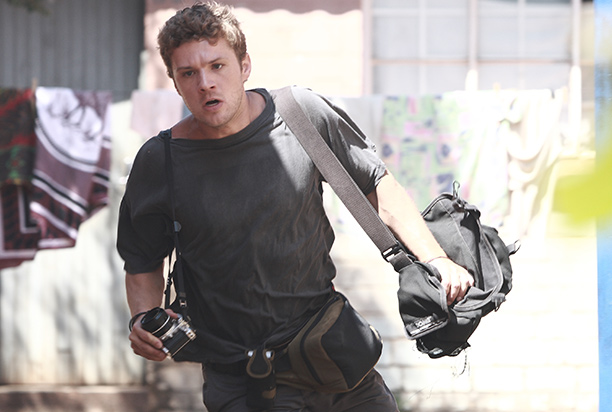 "What do you think makes a photograph great?" I asked Ryan Phillippe, a posed question by a journalist in the opening scene of The Bang Bang Club. Passion flickered in his eyes as he averted his gaze to the ground and took a few moments to assure delivery of a sincere answer. "If it's able to tell a complex story in a single frame," he responded ardently. "Are you going to ask me about acting next?" joked Greg Marinovich, real life Bang Bang Club member and Pulitzer Prize winning photographer, portrayed by Phillippe in the film. The Bang Bang Club premiered last Friday at the Tribeca Film Festival, being ushered in with the help of Tribeca's founder Robert DeNiro. Bang Bang tells the story of four photojournalists in South Africa, whose graphic images of the civil war shocked the world during the final days of the Apartheid.
The Bang Bang Club also stars Taylor Kitsch, portraying fellow Club member and Pulitzer Prize winner, the late Kevin Carter. Kitsch admittedly dove deep into his role, shedding at least thirty pounds of what, we can only assume, was muscle weight via Friday Night Lights. "You had a lot of heavy days," co-star Malin Ackerman, who plays Robin Compley, the Club's editor, pointed out to Kitsch. "Um, where do we start?" he joked. "When you get a script and you're trying to map it out, you go to yourself 'Okay that's a big day... that's a big day.' I felt like I was circling a lot of scenes. Kev was just broken, a lot, and to play that honesty is just very taxing."
One scene in particular shone a light on Ackerman's talent, proving her as an actor with the ability to portray more than just a cutesy sister in an average RomCom. In said scene, Akerman's character chooses to tag along for a mission with Greg (Phillippe), experiencing an emotionally wrenching and bloody aftermath of a battle. "Does it make those days on set all the more exciting?" I asked. "Yeah... not knowing how you're going to react. It's written one way in a script and then you react completely different while in the moment. It's just scary but it's exciting. Greg was there that day and he had to take five and walk away, just because that was his real and true experience. And that's strange because you forget sometimes when you're in a scene that this really happened... it helps to be in the environment but it's never easy to go in a day like that."
Although the film drags at times, heart is never missing thanks to South African director Steven Silver. He stumbled upon an article about The Bang Bang Club ten years ago. "I thought, 'this would make a great movie,'" he shared, and from there on out he lobbied to assure the film was made. On location he assured authenticity, using the exact streets where particular battles to place, right down to the same block. The Bang Bang Club overall is worth a view, perhaps not for historical facts or political opinions, but for above average acting and genuine cinematography.

The Bang Bang Club is now in theaters and available on VOD.