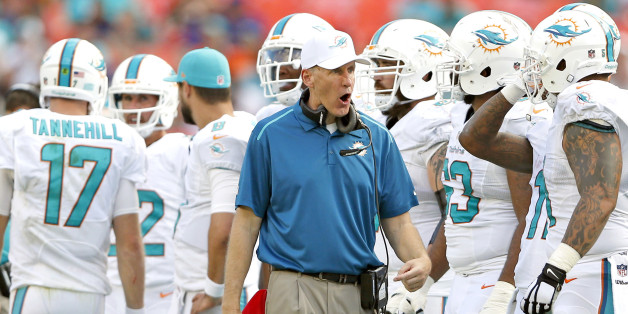 The conclusion of another NFL regular season campaign has witnessed a Miami Dolphins team once again riddled by mediocrity and lack of leadership. The Dolphins (8-8) will finish 3rd place in a lowly, though up-and-coming, AFC East division. Although Miami was destined to miss the playoffs once more coming into the final week, the team was supposedly playing for pride in a match-up many believed would potentially set-up the Dolphins' first winning season since 2008.
In response to owner Stephen Ross' recent announcement that Joe Philbin would remain as head coach for at least one more year, many in the Miami media began dissecting the justification for such a decision, considering that the Steelers' Week 16 win cemented Miami's spot outside the playoffs for a 6th straight year. For the last week, the discussion on local radio stations, blogs and television networks has been focused on why Dolphins fans should come to terms with Ross' decision to keep Philbin if the team managed to put up a (9-7) winning record with a victory over the New York Jets. Such a feat would have earned the Dolphins a rare winning season and sufficient momentum to carry into the off-season.
Much speculation about the team's future assumed a (9-7) record was an easily achievable feat and that opinions on the success and competency of Philbin should be predicated on the measure of yearly improvement, since the beginning of Philbin's tenure as head coach in 2012. What many media pundits and fanatics have forgotten, however, is that nothing is guaranteed with these Dolphins. Instead of progressing from (7-9) to (8-8) to (9-7), the Dolphins reminded everyone that they are still not ready to merit consideration as a serious contender, by finishing (8-8) for a second consecutive year.
Regarding Ross' decision, what Dolphins fans may have feared, a knee-jerk reaction to last week's win over the Minnesota Vikings, seems to be just that -- an emotional, spur-of-the-moment response by the team's owner. After Sunday's clunker against the Jets, it is probable that Ross may have chosen to announce Philbin's return after last week's win in order to avoid a media craze that could have potentially come had he announced it in the aftermath of a Week 17 meltdown and the realization of yet another underwhelming 8-8 season.
For the Dolphins, Sunday was a chilling reminder of a talented and promising team's inability to finish down the stretch, by 1) losing their season-finale, 2) in front of its home crowd, 3) to another pitiful New York Jets team and 4) for the second December in a row.
Last year, there was heavy pressure on a playoff-bound Dolphins team entering Week 16 at (8-6) to win only one of their last two games in order to secure a post-season berth. This year saw the Dolphins entering Week 17 playing without post-season hopes, but with the chance to provide some evidence that Ross made the right decision to keep Philbin, by proving the team can finish on the right note for its head coach. Even under significantly less pressure this year, the Dolphins instead succumbed to their usual December downfall. In the process, the team lost what slight bit of poise and confidence it may have had, while inviting locker-room drama and sideline distractions on the heels of their season finale.
On Sunday, the Philbin-led team crumbled in an almost meaningless game, while its opponent ravaged the Dolphins -- showing what it means to play inspired football for a head coach many believe is on his way out. The Dolphins failed to come close to capturing that charisma and purposeful play for their coach, and as a result, highlighted Dolphins fans' worst fears -- that Ross' support of Philbin may have come one week too early, and that these may actually be the same old Dolphins.