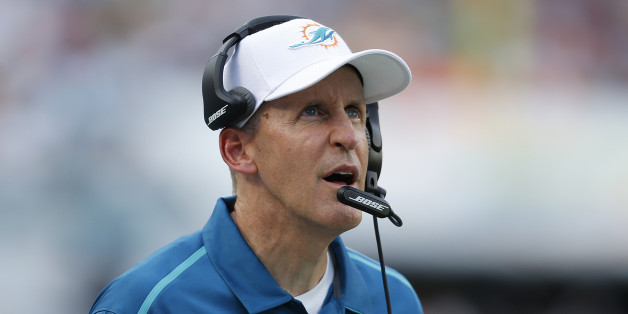 This article incorporates statistics from all persons who have ever served as a Head Coach in organized football, including the likes of the APFA, NFL and AFL. The data presented in this article has been screened to include statistics only from coaches who entered at least four seasons serving the capacity of head coach. This data doesn't take into account successes coaches may have had prior to entering their 4th years, and includes a relatively small number of early seasons in which playoffs did not occur. This data excludes interim head coaches and does not count the years spent coaching organizations following the team that was first coached. For example, a coach like Bill Belichick is measured only for his time spent with the first team he was ever head coach for, the Cleveland Browns, and not the New England Patriots. This article strives for a semblance of predictability, which is best served by focusing only on first-head coaching stops and not subsequent ones. For example, Jon Gruden spent four years as the head coach of the Oakland Raiders between 1998-2001 only to leave for Tampa Bay in 2002 and immediately win a Super Bowl in his first year. This article exempts this Super Bowl win as it does not fit the criteria for which Jon Gruden is measured -- being the coach of the Oakland Raiders from 1998-2001. This article excludes relevant information about 4th year Carolina Panthers Head Coach Ron Rivera, whose playoff-win percentage will be impacted this postseason.
Statistics in this article are taken from Pro-Football-Reference.com, Espn.com, and NFL.com. Conclusions and original data in this article are drawn in most part from statistics and information provided by Pro-Football-Reference.com.
This article employs original and borrowed statistics to paint a future picture in which others can draw upon to predict the longevity and future success of Miami Dolphins' head coach Joe Philbin. Of course, such a determination requires wrestling with whether one believes Joe Philbin's future with the Miami Dolphins rests on the fruition of a 2015 postseason berth or long-term success.
Of the 477 head coaches to ever walk the gridiron's sidelines, there are only 191 who coached for at least four years. This article will focus only on 146 qualifying candidates who coached at least four years with their first team and will include only data on their tenure with their first team.
These 146 head coaches collectively sport a "4th-season record" of 1099 games won and 967 lost, with a total win-loss percentage of 53.4 percent and an average of 56.2 percent in that season. One year short of such a mark, Philbin has failed to eclipse the middle-ground, reaching only 48 percent.
After finishing their previous three seasons with non-winning records, 32 of the original 146 coaches earned the opportunity to work for a 4th year for the same team -- we'll refer to these coaches as the Big 32.
Of the Big 32, nine coaches were entering their 4th and final season as a head coach... ever. Only one of those nine coaches, John Mackovic, earned a winning record in his 4th season and brought his team to the playoffs. Even he was fired following his team's postseason berth (due to a "lack of chemistry" with owner Lamar Hunt). Reporters like James Walker believe the only thing that can save Philbin's job is a postseason berth at the very least, and Mackovic, who very well could be a foil for Philbin, may have been in a similar situation. Of the remaining 24 in the Big 32, only half enjoyed a winning season in their 4th year.
Only a staggeringly low three out of the Big 32 coaches won league championships, combining to win eight: Tom Landry, Chuck Noll and Weeb Ewbank. This statistic sheds substantial doubt on the potential for Philbin to win the Super Bowl for Miami at all, since the last of these eight championships was won in 1979 by Chuck Noll's Pittsburgh Steelers, separating Philbin 35 years from history's favor.
The 122 all-time coaches who managed to survive beyond a 4th year accounted for 52 playoff wins in 206 collective seasons, equaling approximately 1 playoff win every 4 seasons. The 24 coaches who did not return to coach their initial team in a 5th season racked-up a whopping 0 playoff wins, all-time.
Since Philbin took over the reins of the Miami Dolphins franchise in 2012, the Dolphins have been challenged with an average strength of schedule at 12.33rd most difficult, while a team who boasts a head coach also entering his 4th year with his first team in the Indianapolis Colts, enjoyed a strength of schedule average more than twice as weak as the Dolphins' at 25th, due significantly to the fact that its division is home to annual NFL bottom-feeders in the Titans, Jaguars and (until recently) Texans.
Dating back to 2012, the Dolphins have seen an increase each year in the percentage of drives where the offense scored. Unfortunately, that percentage increased for the number of drives in which the defense gave up a score. In spite of this number, the Dolphins surprisingly performed well defensively compared to other NFL squads, ending 2014 with a scoring-per-drive rate that was 11th in the league, and a scores-allowed-per-drive rate low enough to merit Top 10 honors.
While these numbers seem to highlight a positive pattern of development, Philbin's three Dolphins teams have possessed defenses which allowed increasing amounts of points per drive each year, a trait that left them with a mediocre 2014 finish at 23rd in the NFL.
Philbin's Dolphins have given up more points this year than in years past and barely managed to scratch their way to a mere 40 percent in 3rd down conversion-rate.
While his team's turnover-ratio improved each year from -10 to -2 to +2, Philbin's teams have simply not forced enough turnovers when it matters most in the each December of 2012, '13 and '14, when they have been primed for foreseeable postseason pushes. In their last two games alone in each of Philbin's 3 years, the Dolphins compiled a dismal -7 turnover differential, a major contributor to Miami's six-year playoff drought.
The Dolphins have crawled into each of the last three Decembers with a 16-17 record. Remarkably, in spite of such uninspiring regular-season performance to that point, all of the teams have still been in a position each year to control their playoff destinies.
When the teams finally played in Decembers, they amassed a futile 7-8 collective record with a 2-3 record for Dec. 2012 and another 2-3 record for Dec. 2014. Their 3-2 mark for Dec. 2013 seems admirable enough, but every Dolphins fan remembers that both of those 2 losses came in succession in the last 2 weeks of the regular season, when the Dolphins needed only 1 win to advance to the playoffs and prove they were a team on the upswing; instead they fell prey to their usual late-season implosion.
If these trends aren't disturbing enough, perhaps the fact that Philbin will be only the 34th coach in football history - out of 477 - to earn a 4th year on the sidelines following 3 non-winning seasons is indicative in and of itself of the rarity of his opportunity. Based on the history of the Big 32, there is a 28 percent chance that next year will be Philbin's last as Head Coach of the Miami Dolphins. In other words, there is a 28 percent chance that in 2015 the Dolphins will again fail to win more games than they lose and again manage to avoid an ever-elusive playoff win. While the numbers associated with the Big 32 suggest the Dolphins actually have a more optimistic 38 percent chance at a winning season next year, we must not forget - these are the Dolphins we're talking about. So you can probably bank on that chance being closer to 28 percent and Ross realizing he needs to tack another year onto his bulletin board of wasted seasons.
What we do know is that if Joe Philbin does well enough to earn an extension following next season, history still shows that coaches in a similar position do no better than achieving one playoff win every four years. Hardly Harbaugh-ish numbers.
Since only three previous coaches in history -- out of the 32 who experienced non-winning seasons in their first three years -- managed to win the big one, Joe Philbin's chances of pulling off that which every sports franchise aspires to when they first invest in a head coach, are 9.38 percent. All three coaches are enshrined in the Pro Football Hall of Fame. Barring a miraculous formation of an NFL dynasty, Joe Philbin has an improbable road ahead of him and faces insurmountable odds at matching up. Also, we mustn't forget, these are still the Dolphins we're talking about.
It's up to you to determine whether that hope is more or less a reality than what the numbers suggest.
Good luck Dolfans.