The first time I ever saw Emmanuelle Seigner I was a 15 year old grunge kid, and she was the gorgeous vulnerable seductress Mimi, intertwined in her husband Roman Polanski's fatally passionate love story Bitter Moon. This was a time when the glamour of pictures was still very fresh to me, when artists and their work presented a parallel form of archetypes, so if Polanski, just like Goddard, Kubrick and Scorsese was a Master, Emanuelle was in all of her right his Muse and together they formed the ideal power couple of that time. Twenty years later in their newest collaboration Venus in Fur (based on the play by David Ives, which was itself based on Leopold von Sacher-Masoch's novella of the same name) those archetypes still ring true.
Venus in Fur opens with Vanda (Emmanuelle Seigner) as the foul mouth, vulgar, unprepared actress walking in late for a theater audition. When the writer/director of the play Thomas (Mathieu Amalric) finally lets her try out for the part, after much reluctance, Vanda proves she's not only prepared but ready to play it, and what begins as an audition from hell becomes a sexy game of obsession and seduction, where the roles of power and persona are constantly in flux.
When Emmanuelle walks in for our interview, I am mesmerized. In leather pants, high tops, and a striped T-shirt, she disarms me. She is soft spoken, funny and contained. Glimpses of her past screen personas come alive only when they are mentioned. As we speak of plays, movies, her husband and their collaboration, it becomes very clear that this muse and this master are first and foremost professionals."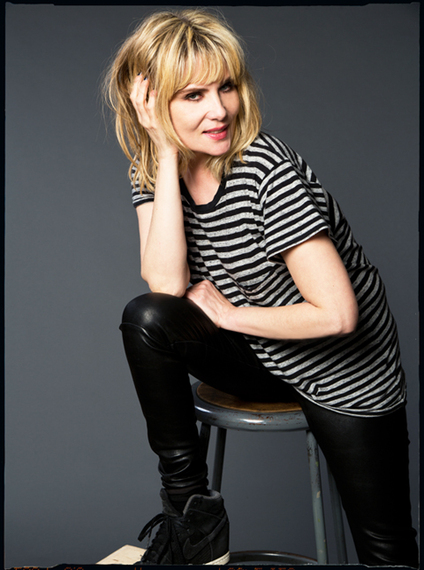 Portrait by Leslie Hassler
How did the project come to be? Did it get in yours or in Polanski's hands first?
Seigner: In Polanski hands first. His agent gave him the play because we were looking for something to do together with a great role, and something that we could do in an intimate way, not in a big studio movie, something more artsy. So we were looking for the right project for many years and then when he read the play he was in trance. He was like, "We have to do it. It's amazing." I mean since I've known him I never saw him so excited about a material. So I read it, and in the beginning when I read it I was like 'Oh My God this role is so huge. I couldn't ... ' It seemed very difficult to do and then he said "No no, you will see you are so perfect is going to be fine", and then when I started working on it and I learned the lines, it felt kind of easy.
Sometimes we don't know what we are (laughs)
Seigner: Sometimes we don't know. It is kind of scary. Yes, maybe that is what it is.
Who is she for you?
Seigner: We don't know what she is. She might be only from his mind, you know as in Rosemary's Baby you think in the end maybe she dreamed that story, that maybe it is all in her mind? So maybe its all in his mind, or maybe she is a real goddess, or maybe she is real and she is giving him a lesson. So, I think each person can find their own story, that is what is nice about the movie, sometimes people see it two or three times and they say it is a totally different thing when you see it again.
How did you approach the labyrinth of Vanda?
Seigner: Most of the time I let myself be, I didn't try to fabrique... I don't know the word in English...You know? When you make it up and you organize everything. I just let myself find the different characters, mostly just had fun with it you know? But the most fun for me was the one from the beginning, when I come in and she is so vulgar and he wants to kill her because she is so irritating. That was the most fun because I could exaggerate everything and I kind of liked it.
Yes! She is one of those characters that you think, Oh My God she is too much! And I like it.
Seigner: She is terrible. She is so much fun.
How was working with Polanski?
Seigner: It was great working with him because he is one of the great directors and it is really always great to work with a great director, but for the first time I had such a big role and I have more experience and so it was much better for me this time, because I could use him. I could use his talent.
So it was a great collaboration.
Seigner: Yeah, and an amazing role first you know, there are not so many roles like that.
I heard David Ives went to your house and you worked on the script together.
Seigner: No no. He came and they worked together. I was away in the theater doing a play. They were working in Switzerland on the script and I was rehearsing the play. Then David came back when we were rehearsing the movie for three weeks, and we were looking for the right words and the right things, and he did a lot of collaboration for the film.
How was working with your fellow actor?
Seigner: Mathieu, oh it was great. I worked with him before in The Diving Bell and the Butterfly and so I knew I loved working with him. He is such a good actor...And he swings you know? It was like when you play tennis with someone that sends you the ball in the right time, in the right moment, so it's exactly that feeling, it is really nice, because sometimes you play with someone, and is just aarrrggg, it doesn't work you know? With him it is really good.
What is your next project?
Seigner: I don't know. After that role I feel everything they are offering me is not good enough. For men there are so many good roles, and for very young girls, but for women there are not so many good roles and it's a pity because there are so many great actresses.
Do you think it may be because there are less women writing?
Seigner: Hmmmm. I don't know, but even in literature there are not so many great women, and most of them are made already, Madame Bovary, or the great heroines you know? That is why it was so great to find this play that nobody had done as a movie, but it's rare. We were looking for a long time to find the right thing, we read a lot of books and things and we were looking into period things but period is always a big production, so you don't want to go into that also you know, because it can be something too big.
Do you think is because it's all set in the theater you had more freedom?
Seigner: Yes it is simple. We shot in twenty-seven days, and what I like about the film is it's like the old Polanski from his old movies, like Knife in the Water, Cul-de-sac, Repulsion and his short movies, is very much what he was doing in the beginning and I think it is because it is a small thing.
Would you say this is at the top?
Seigner: For me? Oh yeah. For the moment it is the best thing I have ever done for sure. I mean I've never had such a good role.
I loved you in Bitter Moon...
Seigner: Yeah but Bitter Moon. hmmmmm, I think when I did Bitter Moon I was not really ready to do it. I was a bit young to play that role, so there are things I did well, like the vulnerable part, but the tough part I feel I needed a bit more of maturity and experience in life and in work. And also this was funny, Bitter Moon was like on the first level you know, it's a love story, a passion. It's great and became sort of a cult movie, but this one I think is a bit more interesting, and funnier.

There is a hunger for good roles for women. I mean there was Blue Jasmine, which was a take on Blanche DuBois of Street Car Named Desire by Tennessee Williams.
Seigner: It is true, most of the good roles are from plays. Most of the time the great women's roles are from plays.
Maybe because in plays you cant' get away visually from the characters?
Seigner: Maybe, that is why we were looking for plays. I think this work is good, because it has a man writer and man director and is a feminist movie, and that is a nice change because we are fed up of being an object, and walking in the movies looking beautiful is boring.
Women are so interesting.
Seigner: Much more than men. (Laughs)
After all these years I still see the parallel between Polanski and Emmanuelle's work and archetypes, but as Emmanuelle the Muse becomes the Master of her own craft, one cannot help but wonder if in their long relationship their roles haven't had a fair amount of flux, just like the characters of their latest collaboration Venus in Fur.
Follow Leslie Hassler on Twitter: https://twitter.com/lesliehassler