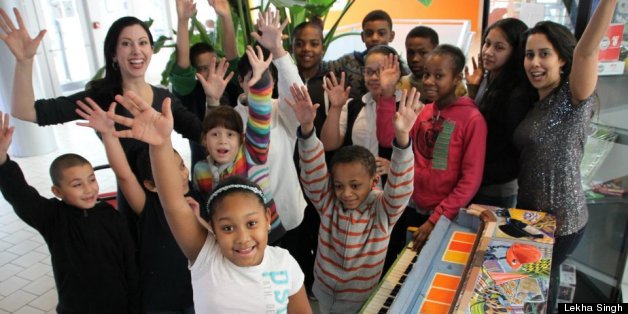 Recently, a video popped up in my inbox, accompanied by frowning emoticons and rueful comments. It showed unwanted pianos being tossed into a landfill -- an unnerving thing to see. Our team at Sing for Hope, the "artists' peace corps" behind New York City's street pianos, watched it together, and it felt like we were witnessing a cultural tragedy.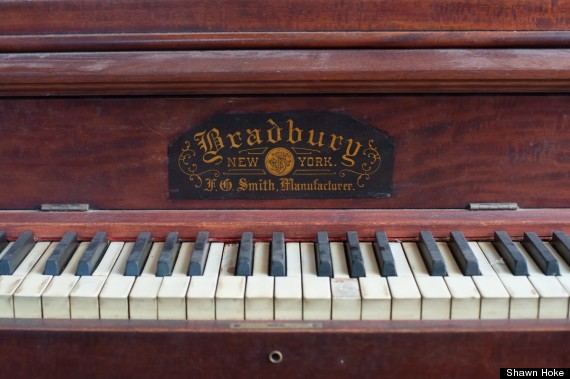 A discarded piano made by New York's now-defunct Bradbury Company awaits transport to landfill (Photo by Shawn Hoke)
For more than a century, from the early 1800's through the roaring 1920's, the trusty upright piano was a primary conduit for music's connective power. Thanks to nineteenth-century assembly-line standardization pioneered by Jonas Chickering and Heinrich Steinweg (a.k.a. Henry Steinway), the piano became a widely accessible accessory of middle class life -- a must-have for every American home, school and place of worship. Pianos continued at the heart of working-class communities through the first decades of the twentieth century, bringing people together and giving rise to uniquely American idioms of ragtime, Broadway and jazz.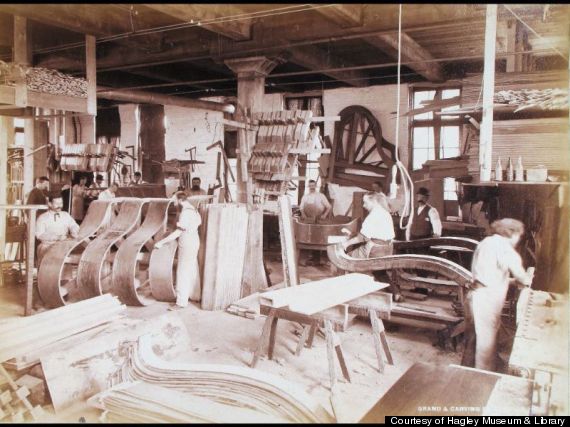 Blasius & Sons piano factory, Woodbury, NJ, circa 1895 -- one of more than two hundred piano manufacturers that once kept pace with middle-class America's passion for the instrument (Photo courtesy of Hagley Museum & Library)

With the Great Depression and the derailing of mainstream American purchasing power, piano manufacturers focused on player pianos, their rolls of popular music ready to be unfurled at the pump of a foot, no lessons needed. From there, radios and phonographs entered our living rooms. Gradually, homespun music-making was replaced by a menu of ready-made options.
Today, our pre-curated, algorithm-generated listening options are endless, but our opportunities for musical collaboration, for make-it-yourself music, are almost nil. Most of Sing for Hope's youth program participants -- indeed, the majority of inner-city kids here in New York -- have never touched a piano, let alone learned how to coax from its keys a favorite pop tune, sonatina or Joplin rag. They've never drummed pentatonic scales on black keys with their knuckles, never plinked out Chopsticks with two tentative fingers, never gathered around a battered upright with friends to bellow songs in joyfully ragged unison, never given voice to the compositions inside themselves. Overwhelmingly, our music consumption is prepackaged. Convenient, yes. Communal, no.
Live music feeds us in different ways. When we make music with our own hands and our own breath, something nourishing happens. Experienced live -- at home or at school, in a park or bar or concert hall or hospital room -- harmonies elevate us and rhythms get into our bones in ways that can't be replicated digitally. When I sing a Mozart aria buoyed by a cushion of live orchestral sound, or listen to a kids' chorus read through a gospel tune for the first time, I feel alive to what's best in myself and in others. I'm all for the occasional moment of subway iPod ear-bud escapism, but I also need live listening, collaboration and performance. The piano is as effective a lodestone for live music as any gadget ever invented. Its depreciation is what inspired me and my fellow soprano/Sing for Hope Co-Founder Monica Yunus to act.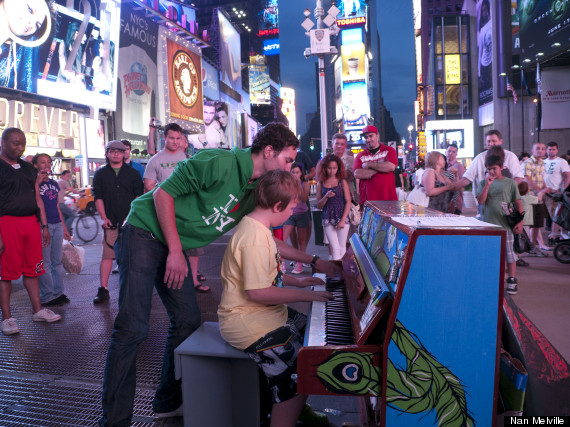 Impromptu piano lesson in Times Square on a Sing for Hope Piano by volunteer artist Walker Fee (Photo by Nan Melville)
Sing for Hope, with our roster of over 1,000 Volunteer Artists, is uniquely positioned to bring unwanted pianos to loving new homes. Each year, visual artists with visions as diverse as their backgrounds are chosen through an open application process and, donating their time and talent, they bring old pianos to colorful new life. Painting, sculpting, découpaging, gesso-ing, together they create a gift for our city: 88 unique piano artworks (representing the 88 keys on a keyboard) that are placed throughout the public spaces of the 5 boroughs, for anyone and everyone to play. After their summertime public residency, the pianos are donated to the community-based organizations that Sing for Hope serves year-round, enriching lives for years to come. It's urban recycling at its best.
This June, The Sing for Hope Pianos will once again return to NYC, thanks to the extraordinary philanthropy of The Sing for Hope Founders' Circle (the Arnhold Family Foundation in memory of Sissy Arnhold, the Anna-Maria and Stephen Kellen Foundation and Ann Ziff) and of Chobani yogurt, a New York State-based company (founded by the brilliant Hamdi Ulukaya) with community ethics at its core. Our team is at work in our midtown piano art studio this very moment, preparing our piano "army of harmony" for its public debut on June 1.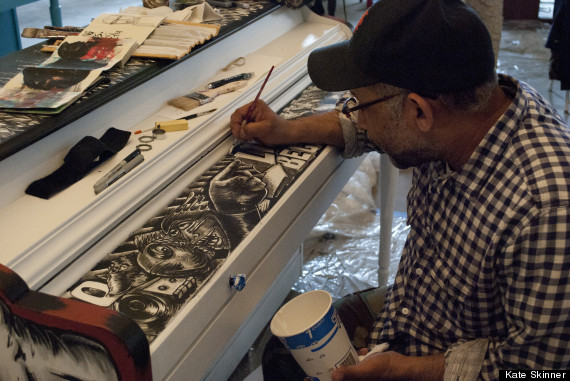 Sing for Hope volunteer artist James "BlusterOne" Alicea brings his piano to life at the Sing for Hope Piano Art Studio in midtown Manhattan (Photo by Kate Skinner)
Pianos -- glossy grands, humble spinets, colorfully painted or clad in well-worn wood -- are time-tested avenues for human expression. In our digitized 21st century, these 19th century devices -- the communicative technology of an earlier era -- offer us their own mode of instant messaging, connecting us to ourselves and to each other in vital ways. The erosion of everyday music-making ties into larger questions of educational inequality, decreased attention spans and clearly, these issues need our work. But they also need our play. This summer, roll up your sleeves, place your hands on the keys, and play -- for yourself, your grandma, your kids, your dog, for passers-by. If you've taken piano lessons before, great; if you've never touched a piano before, that's even better. Come play with us. Together, we'll save these invaluable sources of human connection from the landfill.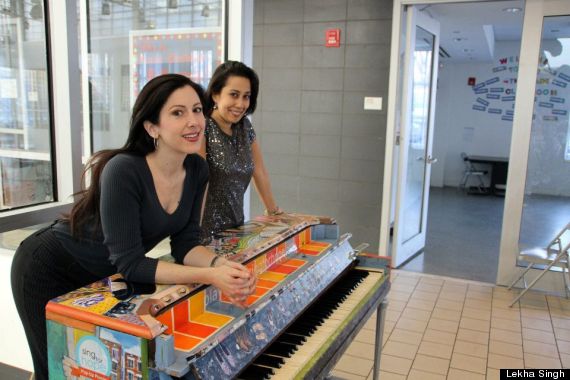 Sing for Hope Co-Founders Camille Zamora and Monica Yunus with a Sing for Hope Piano by volunteer artist Jillian Logue at the piano's new home, Betances Community Center in the Bronx (Photo by Lekha Singh)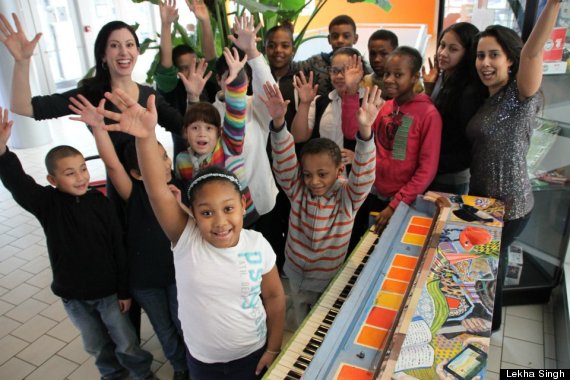 88 keys to our future! (Photo by Lekha Singh)

This post is part of a series produced by The Huffington Post and Sing for Hope, to mark the latter's Sing for Hope Pianos project and its mission of "art for all". For more information, click here.