Adapted with permission from an article published in the Juilliard Journal in May 2004, shared here a decade later as we prepare to join this weekend with Houston Mayor Annise Parker, Bering Omega Community AIDS Services and Sing for Hope volunteer artists Jamie Barton, Sasha Cooke, Melody Moore, Kelly Markgraf, Alvin Crawford, Kenneth Merrill, Jennifer Walsey, Paul Kwak, Kristine Mills, Ty Lerman, Sofia Selowsky, Reginald Smith, Jr. and Co-Founder Monica Yunus for Sing for Hope for Bering Omega 2014.
May is here at long last and with it, a sense of new beginnings. For those of us "commencing" on May 21, the sense of stepping off and starting again is heightened and accompanied by questions that, admittedly, keep me up at night... Has it really been four years since I attended my first class at Juilliard? Where will this arsenal of skills that I have learned here take me? What does it mean to be an opera singer in a world in which most Americans are unaware of the passionate performances, vividly drawn characterizations and confusion-dispelling supertitles that inform good opera today? And does this world, racked by war and reality TV and trans fats, really need another soprano?
I can answer the last question in the positive because of a blessing that came into my life in the form of a curse.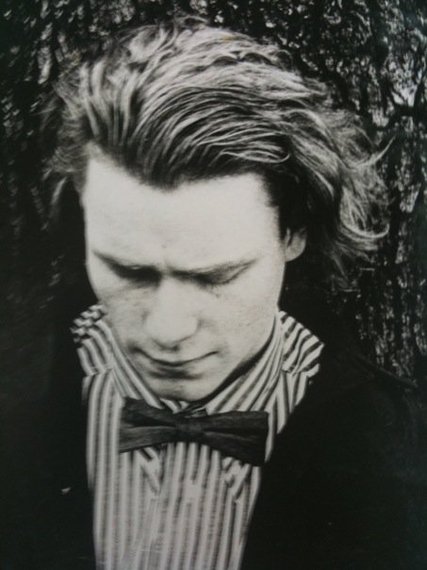 Photo of Frank Logan by Shannon Smith
One bright autumn afternoon not long ago, I received a call from Frank Logan, a dear friend -- my big brother, really -- who was entering his third year at the Manhattan School of Music. Things were going beautifully for him: He had just made a big debut that garnered praise in The Times, his voice (a stunning, sunlit lyric tenor) was blossoming, and he was feeling full of all the wisdom of his two decades of life, ready to take on the world. In our conversation, he shared with me that he had been feeling under the weather recently, so he was planning to come home to Houston for a break from the blustery New York November. What Frank chose not to share with me -- and what he kept secret from all of his friends and family -- was that he was in the final stages of AIDS.
Shortly after arriving in Houston, Frank was admitted to Houston's Omega House AIDS Hospice, where volunteer caregivers welcomed him with comfort, warmth and respect. They sang with him, played Scrabble, took walks and cooked his favorite meals. He was visited by scores of friends from all over the country. Administrators from Manhattan School of Music, who were in town to hear auditions, came to the hospice to present him with the diploma that he was to have received the following year. And when Frank died six weeks later, it was in a beautiful private room with clouds painted on the ceiling, surrounded by friends and family, with dignity and peace.
Frank's death stopped my life in its tracks. To assuage my grief as much as anything, I began doing bedside care volunteering at Omega House. When the residents requested it, sometimes I would sing, and speaking with a fellow volunteer one afternoon, we came up with the idea of doing a fundraising recital for Omega House and its umbrella organization, Bering Omega Community Services. We found a local performance hall and asked them to donate it on a dark night, charging $25 a ticket. To our amazement, we raised over $2,000 for the cause.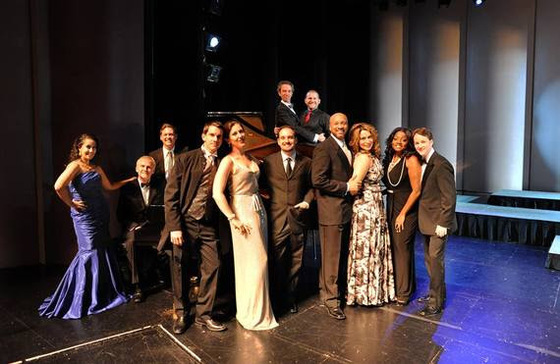 Sing for Hope volunteer artists, pre-performance: from left to right, front row -- Monica Yunus, Kenneth Merrill, Michael Slettery, John McVeigh, Camille Zamora, Devlin Browning, Timothy Jones, Hanan Alattar, Krysty Swann, Brandon McReynolds; back row -- Benjamin Wayne Smith, Ty Lerman (Photo by Dalton DeHart)
Today, thanks to the contributions of United Airlines, the support of Houston Grand Opera, the vibrancy of Bering Omega Community Services, and the generosity of so many musical friends, the concert is one of the country's largest annual AIDS galas, having raised millions of dollars for people living with HIV/AIDS. And although AIDS is no longer front-page news, the need for care is more pressing than ever. In the U.S. and worldwide, the largest change in AIDS infection is not any diminution, but simply a shift in demographics, with increasing rates of infection among lower-income women and children. In Houston every fall, we sing to honor those whom we have lost to the disease, and those currently living with it.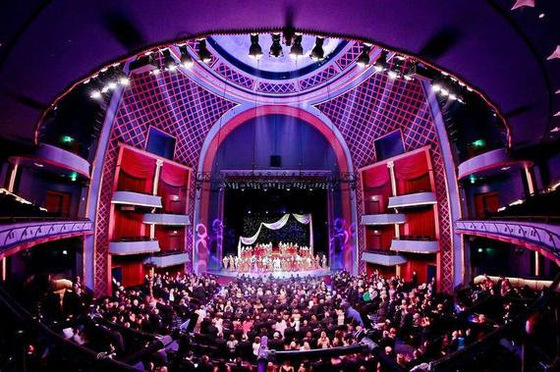 Sing for Hope for Bering Omega Community Services at Sarofim Hall in 2013 -- today, one of the country's largest annual AIDS galas (Photo by Morris Malakoff)
In so doing, we heal ourselves. In sharing a song in a hall for the cause, and even moreso, at a hospice bedside, we are the ones who receive the greatest gift: the assurance that, yes, the world does need our music, and one more soprano (or alto or bari-tenor or ukelele player or what-have-you) is indeed necessary. The act of volunteering one's art in the community has become an integral part of so many of our artistic careers, and something we cannot imagine our professional lives without. For me, it dovetails with my operatic life in vital ways, informing my work on the stage and vice versa. It has become my heart's answer to my mind's questions about audience development, cultural relevance, and the mysterious alchemy of the artistic process.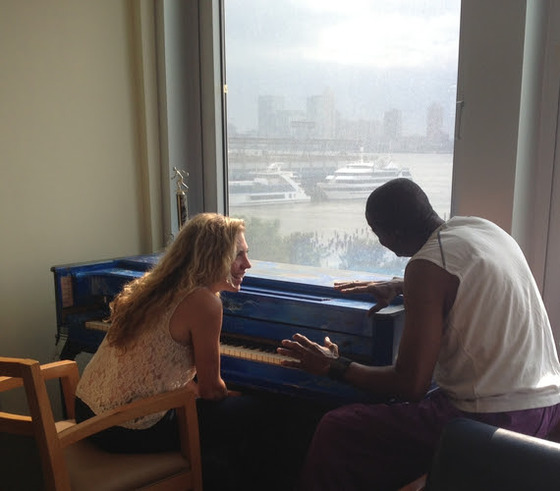 Sing for Hope Volunteer Artist Marissa Pontecorvo and a resident share songs at Greenwich Village's Bailey-Holt House, the nation's first congregate residence for men and women living with AIDS. The donated Sing for Hope Piano is by Volunteer Artist Nick Stavrides. (Photo by Shawn Hoke)
In the words of the wonderful, gentle Arthur Ashe, himself a victim of AIDS: "True heroism is remarkably sober, very undramatic. It is not the urge to surpass all others at whatever cost, but the urge to serve others, at whatever cost." There are no better words to describe the volunteers and residents of Bering Omega Community AIDS Services, whom we honor each year with our song. The loss of my friend Frank connected me to this community, and this community connected me to something essential in this art of ours. For that, I am forever grateful.
Learn more about sharing your art in communities through Sing for Hope by clicking here.
Learn more about Bering Omega Community AIDS Services by clicking here.
Learn more about amfAR: The Foundation for AIDS Research by clicking here.