Everything is about the wrapping. A crappy gift seems nicer when topped with a beautiful bow. A stunning exterior shows thought and caring. It's all presentation. This is true not only of tokens given to each other but also applies to shows and films. Sets are an essential element of the success or failure of a piece.
Bad set design can make an otherwise good production appear false and a pitiful play can be made all the more horrible by confusing environs. (As dreadful as Dead Accounts was, I think the part about it that depressed me the most was the uncharacteristically poor work from talented Broadway set designer David Rockwell, who somehow agreed to put a realistic house in front of an abstract backyard painting. There must have been something mind-altering in the ice cream over there at the Music Box -- multiple Tony-winning costume designer Catherine Zuber also served up her worst work ever, dressing the talented Judy Greer, who was playing a New York socialite, in what can best be described as 1992 funeral-chic.) Great sets might not be able to rescue a failing enterprise, but they do go a long way in helping support a quality one.
Today, I want to draw attention to two set designers whose work I admire: Donyale Werle, currently represented in New York by Bare, and Annie designer David Korins. I asked them some questions over email about their work and gave them plenty of time to formulate answers. But before we get to that, let me explain why I chose these particular designers.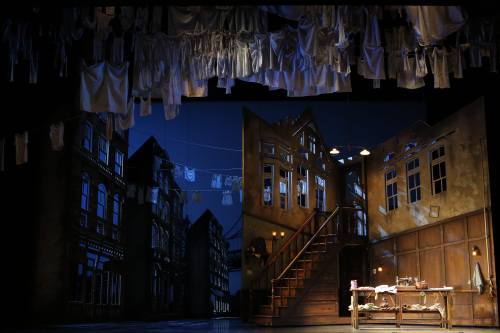 I have thought Werle is a genius for about four years now, probably since Dance Dance Revolution. Her work always seems perfectly suited to a given show. Her Tony-winning set for Peter and the Starcatcher was decidedly retro, imaginative and magical, whereas Bare, which features a grid-like set plastered with Instagram photos, has probably the most contemporary set around. When I spoke to director Alex Timbers last year, he gave a lot of well-deserved credit to Werle -- her sets for his shows (Dance Dance Revolution, Bloody Bloody Andrew Jackson and Peter and the Starcatcher) were all sort of perfect. I recommend her to every producer and I look forward to seeing her work for both The Explorers Club at Manhattan Theatre Club and The North Pool at the Vineyard Theater later this year.
Korins I've known by reputation for years -- he is a popular figure in the New York theater community -- but it wasn't until this season when I started taking particular notice of his work. Doing a revival is especially hard -- you want to give the audience the world they expect, but have it not look derivative or cheap. 42nd Street was an expensive revival, but I remember thinking those iconic steps looked like they came off a bus and truck tour. Korins' sets for Annie succeed in both creating familiar locales and imbuing them with a sense of originality. While I know not everyone loved the two-dimensional cut-outs that comprise the majority of the set, I actually did. I thought it gave the production a much needed comic-strip feel. Korins' sets earlier this season for Bring It On cleverly used large monitors to help create the show's fast-paced world. So I look forward to seeing his work on Broadway's Motown this spring.
Both set designers said they like to work closely with directors when creating a show's physical world, but they gave quite distinct answers in response to the rest of the questions:
Question: How would you describe what you do to someone not familiar with the process of theatrical productions?
Werle: What I do is create the physical, visual world on stage. I begin the process with a 1/2" scaled model (1/2" = 1'-0"). I always start with creating miniature versions of the cast and putting them inside an empty model box. This allows me to see the empty space around the people who will be inhabiting the stage. I love working in model form because you truly can create three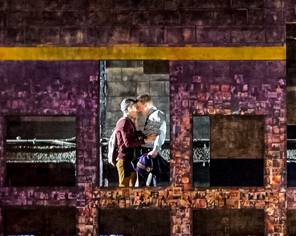 dimensionally. I feel working in two dimensions doesn't allow you to design what you can't see from the front view. The stage is not one point of view, as the audience is viewing the show from multiple angles. Moving around a model, especially a large 1/2"-scale model allows you to develop all areas, even areas only a handful of people can see from way up high or far house left. I love layering objects or surfaces to create interesting palettes for lighting and video to sculpt. My work is nothing without the other components of lighting and video, really. I find the collaboration between lighting, set and video moving around people to be the great aspect of live theater. And it is a process that occurs during the tech when the creatives are all in the same room experimenting and trying things. We all plan on paper, but don't really know how it is all going to work until we are working together on stage with the actors. Not all of the experiments work, but it is a wonderfully creative and exhausting process.
Korins: The set designer is responsible for creating the entire physical world of the play. I work closely with the writer, director and other designers to interpret and execute the play's environment. The set designer is responsible for all the scenery and props that show up onstage. After reading a play, I have meetings with the other members of the creative team where we figure out how we are going to tell the story. These conversations are generally led by the director -- whether they want the piece to be real or abstract, minimal or highly detailed, where and when it will be set, etc. I then do research, sketches and finally build a model of a proposed idea and present it to the director. When we have settled on a design in model form, I create drafting, paint elevations and specify all scenic finishes and details so that a scene shop can build the show. When that is underway, I make frequent visits to check in and supervise as the scenery is being built. Once the scenery is loaded in I work with the creative team to use the scenery to the best of it's (and our) ability to tell a clear and engaging story.
Question: What is the first thing you do in your creative process when you get hired for a job?
Werle: The first thing I do is have someone read me the play/musical out loud. There is something great about hearing the words out loud. It allows me to start visualizing the show and take a lot of notes on how the work sounds. It is a very different experience than reading it. I then go into the research process which can sometimes take up to a week. I like to free-associate with research and follow random tangents that may or may not be useful at all. I tend to end up with way more research than I think I'm going to use, but at the end of the process I can really see the design as a collection of bits and pieces from almost all the research collected. It's the super-fun, everything-is-a-possibility-part of the design process.
Korins: I read the play. I create a scene breakdown of physical requirements and think about what is the minimum amount of scenery and props that are needed to tell the story. Then I let myself imagine and visualize the world of the play, getting images and ideas ideally over a period of some time. Next I turn to research -- looking at photographs, the work of various visual artists, visiting sites if there is some relevancy -- whatever will help me unlock and discover the best physical vocabulary for the piece... and then, of course, come[s] the meeting with my collaborators.
Question: How do you think technology is changing scenic design?
Werle: I think technology is just one more tool in the arsenal of any designer. It is so great to combine new technology with old school model building and pencil drawing. I can't say one is better than the other however. I believe it is really important to learn how to draw, paint, build things, sculpt, etc. Saying that, new technologies allow set designers to work much more efficiently. I use Photoshop to create model surfaces, Skype model meetings with directors all over the country, my assistants all draft in Vectorworks, we use Makerbot (3-D printing) miniature furniture, do tons of research online, we incorporate a lot of digital printing, the studio listens to Spotify... all this next to building models out of cardboard boxes! I love switching back and forth between cutting edge technology and antiquated techniques. For example, we now build all the models out of cardboard, mostly from old U-haul and Amazon boxes. Once I realized that it takes 50 to 100 years for a single sheet of foam core to decompose vs. two weeks for cardboard, I completely stopped using that material and went back to the cardboard that set designers used to use 60 years ago. I use social media like Twitter to keep informed about new materials vs. old materials and more sustainable choices for studio practices and building technologies.
Korins: It is a bit of a double-edged sword. It is thrilling to be able to have more nuanced control over the environment. We have reached a place where we can literally make any visual show up on stage through digital technology, but it is easy to allow that same technology to take the place of imaginative, theatrical storytelling.
Question: Is there anything different about how you approach musicals vs. plays?
Werle: Musicals and plays are quite different from each other... I found musicals to be the most challenging and rewarding. I love the extra element of music and movement. I am enthralled by the choreography of moving space and love changing visuals connected by music. When working on a musical I listen to the score constantly, to really try to feel the movement of the piece. In the studio we listen music all day/night anyway; I feel music is constantly inspiring and allows my mind to really focus in on the concept of a show. But is great to mix it up and do a play; it is very refreshing to work on a play after several musicals because I find the tools you employ to be very different. It's like rearranging your brain for a while to focus on the delicacy of words.
Korins: I really approach each project in more or less the same way. My goal is always to serve the text honestly and to support the storytelling. I feel a tremendous responsibility to the writers and directors with whom I work -- and that is true whether I am working on a new piece or one that has been produced many times and whether it is a straight play or a musical. I love design and I love theater and I feel very lucky to spend my days doing this work with the many great artists I have gotten to work with. My goals are simple and consistent: serve each show in the best way possible and only create what something that helps tell that story. Make something that the entire creative team is excited by and proud of, and of course enjoy doing this everyday.
Photo of Annie ©Joan Marcus. Photo of Bare ©Chad Batka.
Cara Joy David has finally given in and joined Twitter. Find her at @CaraJoyDavid or by email at carajoy@gmail.com.