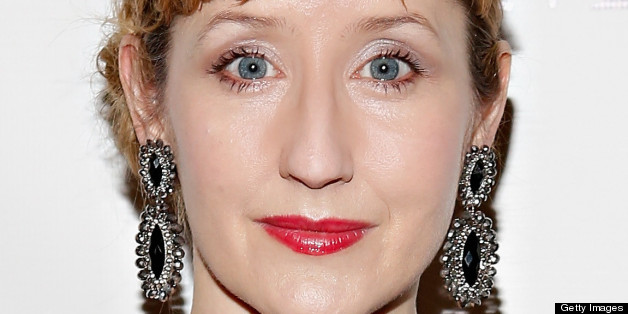 It is rare that I am as impressed with a show as I am with Matilda. It has a real intelligence to it -- from the inventiveness of Rob Howell's set to Tim Minchin's witty lyrics, it all sort of works. I give a lot of credit to director Matthew Warchus for telling a story I thought might be impossible to stage given the limitations of live theater. Of course a show is nothing without its cast and Matilda has a great one. I wish I could go back and see all four Matildas (sadly, with my luck, I know I would somehow see the same one each time I went). But this column is not about any of them. It is about the show's Miss Honey, Lauren Ward, who is returning to Broadway for the first time in over a decade.
I have always thought Ward had a real talent. Back years before I was in the industry, in 1997, I saw her impressive performance as the title character in Violet, the well-loved off-Broadway musical that continues to be staged around the country. After I began to write about the theater, I saw her in subsequent off-Broadway shows (though I must admit to not remembering Saturday Night at all) and in Follies, also directed by Warchus. I know that 2001 production of Follies had many detractors, but I was a fan. I thought it had a beautiful bleakness to it. And I still distinctly remember Ward's performance as Young Sally and Erin Dilly's performance as Young Phyllis, which is saying something because I don't remember either of the performers who played those roles in the 2011 revival.
It was during Follies that Ward and Warchus fell in love. They were married shortly after it closed. "We got married really fast; we just knew," Ward said. "People love to say I got married because I was pregnant. But I didn't have my daughter for another two years -- it would be a very long gestation period." Ward moved to Warchus' home turf of Great Britain and has only made one New York stage appearance (an Encores!) since then. (Raised in Kansas City, Missouri, Ward does seem to have developed a slight British accent over her years abroad.) Now a mother of three -- her daughter is nine, one son is seven and another is almost five -- she is back on Broadway at least through the summer in a role she has been playing since the first Matilda workshop.
Much like Miss Honey, and unlike the elder Wormwoods, Ward stresses the importance of reading to her children. They only watch television on the weekend, and not much then. Each reads for an hour before going to bed. Ward's daughter is currently into The Famous Five book series, but Ward is encouraging her to read Call of the Wild. The youngest son reads one small story a night, but then others read to him in order to fill up the hour. She is worried about how her kids will reincorporate into the UK school system if they stay in NYC beyond the start of September, but she is happy to be here now with them and this show.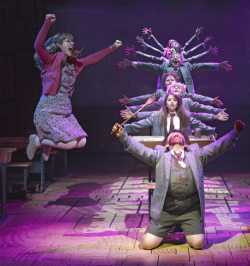 "It is very smart and it's also very, very worthy," Ward stated.
I think it has a really important message. I don't want to be preaching to people but it's a celebration of education and childhood and the empowerment you can give yourself through education. And also how people affect one another in the world -- how individuals can change one another. Matilda comes into Miss Honey's life, and, yes Miss Honey tries to champion her, but through the process of that relationship Matilda actually gives Miss Honey strength. I think that is a really beautiful thing -- I always look at their relationship as somewhat of a love story.
So, now, after this extremely long introduction, let me get onto the main part of this "Quick Questions" feature, the part where I ask the subject of the piece questions based specifically on the show itself or its text.
Do you have a personal attachment to the Matilda story?

I think growing up in Kansas City I felt different. I felt like I didn't have an outlet to be creative fully in the way I wanted to be. My parents were quite supportive of me, but in the whole school structure in order to survive you had to conform. I always thought I was someone conforming in order to have a happy life. I went to University of North Carolina School of the Arts in Winston-Salem. Once I got there, I felt like this huge weight had been lifted off me. I was in this creative conservatory; I was surrounded by lots of different types of people. You could be whoever you wanted to be. So I can relate to that aspect of it.

I can also relate to Miss Honey's story of losing her father. I lost my father at a very young age and I was very close to him.

I definitely identify with education and being a parent as well. I can probably identify with some of the parents in the opening scene saying your children are a miracle and amazing.


Miss Honey considers herself a weak person. Do you consider yourself a strong person?
I do. I have been described by people as formidable and stoic. I don't know if that is a compliment. But I've also been described as very kind and generous. That's okay, maybe they balance each other out.


Are you more a stay inside the circle type person or a person who tends to stray across the boundaries?

I am a person who strays across the boundaries.

What is your favorite line of the show?
Where Matilda sings: "Nobody but me is gonna change my story"

In the Second Act you and the rest of the cast sing the song "When I Grow Up." If you were to put yourself back when you were in Violet -- your breakthrough role -- how would you have finished the sentence: "When I grow up..."?
When I grow up, I hope I'm living somewhere by the sea with all my loved ones around me.


Would you still complete the sentence the same way now?
Yes.

Photo showing Lauren Ward's Miss Honey cheering on the kids of Matilda ©Joan Marcus.
If you don't like Twitter, you can reach Cara at carajoy@gmail.com