I love musicals. And I know how hard it is to get them off the ground. I recently wrote a New York Times story about a show that hasn't received a full production despite a creative team that includes Wendy Wasserstein and Cy Coleman. So you can imagine the challenges faced by shows written by, umm, slightly lesser-known scribes. I've always been happy that musicals can have a chance to be heard by paying audiences at various festivals. Therefore I was thrilled in 2004 when the first New York Musical Theater Festival (NYMF) got off the ground. I've gone to at least a couple of shows each year ever since.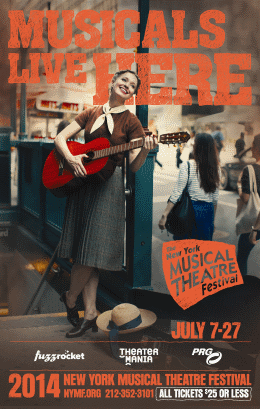 This year I started wondering: "Who else is going?" I looked around and the audience seemed older than I thought it would be. I thought it would be a lot of musical theater students; the audience at the shows I saw this year (ValueVille, The Travels, The Snow Queen and The Gig) was not that. But then I asked some regular theatergoers I know over age 45 and none of them went to NYMF. So who are these people? And where does NYMF get them from?
Matt Britten, head of marketing for NYMF, said 42 percent of their audience is under 35. He said certain performance times or shows skew different, which could account for what I saw. Like most New York theater, NYMF attracts more women than men, though just barely (53 percent vs. 47 percent).
NYMF does a lot of marketing on websites, targeting the people who frequent theater sites. This year they also got a spot on the big digital billboard in Times Square. And they reach out to specific groups depending on the niche market for a certain show.
"NYMF is about two things, New York and musical theater," Britten stated. "That is what we want to tell our audience. This year's 'Musicals Live Here' campaign was about the awareness of musicals against the backdrop of the city."
I'm still not sure who exactly is going to NYMF, but I liked the splashy campaign. And, as always, I went. This year I hated The Snow Queen and thought the other shows I saw were fine. The Snow Queen I was excited about - I liked The New York Times piece on it and I have a special place in my heart for the story The Snow Queen. Sadly I was bored by the show. Can't win them all.
I am still happy the three-week festival exists. It brings new musicals to audiences at an affordable price. While this year's edition is over, try to support next year.