I've been a fan of Anika Larsen's since seeing her in Zanna, Don't! in 2002. I share this with many people who saw the show. The day the cast of Beautiful: The Carole King Musical was announced, I received an email from my friend Scott that just said: "Anika!" No context. I had no idea what the email was about for a good 20 minutes.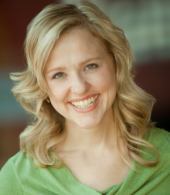 Larsen has worked fairly consistently since Zanna, Don't!, but she has never gotten to originate a major role on Broadway. Now she has her chance. Larsen is currently playing lyricist Cynthia Weil in Beautiful, which opened this past Sunday at the Stephen Sondheim Theatre.
The road here has not been easy. Emergency colon surgery almost forced her to withdraw from the production after just a few days of rehearsal. Rehearsing with the subsequent pain was challenging, but she persevered.

Larsen is having what she describes as "the most charmed experience" of her career with Beautiful. She loves her castmates and the show. She also greatly enjoys portraying, and getting to know, Weil. "You see these photos of 1650 Broadway and they are all men in suits and then Carole and Cynthia," Larsen explained. "They were so brilliant and neither of them seem bothered in any way. They didn't let there be a gender gap."
So far this time around, being on Broadway has been good to Larsen. The musical has been playing to fairly full houses. Marilyn Stasio of Variety called her "a dazzling nova." She has done a good amount of press.
And then, recently, I subjected her to my "quick questions" feature, in which I ask the subject of the piece questions based specifically on the show itself or its text.

Your character has a memorable audition for Don Kirshner. What was the craziest thing you've ever done for an audition?
I can't remember what the show was -- I know I wore roller skates, and there was no roller skating in the show. It was a song about how the girl could do anything. I walked on my hands in my roller skates, I may have done some accents. I'm not entirely sure.
I didn't get it. I went balls to the walls -- go big or go home. I did go for it, it didn't pay off. I never have done anything like that again. I've chosen to remain more conservative in my auditions.

You are playing a writer. I know you also wrote Shafrika and a related TV project. When you were young, did you ever want to be a writer?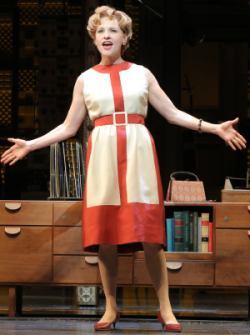 No. I never thought of writing. I knew singing could bring me attention. I was desperate for individual attention. I knew the louder I sang, the more I got. I think that is why I am a belter, not a lyric soprano.

Does your career matter to you more than romance?


No.


Have you ever thought: "I won't quit till I'm a star"?
No. I have no interest in being a star. I just want to work consistently and have health insurance.

What is your favorite Mann & Weil song?
"Walking in the Rain." Since the first reading, I had hoped that would stay in. You always hope nothing will be cut, you [don't want to] kill your darlings. I was always so nervous that it would get cut. It is just so romantic. After the reading, I downloaded that song and kept listening to it.
Have you ever played strip poker?
I have, but not since I was a kid. I would play with my brothers and sisters. I don't think we got the point.
Headshot ©Anika Larsen. Photo from Beautiful ©Joan Marcus.
Cara Joy David joined Twitter six months ago and is still getting used to it. You can follow her at @CaraJoyDavid and/or go old school and email her at carajoy@gmail.com.