Background: Each summer, I teach graduate International Negotiations and Women's Leadership courses at the Hult International Business School in Dubai. Engaging with Hult MBA and EMBA students and faculty on the Dubai campus is an extraordinary global experience with over 40 nationalities in each classroom. It is truly a privilege to be surrounded by this group of global citizens and I always take away so much from each interaction. This August many of my students graduated and I drafted the following open letter to share with them as they celebrate this milestone.
Dear Class of 2013,
Sending my deepest congratulations from San Francisco. So sorry I am not able to be there with all of you to celebrate this incredible achievement. Several of you I have had in my International Negotiations and Women's Leadership classes and I feel privileged to have been a small part of your MBA journey. Each of you, in your own special way has enriched my life and for that I am grateful. As you celebrate today and plan for tomorrow, I wanted to leave you with some thoughts to take with you. First is one of my favorite quotes from Maria Shriver, former first lady of California and noted journalist, offered at the close of her Women's Conference in 2010. Her mother, Eunice Shriver, during moments of transition and change, would remind her daughter: "Now you have a job to do. Go and do it and do it well. Finish it properly. And when it's over, then move on."
The key in this sentence that struck me was the notion of finishing something properly. Maria went on to share that while her Mother was fully aware that her A-type daughter would put her everything into completing a task to perfection, with endless energy and determination, it was in the proper finishing that was most deserving of attention. And by finishing, she meant taking time to process the closing of a task, a journey, a season of life... by taking time to truly reflect, take stock, and find gratitude for those who have supported you throughout.
This quote deeply resonated with me as I think too many of us spend our time jumping from one task, one accomplishment, and one journey to the next without giving ourselves time to really reflect and absorb all that we've experienced. It is in the proper finishing of something -- where we truly take the time to go inward -- where we can grow. It may be deeply unpleasant and seem tedious at times, as I have learned firsthand. However, now it is part of a ritual I have practiced which has enriched my life in so many ways and I hope it will do the same for you.

What you have accomplished in graduating here today is tremendous and you should be incredibly proud of this achievement. I commend you. You are now transitioning into a new season of life and as you begin this transition I hope you will stay in touch with each other and with those professors and colleagues whom you connected with throughout this journey. They are the social capital, the true value of your Hult MBA, which will sustain and endure well beyond the celebrations of today and in the coming weeks.
"So now your job here is done. You did it well. Now that it's over, finish it properly. Then move on."
In many of our classroom discussions we explored in depth building strength in what I've termed The Core Four, four personal areas which are key to sustaining global careers and long-term leadership success -- Physical Health & Wellness, Mental/Psychological Capital, KSAs/Intellectual Capital, and Passion.
THE CORE FOUR: Essential Personal Elements of Leadership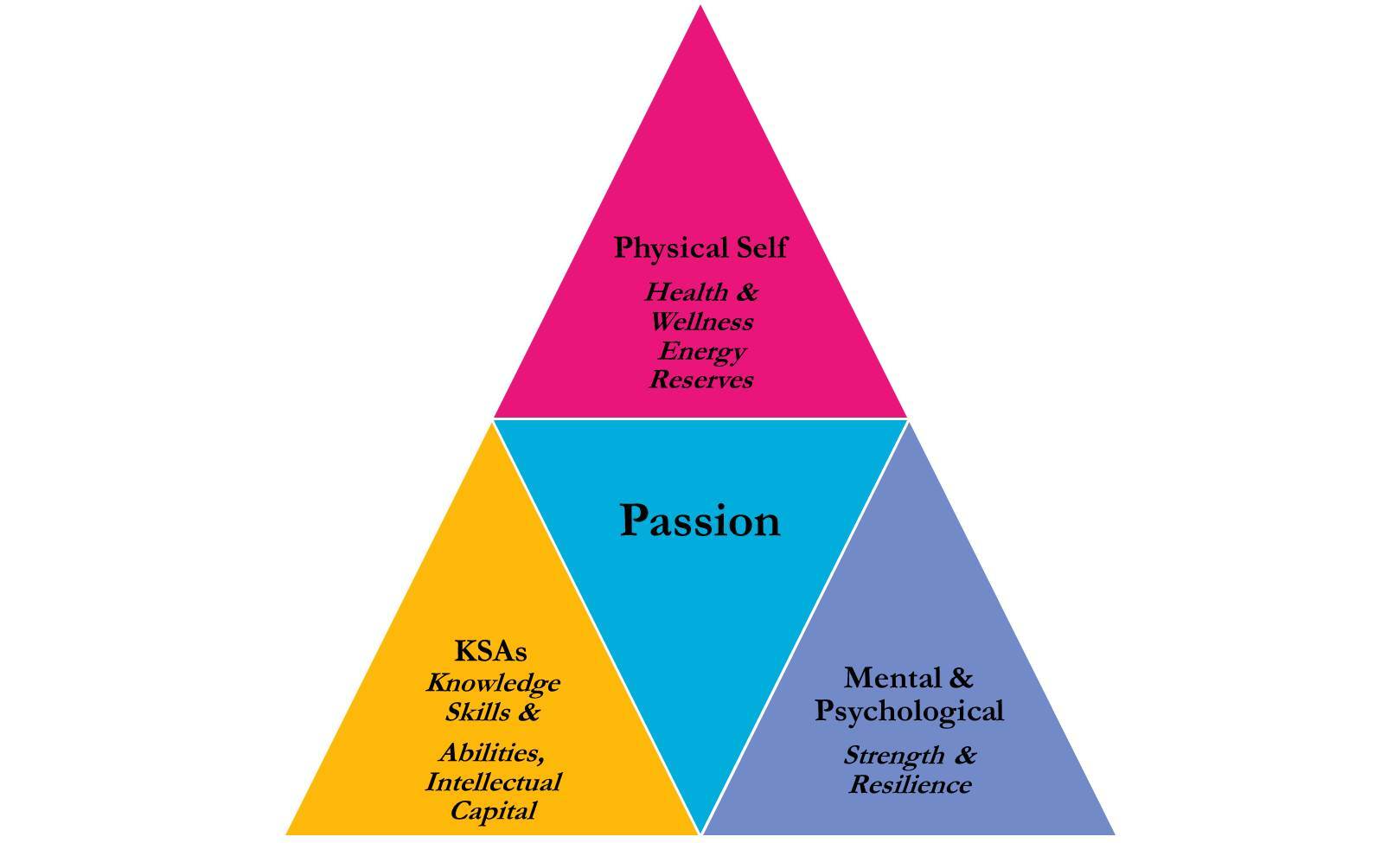 Now is the time to take stock and see where you are lacking strength in the four areas and focus in on shoring up those aspects you've neglected. They are each vital in balance to your future success. You have invested a tremendous amount of time and energy in your intellectual capital during your time at Hult. Many of you have pursued this at the expense of your physical and emotional well-being. In the non-stop rush to complete your graduate degrees, many of you have yet to truly discover what you are passionate about. As one of my mentor's shared with me long ago...
"It is time you stop doing what you're supposed to do. And start doing what you were meant to do."
I hope each of you never stop learning or nurturing your minds. And please, please take care of your physical and spiritual self, whatever that means to you, and pursue whatever you're passionate about, fearlessly.
You owe yourself this much.
Best wishes for the future,
Cari E. Guittard