My artist friend Sylvia Shap stopped by for our once-in-a-while visit, where we each walk away wondering why we don't do this more often. Some of the chitchat we indulged in was the kind that denizens of Hollywood often resort to. She remembered the time a famous singer and actress whose net worth hovers around $350 million refused to pay more than $200 for her work when Sylvia was averaging $1,500 a painting 30 years ago. I recounted my most recent oft-lived art dealer scenario, in which a set designer nickels and dimes me for artwork to be used in a blockbuster film franchise because they have "a really low budget."
We also talked about her ongoing battle with the double-barreled cancer gangster known as multiple myeloma. As she described her numerous surgeries and attendant debilitating consequences, chemo treatments with gut-wrenching side effects, and drastic curtailing of activities we all take for granted, I observed her lively and impish, if fragile, countenance and her electric blue hair -- she's always had a rotating, multi-colored chevelure -- and felt compelled to ask how she explains being alive when this particular form of cancer is so deadly. Not surprisingly, optimism figured big in the equation; optimism, a supportive spouse and an adjusted worldview.
I was astounded to hear of her empathy toward friends who prattle on to her about their little ailments. She gets it that an issue need not be death-defying to be consequential. Thank goodness, because it doesn't take the NSA, Google or Facebook for anyone to know about my 13-year-long, chronic inner global warming. Yes, for some, menopause is a disease! (I'm taking off my sweatshirt now, turning on the fan and wishing for snow even though I live in California.)
Sylvia is also a lot more relaxed about stuff that used to drive her insane, which reminds me of reading about The Happiest Man in America, who explained his life philosophy in this way: "...if you can't laugh at yourself, life is going to be pretty terrible for you."
This has to be true. Even though I don't have a potentially fatal illness, in addition to my near-constant steam bath state, there are plenty of other stressful issues that I share with other humans on this planet. But I crack myself up all the time. I accidentally put my sweatshirt on upside down the other night. Don't ask me how I did that, but feeling something was amiss, I looked in the mirror and discovered that the bottom of the sweatshirt was up around my ears and the hood was down below my butt, grazing the backs of my thighs. Just thinking about that cheers me up.
And then a couple of days ago, I was about to watch a movie with my friend when she said, "What's that cat's name?" I thought she was pointing to the screen and answered, "Sam Shephard." Five minutes later I saw her look at my cat and say, "Hey, Sam!"
"His name is Scotch," I said.
"I thought you said his name was Sam Shephard," she said.
I'm laughing out loud (again) as I write this, and I swear to you, my next cat's name is going to be Sam Shephard.
Now this particular friend of mine has been hoping to meet the man of her dreams for a long time, and can sometimes get down in the dumps about her unsatisfying love life. But I noticed recently that, after a series of really stupid dates, courtesy of Match.com, her outlook has become more upbeat! Why? Because she's decided to look at the whole thing as a social experiment and fodder for a future hilarious book. At this time, there are probably thousands of funny books in the making about bad dates, but who cares? She's laughing. And judging from those stories, her book is going to be a bestseller.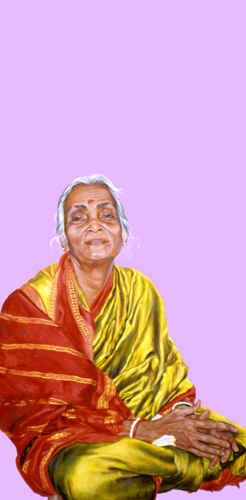 Sylvia's paintings have been exhibited at Los Angeles County Museum of Art (LACMA) and other fine art institutions around the world. You might mistake one of her awesome contemporary realist portraits for a real person if you didn't know any better. Her work also keeps her happy, enriched and able to fight the good fight. The twinkle in her eye put a big smile on my face again. Another one for the arsenal.
Woman in a Chartreuse Sari
by
Sylvia Shap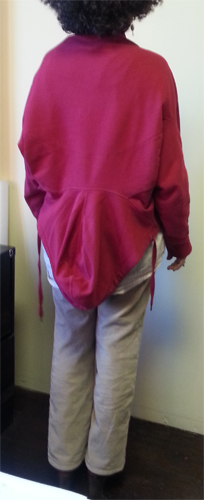 Me, stylin' in my sweatshirt!