Photograph by Hans Silvester from the book, Natural Fashion: Tribal Decoration from Africa
My new novel,Saturday Comes -- A Novel of Love and Vodou, is out, and I am the reigning queen of book autography. I am sitting behind a stack of books at a recent author event, happily writing friendly messages to Franceska and Tim, Samantha and other kind human beings, when a man named Chaz comes over, leans down very close to my face and says, "Can you tell me about your natural recipes?" It takes me a moment to figure it out. "Oh, did you read that blog I wrote on The Huffington Post?" I ask him. He nods yes and waits. He wants natural, homemade beauty recipes for his face, and he wants them now.
Of all the blogs I've written over the last five years, this is the one that's gotten the most attention, comments, emails and phone calls. Step aside, nuclear Iran; Obama and Mitt; scary economy and gas prices; new assault on abortion rights. People just want to look good. In fact, after writing that piece, manufacturers of skincare products contacted me, hoping I would write about their lines, but I wasn't interested. My blog advocated a natural skincare regimen with items from our refrigerators and kitchen cabinets, as opposed to spending outrageous sums on miracle products that never work miracles. However, a company called Dairyface convinced me that some people would never have the time or the inclination to do it themselves. Oh, the perks of writing for free: I agreed to let her send me some samples.
Dairyface is all about the benefits of milk for the skin, and what they sell is yogurt-based products for facial masks that include beneficial fruits, vegetables, herbs and oils. I was curious but skeptical. I was sure that I could just buy some yogurt, slap it on my face and get the same results. But I have to admit that their product kicked ass. My face looked great, and when I tried to replicate the treatment with organic yogurt and specific essential oils known to address middle-age skin issues, I didn't get quite the same hit. However, I'm sure all I need is a little more time to get it right. I think two treatments for $19.95 is costly; but that's just me. In the meantime, let me share a few of the dirt-cheap recipes I either found or created that totally make me happy.
Facial Cleansers
1 tomato
2 tbsp milk (regular, coconut)
1 tbsp fresh squeezed lemon juice
1 tbsp fresh squeezed orange juice
Combine all ingredients in a blender. Presto! Keep in refrigerator for approximately eight days.
1-2 tbsp plain, organic yogurt (skip the fat-free stuff)
Combine with 1 ½ tsp fresh squeezed lemon juice, OR 1 tbsp baking soda or sugar for a scrub
Squeeze a ¼ lemon into your palm, add some salt, mix together and rub gently over your face. Tons of minerals!
Moisturizers
The recipe for my peaches and cream moisturizer (in the HuffPost blog referenced above) is phenomenal; but I would add this: when peaches are not in season, use frozen peach slices (available at Whole Foods) over peach juice from a can, bottle or box. It just doesn't work the same.
Organic coconut oil -- I was away over the holidays and could not find peaches or the right cream, so ended up using coconut oil as a moisturizer instead. Fantastic. It is a known wrinkle fighter and smells great. (A mayonnaise-size jar is $6.99 at Whole Foods.) If you prick a Vitamin E capsule and squeeze a couple of drops into your palm, add the oil and mix, you will get major lifting and firming action. I use this combo at night and the peaches and cream in the morning.
Two hot tips for frizz-free curly hair
Use carbonated water as a final rinse (something to do with the low PH level). That can get expensive, but one of my best pals gave me a Sodastream for making soda water at home. Super easy and cost effective, long term, if you buy a lot of sparkling water.
Forget shampooing. Wash your hair with a good, natural conditioner instead. I use Australian Organics conditioners. You won't believe how shiny, soft and fabulous your hair will look. You can find it at Walgreens.
It's all too much fun, and I could go on and on, but giving away free recipes doesn't help me sell books (although Chaz did buy one at the signing)! But, giving away books has been known to generate good word-of-mouth buzz. Oh, oh, lookoutworld! I'm getting an idea...
The first 20 people who promise to review my new novel on Amazon.com can have it for free, including shipping! Even bad reviews are welcome. Just go to my website here and enter Affiliate Code: "50new" at checkout. Who said nothing in life is free?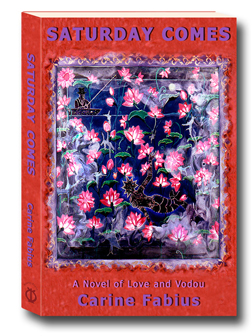 Saturday Comes--A Novel of Love and Vodou
This blog was originally published on www.fiftyisthenew.com