For some time now, I've heard myself saying two things over and over to friends in the course of conversation:
1. Greed is at epidemic proportions
2. Billion is the new million
And then I walked into the Studio City, California-based Fabien Castanier Gallery last weekend and found myself smack in the middle of an art exhibition that was speaking my mind. So magical; I love it when that happens. I almost didn't go. I had missed the opening, and you know how it goes when that happens. All those good intentions about getting to the gallery, post-opening party, tend to go on a walk down that road to hell.
But there they were, two rooms full of artwork by German-born, London-based Maximilian Wiedemann, a pop graffiti artist channeling my horror over modern society's mind-bending fascination with money. Obviously I am not alone in this nightmare; and in presenting the thinking majority's collective recoil on this issue, the exhibition is -- simply and brilliantly -- more proof of art doing its job once again. Check it out. Here's the artist's observation on our armed and dangerous credit card culture: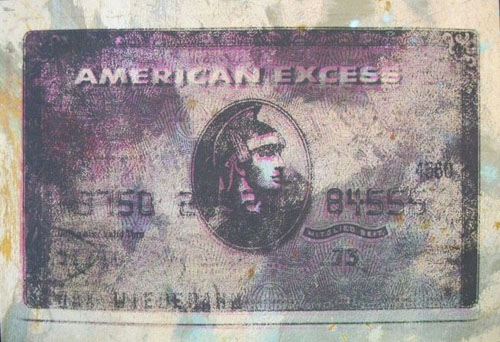 American Excess
The once almighty American dollar, flag and monuments displaying our new leitmotif: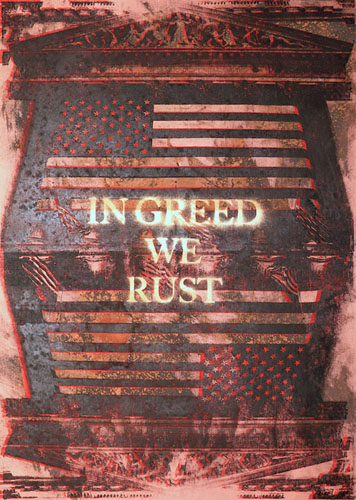 In Greed We Rust
Can you make out the words "One Billion Dollars" on the lower right hand of the bill?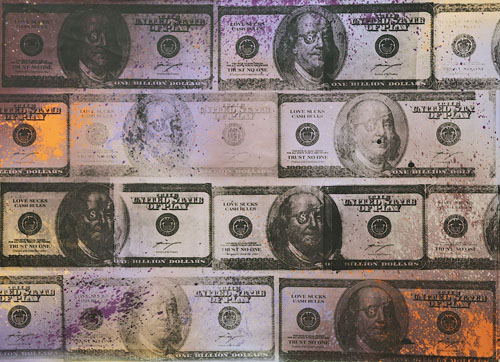 Quantitif Easing
The inevitable downfall of greed-fueled power in the grinning face of Bernie Madoff, who I, at first, mistook for Dominique Strauss-Kahn. Sorry, DSK. I confused greed and power with sex and power! Pass the valium, please.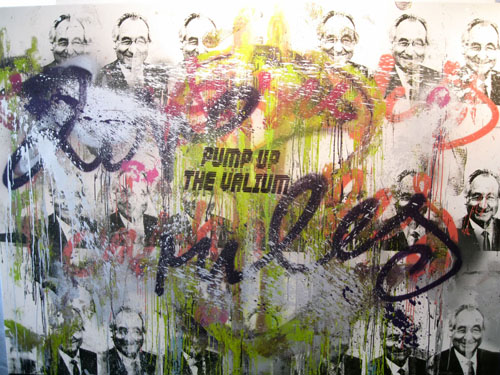 Pump up the Valium
Maximilian Wiedemann also busies himself with documenting the ironies of the fashion world, status symbols, and celebrity and the media in an America gone reality-crazy.
I must admit that the antics of celebrities and the media-hounding that follows bores me to howling, but his Vanity Unfair series of silkscreens enhanced with spray paint drew me in for a closer look. The repurposed magazine covers burst with energy and an innovative use of the paint palette; but what I liked most was the headline graphic: Elite or Delete Me. Really, when the hell did smart and learned come to mean elite?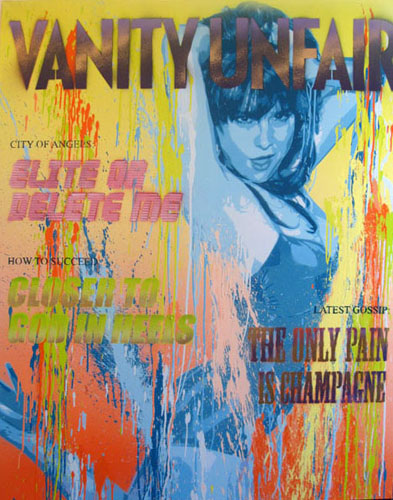 Vanity Unfair
For an up-close and personal viewing of your thoughts and mine on display, visit the Pump Up the Valium exhibit now on display at Fabien Castanier Gallery, 12196 Ventura Blvd., Studio City, CA, 91604. 818-748-6014. www.castaniergallery.com.