There are so many great Black History Month "must reads" on the U.S. Department of Labor's list of "Books that Shaped Work in America." So it is hard to whittle it down to just one suggestion. But if I have to, without reservation, I would suggest Narrative of the Life of Frederick Douglass: An American Slave, Written by Himself.
I think this book should be required reading for everyone, and not just during the month of February. Black history is labor history; and black history and labor history are American history. This remarkable, 11-chapter memoir is rich in fact and history. It is also grippingly personal. And it is important: It significantly fueled the U.S. abolitionist movement in the early 19th century.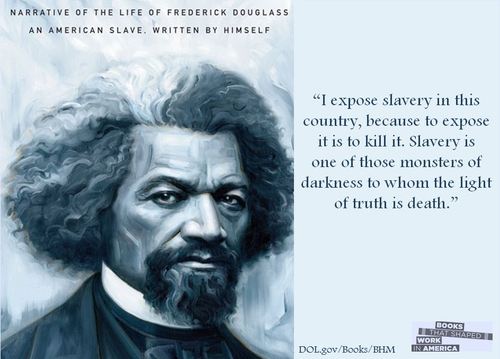 Douglass' account of his life as a slave is nothing short of horrific: As a boy, he is separated from his mother, does not know his father (although he suspects he is his white owner), and witnesses the whipping of an aunt. He too is whipped and beaten and forced to do backbreaking work. But he secretly learns to read and write, and that is the beginning of his salvation. When he finally escapes and finds a shipyard job, he notes: "It was new, dirty, and hard work for me; but I went at it with a glad heart and a willing hand. I was now my own master."
Narrative of the Life of Fredrick Douglass was published in 1845. Nearly 170 years later, it is still powerful, relevant and hope-inspiring. And it reflects an important part of our history. I hope you'll check it out, and then explore other recommendations for Black History Month from the list of "Books that Shaped Work in America" here.
What African-American author, book, poem or play shaped your view of work in America? Send us your suggestions.
Carl Fillichio heads the Labor Department's Office of Public Affairs and serves as the chair of the department's centennial. Learn more about the department's 100 years of service by viewing an interactive timeline and watching a special centennial video.