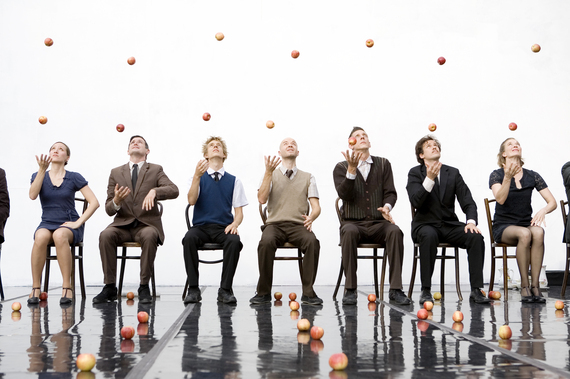 Gandini Juggling in Smashed (Photo: Ludovic des Cognets, courtesy Hong Kong Arts Festival)
"I always wanted to waltz in Berlin," warbled American songwriter Jack Little blithely in a World War II ditty, "the way things look, we'll be waltzing right in... right in to Germany." With that tune, Gandini Juggling waltzed into our hearts in the opening number of Smashed, which opened Tuesday night at the Hong Kong Arts Festival.
You don't have to peel too many layers to get to the dark heart of Smashed, but the astonishing deftness with which this troupe of nine keep apples and crockery flying through the air to the accompaniment of Tammy Wynette, Louis Armstrong, and Bach, the gaiety and ludicrousness of it all, kept the audience in stitches.
With the ghost of Pina Bausch visible in the wings, the descent into chaos seemed inevitable. Precise formations and complex, mathematically driven sequences in which the performers periodically pilfer a flying apple, without skipping a beat, gradually start to unwind. Attempts at sabotage intensify, in elaborate schemes that test the jugglers' virtuosity and create achingly beautiful spectacles.
The nonchalance displayed by these athlete-dancers belies their arduous training and powers of concentration. In this ingenious piece of dance theatre, juggling is the language the dancers use to convey their moods, desires, and frustrations - like the sensual pas de deux in which the dancers' bodies intertwine while they keep apples hurtling through space, or roll apples down each other's bodies.
Juggling is also a metaphor for the order we try to impose on our lives, for our carving out of personal space, and for our daily routines - many of which, as Bausch often reminded us, are pointless and absurd.
As in much of Bausch's work, the performers place each other in awkward, uncomfortable situations: women are pawed by the men; one man is deliberately ostracized; come-ons are unreciprocated; an apple is pitched like a fastball, nearly grazing another performer's head. Tragic country diva Tammy Wynette intones "sometimes it's hard to be a woman," and urges women to "stand by your man," as the two female jugglers crawl on all fours, in a bizarre assembly line, while the men roll apples off their backs.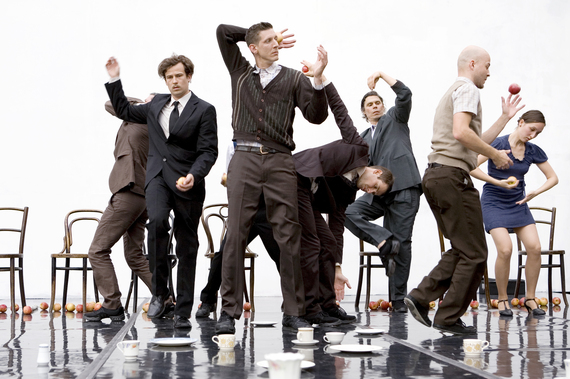 Gandini Juggling in Smashed (Photo: Ludovic des Cognets, courtesy Hong Kong Arts Festival)
There is a wide-eyed, kooky charm to some of the games these dancers play. One woman carefully hoards apples under her skirt. She then approaches each of the men in turn. They are sitting in chairs. She stands in front of one of them, her legs straddling his chair, then plops an apple in his lap. She repeats this with each of them. The effect is ineffably sweet rather than provocative.
The air of gleeful innocence rapidly erodes as Sean Gandini, chief mischief-maker, charges around the stage, rolled-up newspaper in hand, ambushing his comrades and whacking apples out of the air, to the crooning of The Ink Spots ("That Cat is High"). Apples are plummeting everywhere. Stunned at first, the dancers quickly embrace anarchy, wicked grins on their faces. The china tea sets are next; the stage becomes a war zone. (Pretty exciting for the spectators seated in the front row of the intimate Studio Theatre at Hong Kong's Cultural Centre. And an enormous job for the clean-up crew at the end of the evening.)
The choice of Baroque opera to accompany this section is inspired: "Gelido in ogni vena" from Vivaldi's Farnace echoes the tumult of the era, the lawlessness, the constant warfare, volatility, and social upheaval. Baroque opera often conveyed the rawest of emotions, as in this aria:
I feel my blood like ice
Coursing through every vein
The ghost of my lifeless son
Fills me with terror
And to make my agony worse
I see that I was cruel
To an innocent soul
To my heart's beloved
Miraculously, our nine intrepid jugglers emerged from the carnage unscathed, their sense of humour undimmed.
- Gandini Juggling in Smashed runs through March 22nd, 2015 at the Hong Kong Arts Festival. -