Ballet To The People lured her date to a performance of San Francisco Ballet's season opener with the promise that she would sit through the Super Bowl with him the next day. She finds the game of American football mystifying, but not as incomprehensible as Wayne McGregor's Borderlands, which closed Program 1. The crowd at the War Memorial Opera House, however, cheered wildly as the curtain came down - so either they were in on the secret, or Borderlands spoke to them at some visceral level.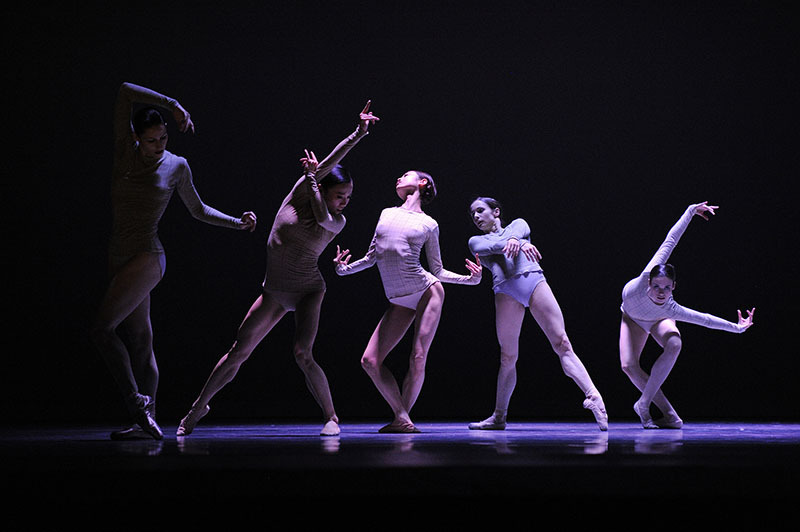 San Francisco Ballet in Wayne McGregor's Borderlands. (Photo: Erik Tomasson, courtesy San Francisco Ballet.)
There were many signposts in the copious program notes provided by SF Ballet warning us of deep intellectual underpinnings - but beyond the superficial connection between the cube shape of the set, Bauhaus artist Josef Albers' Homage to the Square which McGregor cites as inspiration, and the dancers' frequent gestures toward four corners, there was no clue to meaning, only signs of great physical exertion. Ballet is a language, and even a plotless ballet tells us, or at least hints at, something: about the nature of man; about unrequited love; about climate change; about brothers who face off in the world's supreme athletic challenge; about the quest for a perfect cup of coffee.
The music was no help. The commissioned score evolved from what sounded like a massive pile-up in a multi-storey parking garage to a John Adams-like ostinato. (No surprise that program notes tell us the composers have written music for Bentley, Ford and Playstation commercials.)
The movement vocabulary was vintage McGregor: undulations of the spine, legs unfurling into 180° extensions with the upper body thrust forward and a menacing look on the dancers' faces, men violently twisting their partners' bodies with a grip on their biceps. Conventional ballet steps were thrown in seemingly at random - in fact, most of the sequences looked improvised, without the tight structure, discipline, and moments of heart-breaking beauty and despair found in McGregor's more compelling work, like Infra, created in 2008 for the Royal Ballet:
The SFB dancers, as always, danced like there was no tomorrow. But just because these dancers can dance anything doesn't mean they should have to.
Ballet To The People's date noted: "I give the athletes props, but the coach called the wrong play."
Program 1 offered delightful compensations, however. The gleaming, over-the-top Suite en Blanc, of World War II vintage, winked and nodded at classics like Swan Lake and Les Sylphides, and at the early Busby Berkeley Hollywood musicals with regiments of lovely ladies in snowy tutus perched decoratively on symmetrical staircases.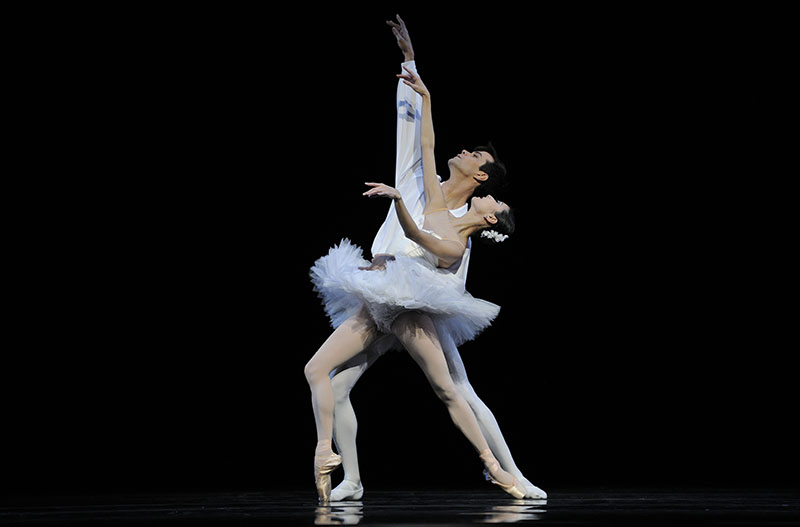 Yuan Yuan Tan and Vito Mazzeo in Serge Lifar's Suite en Blanc. (Photo: Erik Tomasson, courtesy San Francisco Ballet.)
This lighthearted disquisition on classical technique was concocted by the colorful Serge Lifar, the last of Diaghilev's dancer-lovers, for Paris Opera Ballet. Lifar engineered unconventional (for 1943) twists on port de bras and body facings, and employed parallel positions of the legs, and abrupt finishes, to striking effect - all requiring enormous technical precision and style. SF Ballet is more than up to the challenge. The men in particular pulled off string after string of rapid-fire beats with ease and elegance. Frivolity gave way to something grander and deeply touching, when the commanding Sofiane Sylve executed her 'Flute' variation, followed by the entire cast in the finale. There was a hint of sorrow in Sylve's series of roaming piqués développés, and a lovely wistfulness in the corps women's supported balances in attitude devant on pointe, their upper bodies tilted forward as the men walked graciously around them. Suite en Blanc ends on a majestic but not entirely joyful note - perhaps an evocation of the prevailing mood in occupied Paris at the time of this ballet's premiere.
Jerome Robbins' In The Night rounded out this triple bill - the choreographic high point and a wise choice to balance the dark-horse McGregor premiere and the Lifar period piece. Three lush and romantic pas de deux to Chopin nocturnes, nobly played by Roy Bogas, reveal contrasting qualities in the music and in the couples' relationships. The women are richly costumed (by the acclaimed Royal Ballet dancer Anthony Dowell) in long, diaphanous, multi-hued tutus, the men in formal velvet waistcoats; the setting is a backdrop of stars against a dark night, suggesting a balcony onto which the couples appear one by one, as if escaping an elegant ball to share a private moment.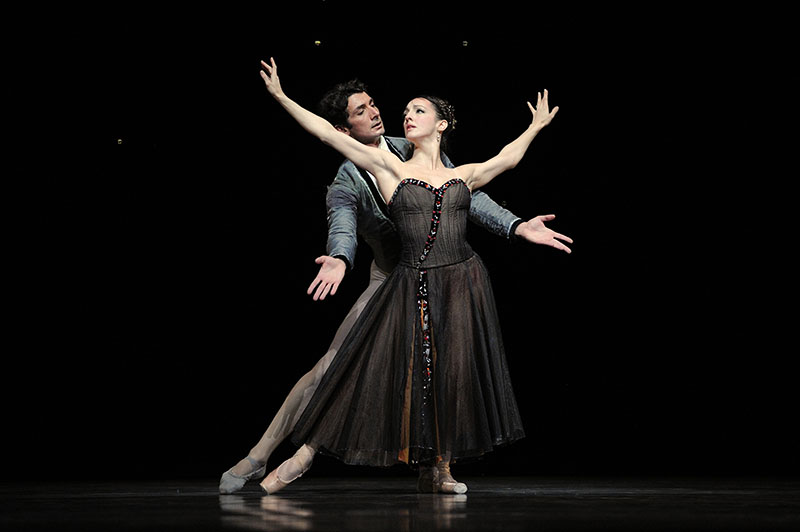 Lorena Feijoo and Pierre-François Vilanoba in Jerome Robbins' In The Night. (Photo: Erik Tomasson, courtesy San Francisco Ballet.)
Just as Chopin's music takes some unexpected turns, Robbins' choreography is inventive and unpredictable. In one astonishing moment, Marie-Claire D'Lyse found herself upside down in Shane Wuerthner's arms, in response to which she fluttered her front foot rapidly against the other ankle - recalling a similar angst-ridden moment for Odette in her lakeside encounter with Prince Siegfried. Wuerthner lowered D'Lyse to the floor, upon which the flutters became a series of delicate bourrées that took her away from him. Wuerthner's jacket suggests he may be a military officer, and there is an understated melancholy to this pas de deux, perhaps at the prospect of repeated separations. The thrilling final pas de deux lacks all restraint, and Lorena Feijoo and Pierre-François Vilanoba threw furniture at each other with the well-aimed fury of a couple who thrive on conflict. Robbins brings all three couples on stage for a brief, unsettling encounter at the end of the piece, where a handful of dance steps, gestures and glances convey a lifetime of hidden passion and regret.
Trailing Robbins' tight, less-is-more drama, McGregor's piece looks badly in need of a facelift. Mark Morris' lackluster premiere for SF Ballet last season, Beaux, was another reminder that hot choreographers are not machines. Even Balanchine occasionally faltered. The rest of SFB's season looks more promising in the New Works Department, with premieres by Alexei Ratmansky and Christopher Wheeldon - the former has been batting a thousand, and the latter's Cinderella has already been unveiled by co-producer Dutch National Ballet to rapturous reviews.
San Francisco Ballet should be the pioneering American ballet company, charting brave new waters ahead of the two lumbering battleships, New York City Ballet and American Ballet Theatre. Unlike NYCB, it has not discovered a brilliant Justin Peck in its ranks, but it could mine the fertile modern-dance ground in its own back yard.
San Francisco Ballet's adventurous 2013 season continues through May 12 at the War Memorial Opera House. For season details and to order tickets, see their website.