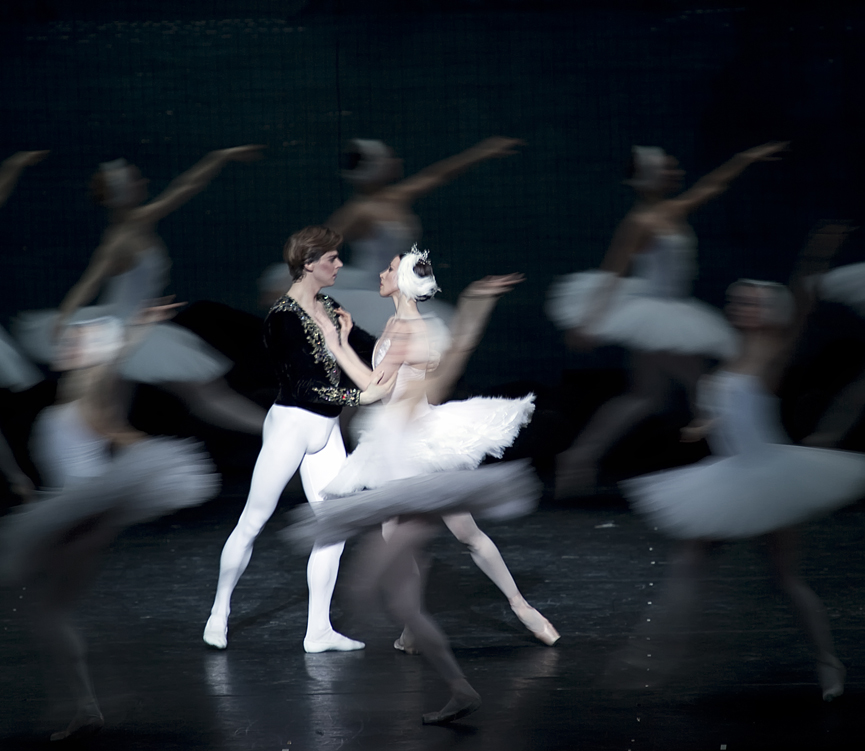 Victoria Tereshkina and Vladimir Schklyarov of the Mariinsky Ballet in Swan Lake. Photo courtesy of Mariinsky Ballet and Orchestra.
If there were any purists muttering to themselves during Act IV at Thursday night's performance of Swan Lake by the Mariinsky Ballet, they were lost amid the hootin' and hollerin'. The crowd showered admiration equally on stars Oksana Skoryk and Vladimir Schklyarov and on the outstanding swan corps and Mariinsky orchestra, which rose magnificently above the lackluster acoustics at Berkeley's Zellerbach Hall.
This is the 1950 version of the ballet by Konstantin Sergeyev, whose swan corps formations and thrilling, dramatic use of the arms and upper body exhibit a timeless elegance; however, the Soviet-mandated happy ending, though brilliantly acted on Thursday night, remains jarring. It requires a major suspension of disbelief to accept that Prince Siegfried could slay the evil avian sorcerer Rothbart in fewer than three measures of Tchaikovsky by simply tugging on the Velcro that attaches Rothbart's wings to his costume. After the Sturm und Drang of the previous three Acts, you would expect more than a minor wardrobe malfunction to release the swan maidens trapped under Rothbart's terrible curse. I suppose daily life was so grim under Stalin that the authorities thought it necessary to inject some cheer into their entertainment (and while they were at it, to excise offensive reminders of an aristocratic past, including many of the original mime sequences.)
Unfortunately, a happy ending turns Swan Lake into a more ordinary love story, diminishing the reading of this epic as a tragedy about the oppression of the feminine spirit. There can be no redemption in this reading, because the evil symbolized by Rothbart resides within us all, because we are all capable of conjuring up ruthlessness and inhumanity and dressing it up like the sensual and irresistible Black Swan.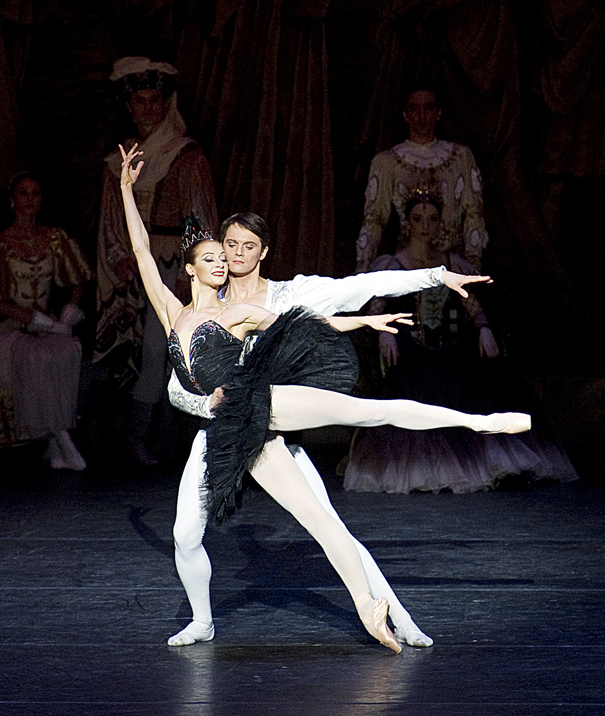 Ekaterina Kondaurova and Evgeny Ivanchenko of the Mariinsky Ballet in Swan Lake. Photo courtesy of Mariinsky Ballet and Orchestra.
There have been far more distressing surgical alterations of Swan Lake over the decades, however, and the Mariinsky's production stands head and shoulders above the rest -- a model of refinement, attention to detail, musicality, and dramatic power. The lakeside Acts resonate with the muted tragedy of the ghostly swan-maidens, while the glory of Act III resides not just in the Black Swan pas de deux but in each and every folk dance, executed with impeccable style and clarity. Most of the dancers are a product of the Mariinsky's Vaganova Academy, and it shows in the way every movement ripples through the body, starting from the core to the tips of the fingers and feet; it shows in the remarkably pliant backs, and the regal bearing of the head and shoulders. But, above all, it shows in the dramatic impulse; Vaganova insisted that every movement be motivated by an underlying emotion. These dancers are conveying something to us with every step, every gesture, every tilt of the head -- not just dazzling us with technique.
Skoryk and Schklyarov had plenty to say. Skoryk's lithe and expressive physique served her beautifully as Odette, ethereal but steely. It's easy to see why the young, impetuous Prince Siegfried would be captivated by her. Less convinced that he would fall for her edgy, in-your-face Odile. While her transformation drew gasps from the audience, she was noticeably tense in Act III, perhaps spooked by the impending 32 fouettés, which reportedly tripped her up in an earlier performance. She pulled off the fouettés just fine, but her Black Swan looked like it could have used a Valium. Regardless of how a ballerina chooses to play Odile, she should appear serene and confident. The more seasoned Schklyarov whipped off his jumps and turns with graceful abandon, extending every line beautifully and landing cat-like into deep demi-plié. Joy and anguish, petulance and despair, all registered clearly through his movement and in his boyishly handsome face. A similarly stunning performance was delivered by Andrey Solovyov as Rothbart, a character whose malevolence was communicated as much through pure dance as it was through costume and makeup, mercifully devoid of the camp that afflicts other interpretations.
With the exception of Skoryk and a few others, the Mariinsky ballerinas appear to be curvier these days, which is cause for rejoicing. Ballet to the People did not feel the urge, as she often does, to sneak backstage bearing plates of sandwiches.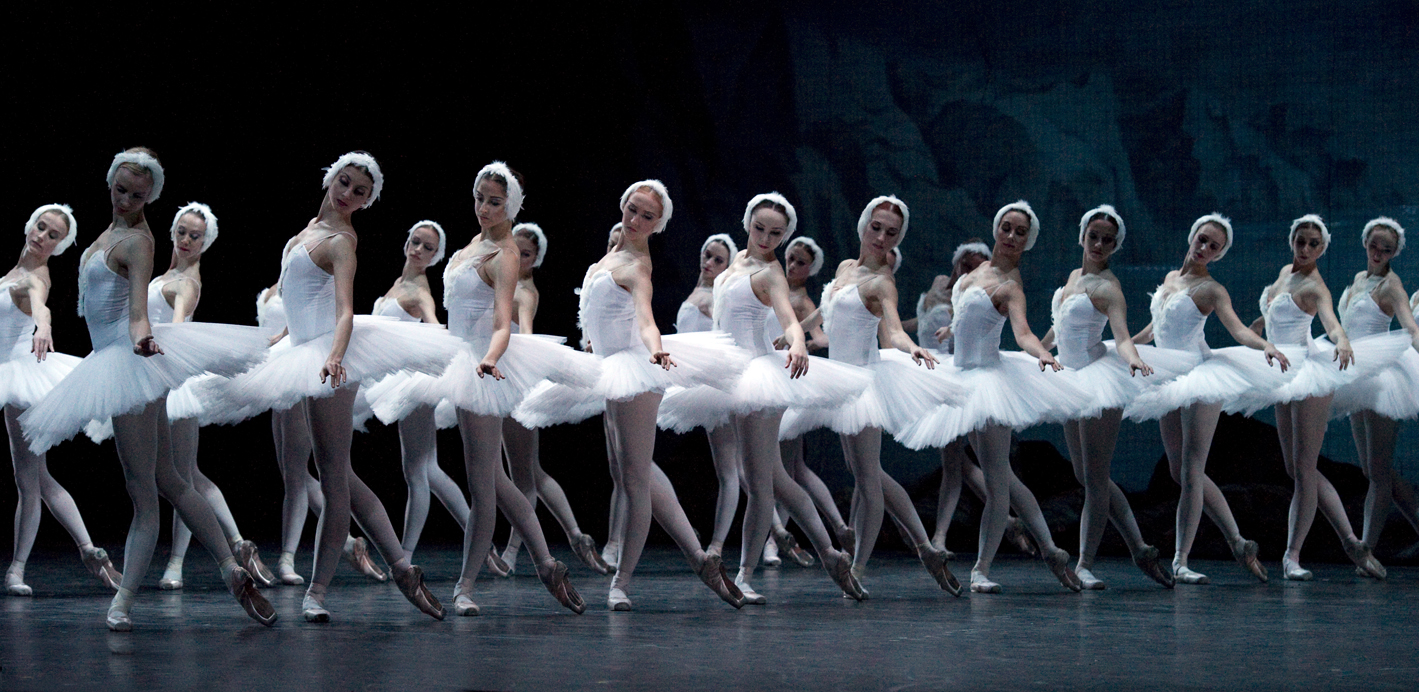 The incomparable Mariinsky swan corps. Photo courtesy of Mariinsky Ballet and Orchestra.
The radiance of this ensemble was only mildly diminished by some problem with the stage floor -- at least partly acoustic -- that amplified every footfall, and caused Skoryk and Schklyarov some difficulty in the early partnering, notably the promenades on pointe. Overall this was a somewhat shabby venue for the august Mariinsky (in contrast to the luxury of the Segerstrom Center for the Arts in southern California, which hosted them last week, and Washington's Kennedy Center, which receives them next week). Why world-class troupes are gracelessly shunted off to a college auditorium, instead of the War Memorial Opera House where they belong, remains a mystery. San Francisco is unique among world cities in restricting access to its opera house to all but the home teams. These home teams are pretty spectacular, but San Franciscans are being robbed of the best of world culture in its proper setting.