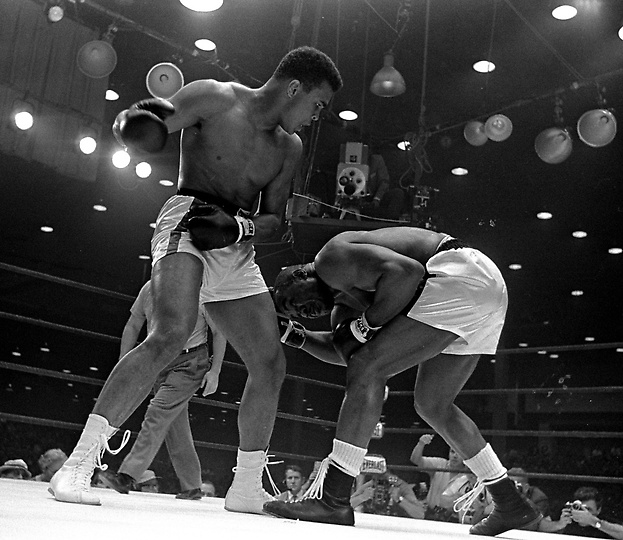 Sonny Liston, right, ducks low and weaves to escape a punch from Cassius Clay's cocked right fist during the 5th round of the heavyweight title fight in Miami Beach, Florida, February 25, 1964. Clay won on a seventh round technical knockout. (AP Photo/New Haven Register)
When 22-year-old Cassius Clay challenged Sonny Liston for the heavyweight boxing title in 1964, 43 of the 46 sportswriters at ringside in Miami had picked defending champion Liston to win by knockout. But the brash young Clay, with his unorthodox fighting style and a speed and lightness on his feet to rival that of any ballerina, pulled off one of the biggest upsets in sports history. He would go on to stir things up for decades, not just in the boxing ring.
The day after the Liston match, Clay announced his allegiance to the Nation of Islam -- perhaps less of a bombshell than it might have been, as he had increasingly been seen in the company of militant preacher Malcolm X, whom many observers believe held powerful sway over the impressionable young fighter from Louisville.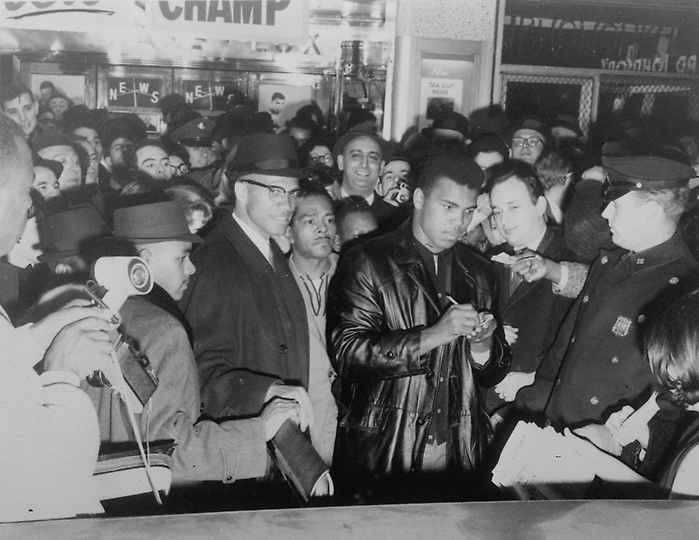 Cassius Clay signs autographs outside the Trans-Lux Theater on Broadway at 49th Street, New York City, March 1, 1964, after he had watched a screening of the films showing his title victory over Sonny Liston in Miami Beach. On Clay's left, with hat and glasses looking at the camera, is Malcolm X. (AP Photo/New Haven Register)
As if to explain the timing of his conversion, Clay attributed his seventh round TKO to God's presence in the ring - but cynics maintained he was simply a pawn in high-stakes maneuvering by Malcolm X and Nation of Islam leader Elijah Muhammad. Malcolm X had recently been censured for his controversial remarks following the John F. Kennedy assassination and, at this highly volatile time in the civil rights struggle, his own stature within the segregationist movement was shaky.

Strangely, on the night of Clay's unexpected triumph over Liston, the braggadocious fighter - who styled his "I am the greatest" shtick on that of flamboyant pro wrestler Gorgeous George - skipped out on what should have been a boisterous celebration to lie low with three of his buddies in a modest hotel room. No wine, women and song for Cassius Clay, Jim Brown, Malcolm X and Sam Cooke (okay, maybe there was song...) Within less than a year, Malcolm X would be assassinated by fellow Black Muslims, and Sam Cooke would be murdered under suspicious circumstances, but the impact of this quartet on future generations is undeniable.
With no record of what transpired between these four legendary men on that night, playwright Kemp Powers has imagined their encounter in an electrifying play that premieres on June 8th at Rogue Machine Theatre in Los Angeles.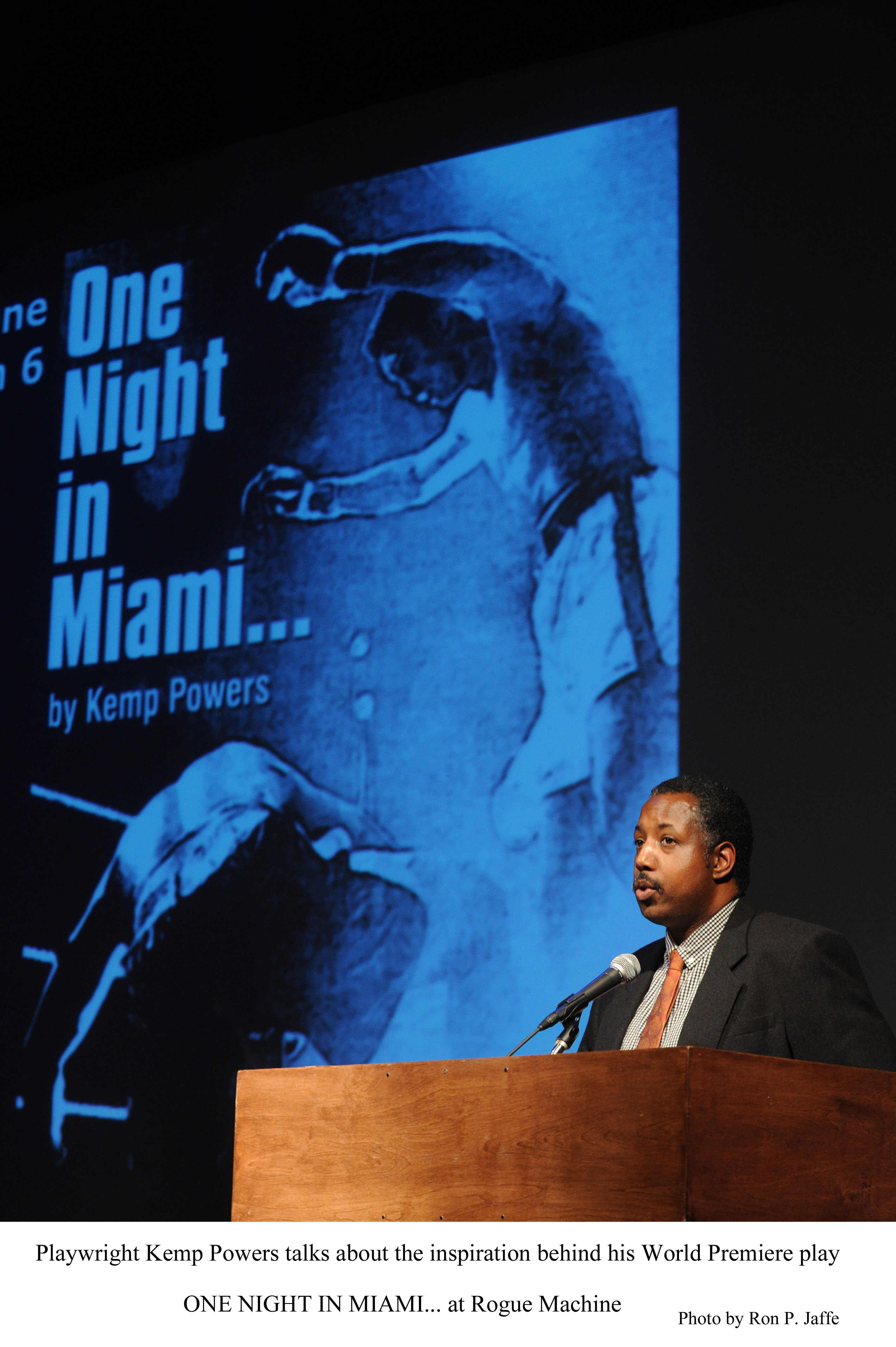 For Matt Jones, a veteran of the African-American Shakespeare Company and soon to be seen in an upcoming film adaptation of As You Like It, the opportunity to play Cassius Clay at this heady moment in his career must be the challenge of a lifetime.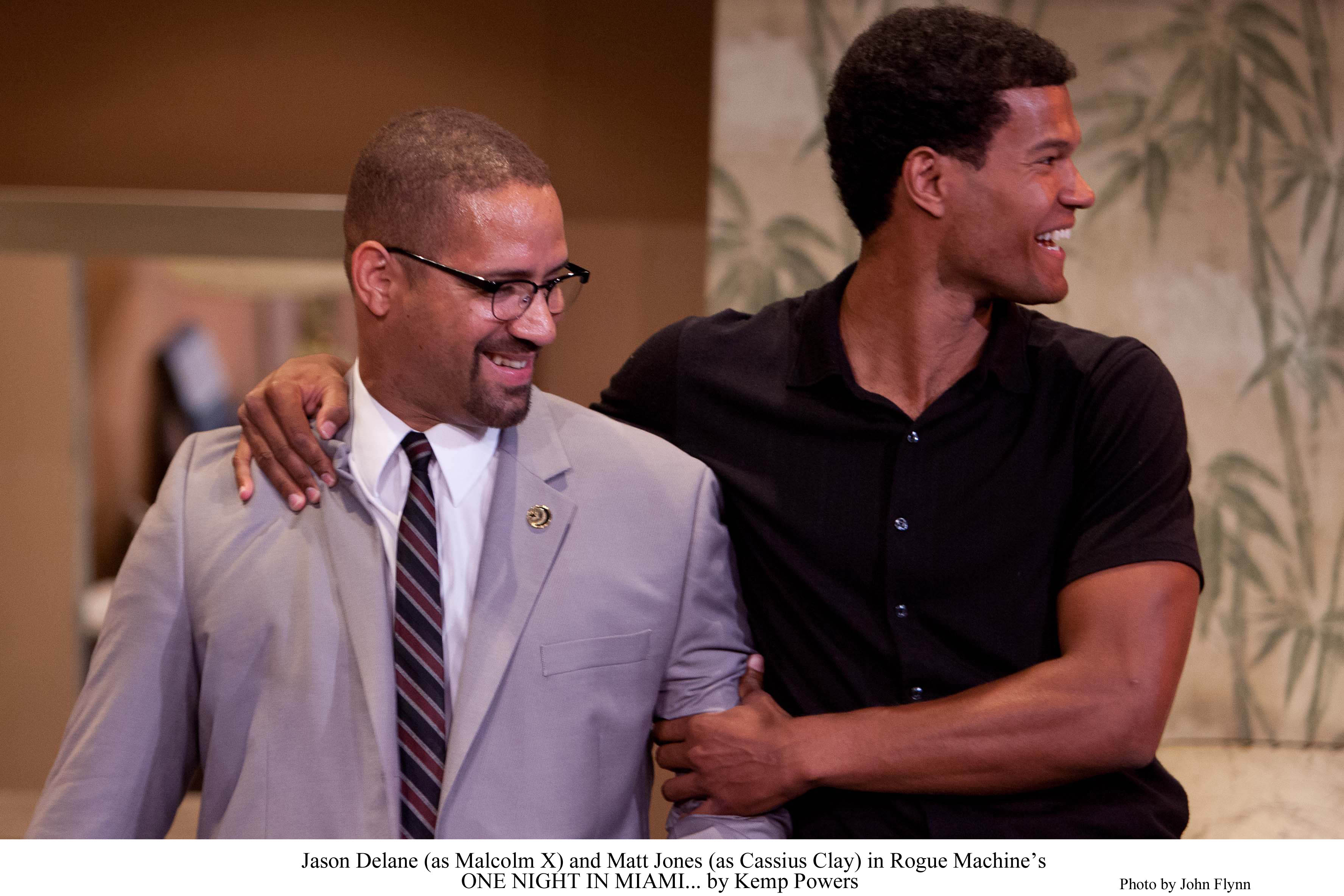 Kevin Daniels, who originated the role of Magic Johnson in the 2012 Broadway play Magic/Bird, also cut his teeth on Shakespeare, and must now portray another towering athlete, running back Jim Brown, whose legendary rise was fueled as much by his extraordinary talent as by resentment and hostility toward an unjust system. The role is shared with Jason E. Kelley who has appeared at Second City and Upright Citizens Brigade, and who played Barack Obama in the long-running iO West show, Top Story! Weekly.
Rounding out the ensemble cast in a role as a Nation of Islam bodyguard is Giovanni Adams, who has appeared in King Lear and Miss Julie at the Yale Repertory Theater, and who recently played a leading role in the feature film Hustle vs. Heartache.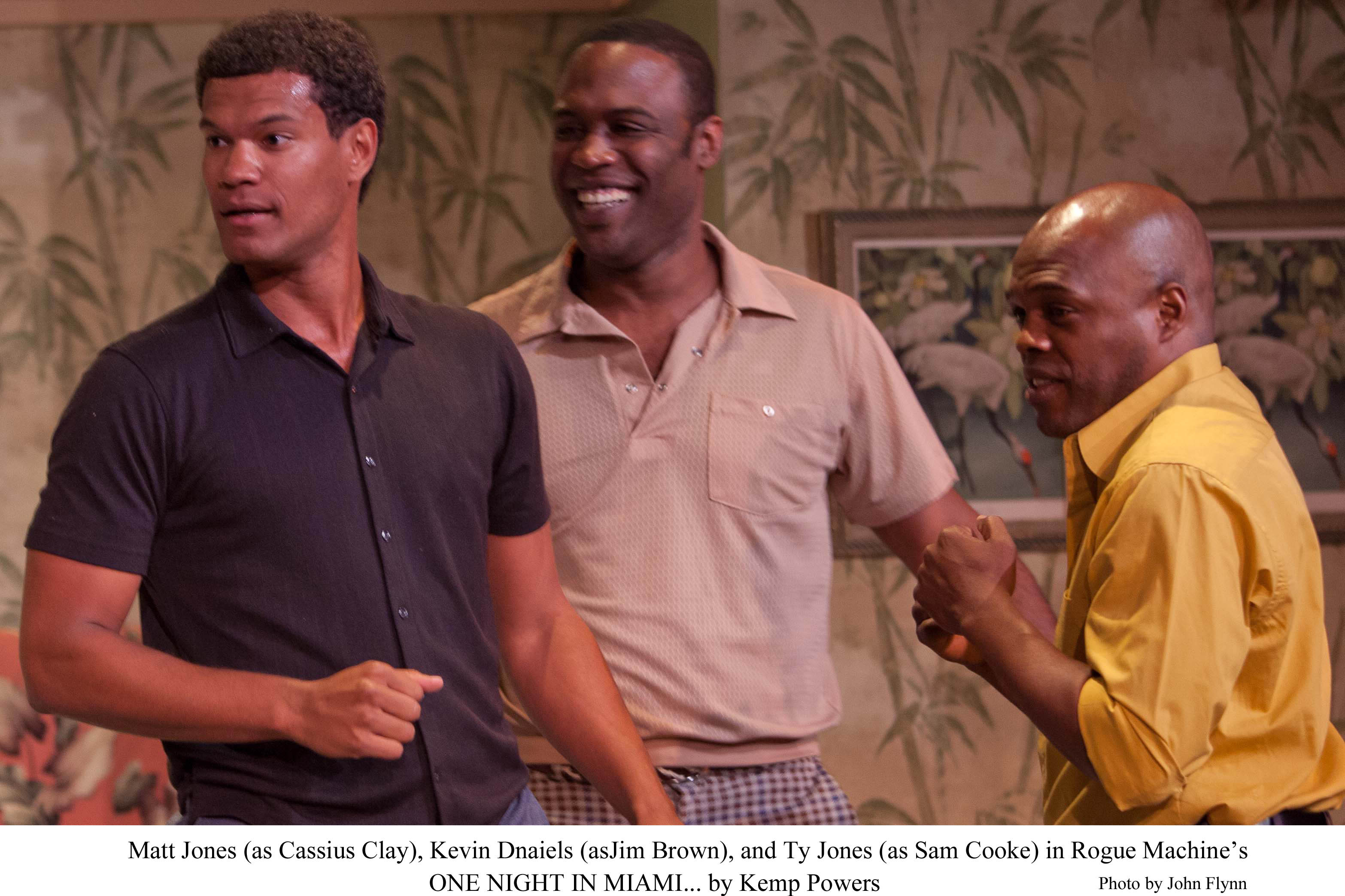 Jason Delane, who plays the powerful but troubled Malcolm X, is a Founding Ensemble Member of L.A.'s Lower Depth Theatre Ensemble and has worked with the Geffen Playhouse and many Tony Award-winning Chicago-based theatres.
The role of Sam Cooke, the brilliant singer-songwriter and a game-changer in the African-American music world, is shared by Burl Moseley and Ty Jones. Mosely was recently seen in Rogue Machine's award-winning world premiere production of Dirty Filthy Love Story by Rob Mersola. Jones made his Broadway debut in Judgment at Nuremberg, and won an OBIE Award for his performance in a revival of the critically acclaimed The Blacks: A Clown Show.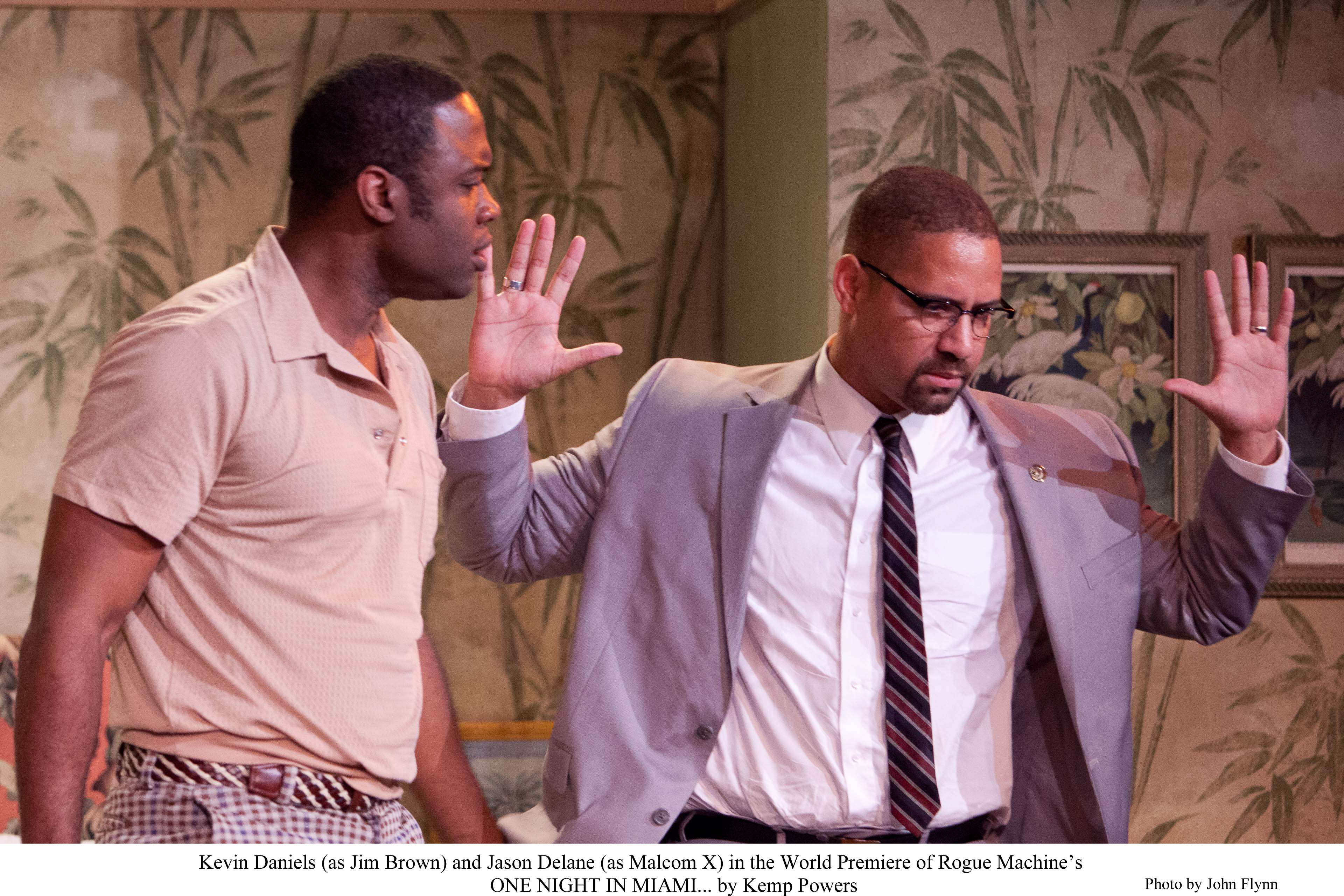 Carl Cofield, another Shakespeare veteran, conducts this "four-part harmony," as playwright Powers describes it. Cofield reflects: "One of the challenges for the company is to dig deeper into their characters and not just 'act' the icon. While each of the characters are iconic, on this magical night, they are four friends that remove their public personas and reveal their private sides."
The award-winning Rogue Machine takes pride in nurturing new work that provokes as well as entertains, and this glimpse into the private lives of four highly controversial figures may reignite debates around race relations, black empowerment, and the twisted nature of celebrity. Whether you believe Cassius Clay was a true believer, or a consummate entertainer whose commitment to the Nation of Islam was a move calculated to inflate his popularity, you are likely to be enthralled by the captivating premise behind this play.
Catch the world premiere of One Night in Miami... at ROGUE MACHINE THEATRE from June 8th to July 28th on Fridays and Saturdays at 8 pm, and Sundays at 3 pm.