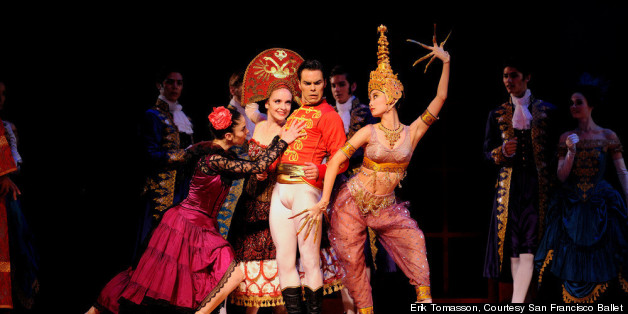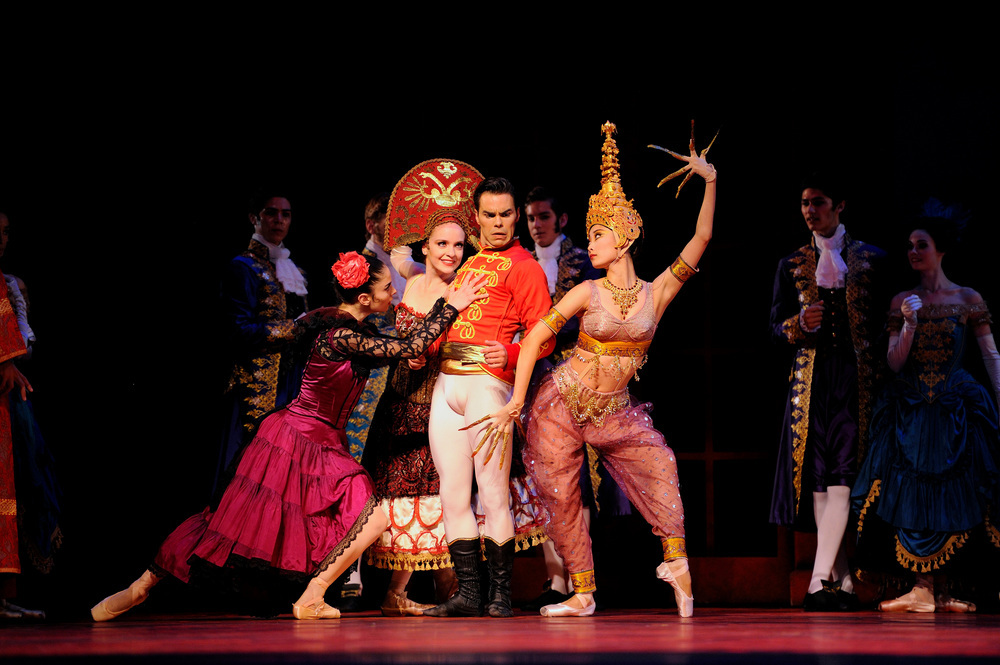 Spanish, Russian and Balinese princesses vie for a reluctant Prince Guillaume's affections in Christopher Wheeldon's Cinderella for San Francisco Ballet (Photo: Erik Tomasson, courtesy San Francisco Ballet)
They're still sweeping up the glitter on the streets of San Francisco.
This season San Francisco Ballet spared no expense in marketing Christopher Wheeldon's new Cinderella -- after its premiere at the Dutch National won mostly rapturous reviews. On opening night, Bay Area bluebloods and Google moguls in glass slippers and tiaras descended on a colossal tent next to the War Memorial Opera House for a lavish Cinderella Ball.
As the curtain came down on Act I last Saturday evening, Vanessa Zahorian was being whisked off to her own ball in a magical carriage -- an extraordinary feat of theatrical design that turned a monumental tree into a horse-driven chariot -- and Ballet To The People, who was a bean-counter in a previous life, found herself anxiously totting up the costs of this production on the back of her program, speculating on all the Bay Area dance companies who can barely afford to pay their dancers let alone commission a full-length ballet. There is much to admire in this work on both story-telling and design fronts, but when a ballet relies too heavily on visual effects to create its magic and not enough on the intrinsic power of dance, someone on the artistic team should have the discipline to ask "What can we do without?"
Apparently no one asked this question of Wheeldon when he created his equally lavish and long-winded Alice in Wonderland for the Royal Ballet and the National Ballet of Canada. The Guardian critic Luke Jennings made the point brilliantly over the weekend in his review of Liam Scarlett's new Hansel and Gretel:
The problem is that in the wake of the stellar careers of Frederick Ashton and Kenneth MacMillan, Royal Ballet choreographers are regarded as geniuses to be left to their own devices, rather than -- as would be the case in publishing, theatre, film or television -- required to justify their artistic decisions in rigorous, minute-by-minute detail.

Royal Ballet directors don't, in this most vital regard, direct. They simply commission and, presumably, keep their fingers crossed. Hansel and Gretel will be praised... but the lack of hard editorial control is all too apparent.
So, putting on her Artistic Director tiara, Ballet To The People suggests that a gaggle of giant tree gnomes serves no obvious purpose other than to employ an army of costumers and mask makers. That nasty stepmothers and vain, foolish stepsisters, brilliant as their characterizations and ballet technique may be, do not deserve the same amount of air time as the title character. That even the most badly brought-up Russian, Spanish and Balinese princesses do not behave like characters out of Jersey Shore. That chairs can be removed by stagehands or by simple stage technology, they do not need to float up to the ceiling to make some kind of furniture sculpture. That enormous-boob jokes don't belong in classical story ballets. And that this modern, spirited Cinderella does not require four ninjas in batik harem pants, fishnet sleeves, pirate bandannas and gold Darth Vader masks to tote her around or lend her a hand with the housework.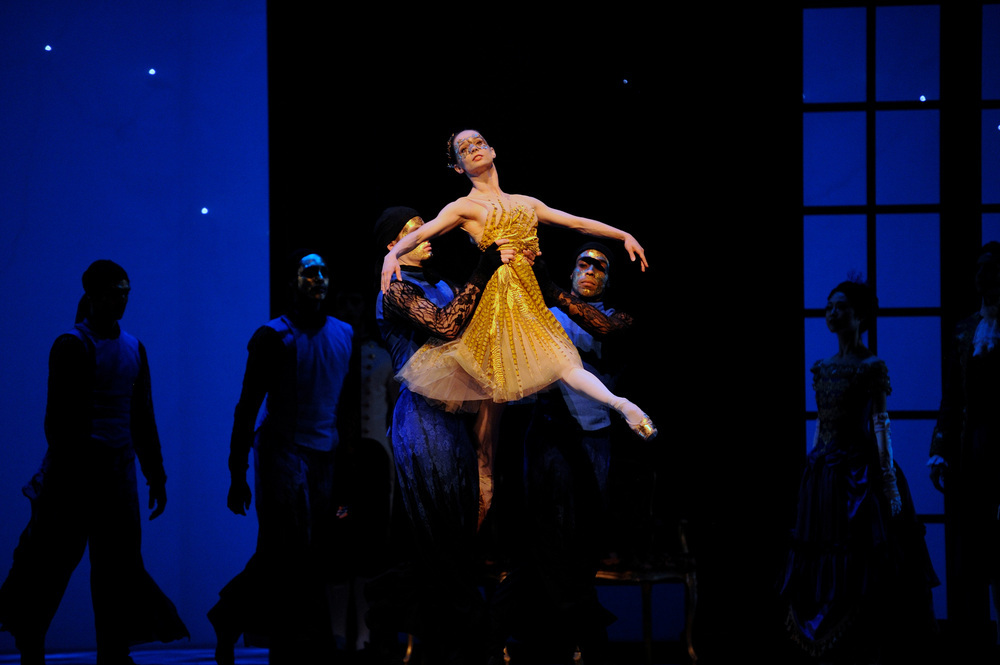 Maria Kochetkova being carried aloft by the Four Fates in Christopher Wheeldon's Cinderella (Photo: Erik Tomasson, courtesy San Francisco Ballet)
When Ballet To The People first encountered these ninjas, referred to in the program as "Fates," it was in a rehearsal video clip from the Dutch National Ballet; we understood that in this libretto, sensitively fashioned by playwright Craig Lucas, they replaced the traditional fairy godmother. The Fates were not in costume and the brief glimpse of these sturdy young men sweeping Cinderella through the air was novel and poignant. Quelle horrible surprise to discover these athletes in fancy dress popping up in the most random way all throughout the ballet, sometimes doing nothing more than lollygagging against a Grecian pillar, sometimes wielding a dish rag, at other times serving as a Greek chorus, their choreographic style ranging dizzily from Nijinsky to Martha Graham to acrobatic moves straight out of a popular dance competition.
The San Francisco audience, having collectively downed one too many Glass Slippers at the bar during intermission (vodka, pineapple and Chambord), gave the Fates a standing ovation while Ballet To The People sought solace in Twitter.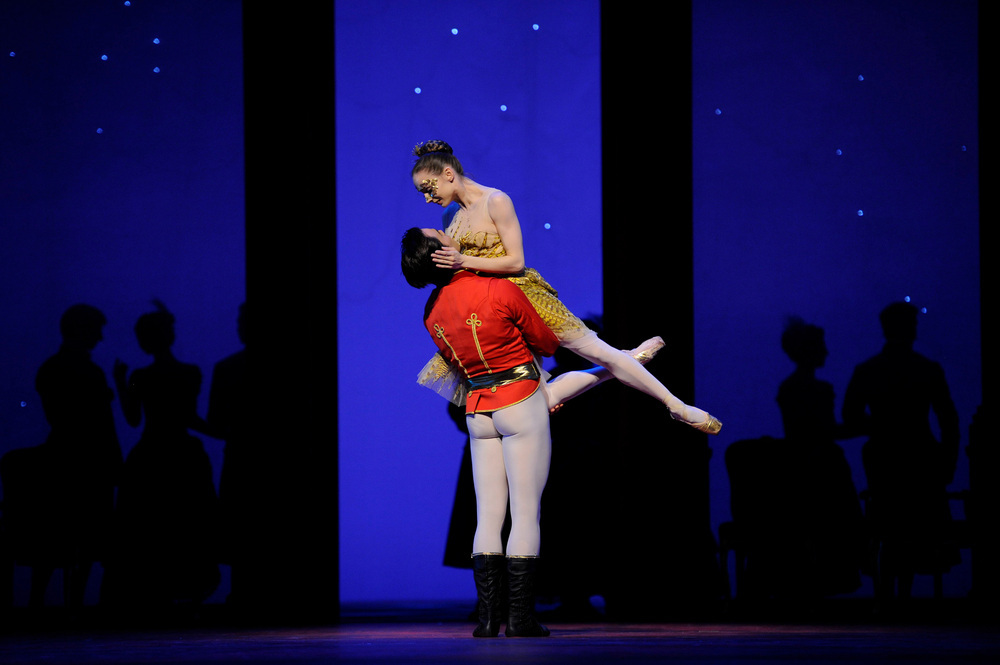 Maria Kochetkova as Cinderella and Joan Boada as Prince Guillaume in Christopher Wheeldon's Cinderella (Photo: Erik Tomasson, courtesy San Francisco Ballet)
The glories of this Cinderella lie as much in modest details as in bold visual, narrative and musical strokes. Wheeldon swaps around the music to suit his vision, assigning the grand Act II waltz coda, for example, to the Fates in Act I. He succeeds better than any other choreographer we've seen in bringing out the darkness in Prokofiev's brilliant, often chilling score -- which was composed in wartime Russia following the Nazi invasion -- without descending to the depths of misery plumbed by Matthew Bourne in his downer of a production set in the London blitz. (The first production of Cinderella to this score was commissioned by Stalin to celebrate the end of the war, an allegory of the triumph of virtue over oppression).
Zahorian was utterly convincing as the virtuous, gutsy and determined Cinderella, her naturalistic dancing and fearless technique serving her well. Her signature movement is a big step into a generous fourth position on pointe; no demure and dainty fifth positions for this Cinderella. Her first encounter with Prince Guillaume, when he comes to her door disguised as a beggar and she offers him food and a warm spot by the fireplace, is a lovely scene that advances both storyline and character.
Among the secondary characters, corps dancer Shannon Rugani stole several scenes as the wicked stepmother Hortensia with a drinking problem and an uncanny resemblance to Anne Bancroft's iconic Mrs. Robinson in The Graduate. Soloists Dana Genshaft as the slutty stepsister Edwina and Clara Blanco as the gentler, bespectacled Clementine milked their comic roles with abandon. Davit Karapetyan and Myles Thatcher as Prince Guillaume and his best friend Benjamin won the audience's hearts with marvelously buoyant dancing, their boyhood antics charmingly rendered in Act I by young students Benjamin Bender and Andrew Boosalis.
Two scenes in Act III stand out as models of wit and economy in this opulent production. All the females in this enormous cast -- including, hilariously, the grotesque tree gnomes -- form an assembly line on a long row of chairs downstage as Guillaume and Benjamin attempt to fit the golden pointe shoe on each of the hopeful feet. When it finally comes to Edwina, she wiggles her toes aggressively in the Prince's face and her social-climbing mother grabs an oversize mallet in a desperate attempt to hammer the damn shoe to fit. The audience was in stitches. The final wedding scene takes place under the magnificent Tree that shades Cinderella's mother's grave while chandeliers from the ballroom scene drop down through the branches: an inspired melding of natural and man-made grandeur.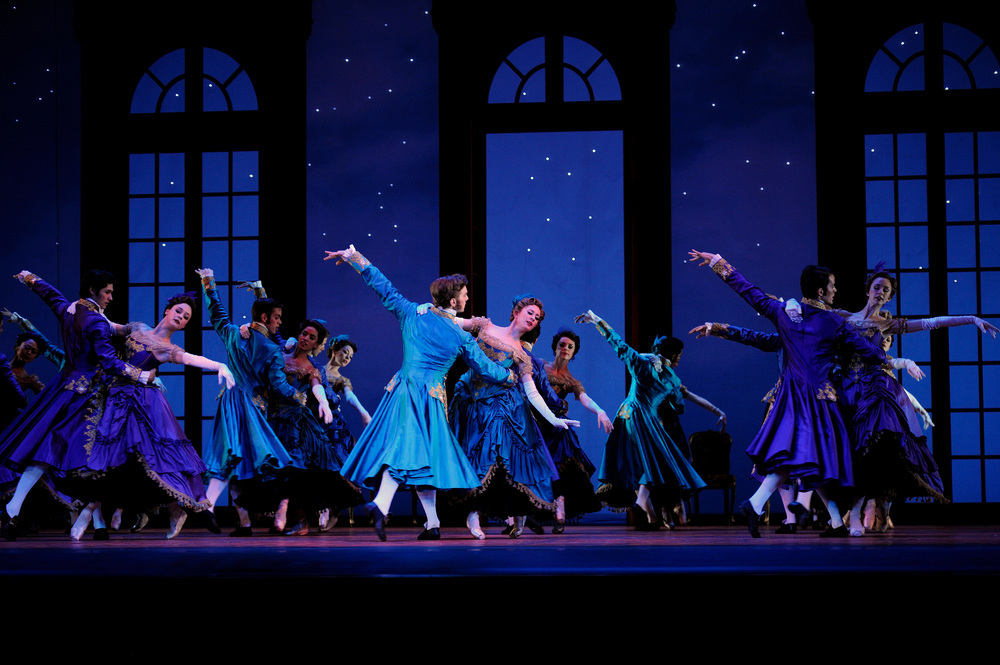 San Francisco Ballet dancers in the ballroom scene in Christopher Wheeldon's Cinderella (Photo: Erik Tomasson, courtesy San Francisco Ballet)
Wheeldon's choreography is at its most inventive in the ballroom scene, notably in the transition from stately dances to the percussive flash mob as the clock starts counting down ominously to midnight. (Though why Cinderella has to beat a hasty retreat at midnight remains a mystery, in the absence of a carriage-that-turns-into-a-pumpkin). Equally appealing are the dances for the Spirits of Lightness, Fluidity, Generosity and Mystery and their entourages -- legacies from Cinderella's beloved mother -- who spring from the august Tree to prepare her for the ball by teaching her how to dance. Hansuke Yamamoto and Jennifer Stahl as the last two Spirits stood out among a uniformly fine cast. Ballet To The People's date nodded off, however, during the grand pas de deux in the ballroom scene, as Wheeldon appeared to run out of choreographic steam. Set and costume designs, however -- with not a classical tutu in sight -- continued to enchant us right up to the final curtain.